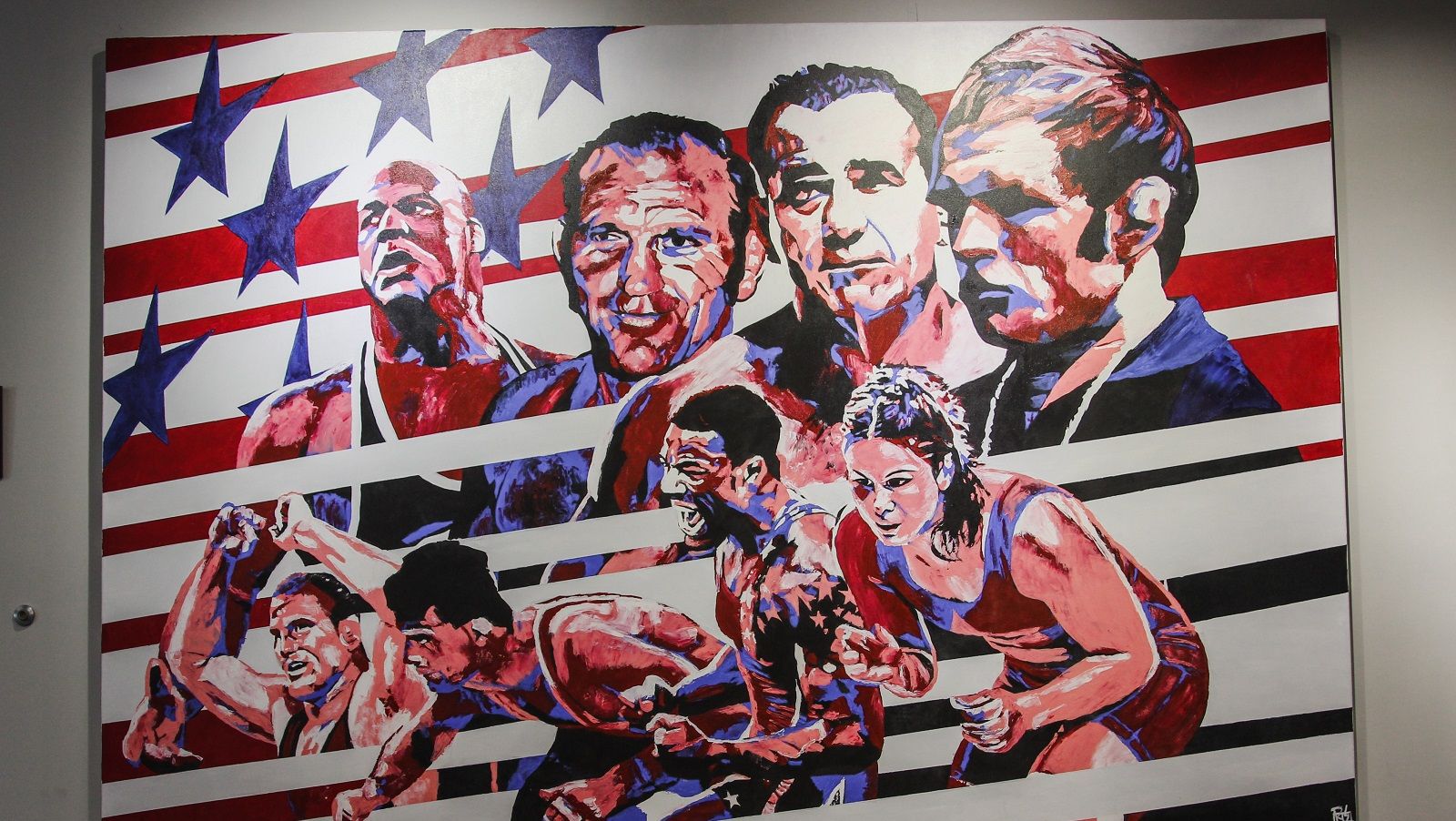 Rob Schamberger Mural
The Icons of Wrestling is a 9-foot by 12-foot painting by world-renowned artist Rob Schamberger, the official artist of the National Wrestling Hall of Fame Dan Gable Museum. The Kansas City born and bred artist has been featured in Sports Illustrated, USA Today, E! News, and AskMen.com, and Forbes declared him as one of the best deals in the art world.
CLICK HERE to purchase an 18-inch by 24-inch print of the iconic painting that uniquely captures wrestling history.
Top Row (L to R): Olympic gold medalist Kurt Angle, Three-time NCAA champion Dan Hodge, 15-time World Champion Lou Thesz, and Olympic gold medalist Dan Gable.
Bottom Row (L to R): Four-time undefeated NCAA champion and Olympic gold medalist Cael Sanderson, two-time Olympic champion and four-time World Champion John Smith, four-time World Champion and Olympic gold medalist Jordan Burroughs, and five-time World Champion and two-time Olympian Adeline Gray.
Angle, Gable, Hodge, Sanderson and Smith are all Distinguished Members of the National Wrestling Hall of Fame.
Gable and Sanderson are both members of the Glen Brand Wrestling Hall of Fame of Iowa.
Angle, Hodge and Thesz are all members of the George Tragos & Lou Thesz Professional Wrestling Hall of Fame and the Lou Thesz Award is presented to individuals in the professional wrestling industry who have used their skills in the realm of public service.
Our Mission: To honor the sport of wrestling by preserving its history, recognizing extraordinary individual achievements, and inspiring future generations