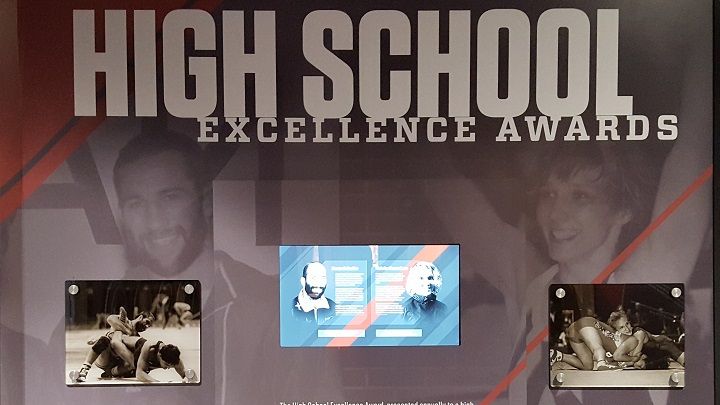 Dave Schultz High School Excellence Award State Winners Announced
The National Wrestling Hall of Fame on Thursday announced the state winners of the Dave Schultz High School Excellence Award (DSHSEA).

The DSHSEA was established in 1996 to honor Olympic and World champion Dave Schultz, whose career was cut short when he was murdered in January 1996. He was inducted into the National Wrestling Hall of Fame as a Distinguished Member in 1997 and as a member of the United World Wrestling Hall of Fame in 2016.

The DSHSEA recognizes and celebrates the nation's most outstanding high school senior male wrestlers for their excellence in wrestling, scholastic achievement, citizenship, and community service.

"This year's Dave Schultz High School Excellence Award winners represent an exceptional group of student-athletes whose qualifications encompass a combination of accomplishments in academics, athletics, and humanitarian service for the benefit of others.," said Hall of Fame Executive Director Lee Roy Smith. "We look forward to following their careers and wish them all the best in sports and life."

The state winners are evaluated and selected on the basis of three criteria: success and standout performances and sportsmanship in wrestling; review of GPA and class rank, academic honors and distinctions; and participation in activities that demonstrate commitment to character and community.

The Central Region, Midwest Region, Northeast Region, Southeast Region and West Region winners will be announced on April 26 and the national winner will be announced on May 3.

The Hall of Fame announced the state winners of the Tricia Saunders High School Excellence Award (TSHSEA) on Wednesday. CLICK to read release
The TSHSEA recognizes and celebrates the nation's most outstanding high school senior female wrestlers for their excellence in wrestling, scholastic achievement, citizenship, and community service. The TSHSEA regional winners will be announced on April 25 and the national winner will be announced on May 2.

Regional winners for both awards are selected from state winners, and the national winners will be chosen from the regional winners.

The regions and the states that they are comprised of are:

West (11) - Alaska, Arizona, California, Hawaii, Idaho, Montana, Nevada, Oregon, Utah, Washington and Wyoming

Midwest (10) - Illinois, Indiana, Iowa, Michigan, Minnesota, Nebraska, North Dakota, Ohio, South Dakota and Wisconsin

Central (7) - Arkansas, Colorado, Kansas, Missouri, New Mexico, Oklahoma and Texas

Southeast (11) - Alabama, Florida, Georgia, Kentucky, Louisiana, Mississippi, North Carolina, South Carolina, Tennessee, Virginia and West Virginia

Northeast (11) - Connecticut, Delaware, Maine, Maryland, Massachusetts, New Hampshire, New Jersey, New York, Pennsylvania, Rhode Island and Vermont

The TSHSEA and DSHSEA national winners will be honored during the 46th Honors Weekend at the National Wrestling Hall of Fame & Museum on June 2 and 3 in Stillwater, Oklahoma. To purchase tickets for Honors Weekend, visit https://bit.ly/3w2CQOM.

The Hall of Fame accepts nominations for its high school excellence awards from state chapters and coaches. The nominations are reviewed by a committee, which selects state and regional winners. The committee then determines the national winners from the regional winners.

National winners of the DSHSEA award have combined to win 19 NCAA Division I individual titles led by four-time champion Logan Stieber (2010), three-time winner Zain Retherford (2013) and two-time winners Steven Mocco (2001), David Taylor (2009), Teyon Ware (2002) and Zahid Valencia (2015).
2023 Dave Schultz High School Excellence Award State Winners
State - Name, High School, Hometown, College Attending
Alabama - Carson Hall, Ranburne, Ranburne High School, Air Force Academy (Football and Wrestling)
Alaska - Liam Babbitt, Soldotna, Soldotna High School
Arizona - Markell Rivera-Cain, Glendale, Ironwood High School, North Dakota State University
Arkansas - Justin Crutchmer, Hot Springs, Lake Hamilton High School, Oklahoma State University (Football)l
California - Beau Mantanona, Bermuda Dunes, Palm Desert High School, University of Michigan
Colorado - Weston Dalton, Pueblo West, Pueblo East High School, University of Nebraska
Connecticut - Jack Richardson, Danielson, Killingly High School, Johnson & Wales University
Delaware - Luke Poore, New Castle, Caravel Academy
Florida - Cooper Haase, St. Cloud, Osceola High School, USMA West Point Prep
Georgia - Luke Cochran, Pendergrass, Jefferson High School, Central Michigan University
Hawaii - Brycen Pagurayan, Kapolei, Kapolei High School
Idaho - Aden Attao, Boise, Borah High School, Oregon State University
Illinois - Kannon Webster, Washington, Washington Community High School, University of Illinois
Indiana - Sam Goin, Crown Point, Crown Point High School, Indiana University
Iowa - Ben Kueter, Iowa City, Iowa City High School, University of Iowa
Kansas - Nick Treaster, Newton, Newton High School, United States Naval Academy
Kentucky - George Ferree, Louisville, Trinity High School
Louisiana - Ernie Perry III, Bossier City, Airline High School, Cornell University
Maine - Derek Cote, Lebanon, Noble High School, Springfield College or The University of Southern Maine
Maryland - Coleman Nogle, Laurel, Mount Saint Joseph, Harvard University
Massachusetts - Rawson Iwanicki, Andover, St. John's Prep, Columbia University
Michigan - Joshua Barr, Davison, Davison High School, Penn State University
Minnesota - Max McEnelly, Waconia, Waconia High School, University of Minnesota
Mississippi - Nate Taylor, Olive Branch, Center Hill High School
Missouri - Carter McCallister, Columbia, Rock Bridge High School, University of Missouri
Montana - Izzy Moreno, Missoula, Big Sky High School, University of Northern Iowa
Nebraska - Kael Lauridsen, Bennington, Bennington High School, University of Nebraska
Nevada - Tyson Irby-Brownson, Henderson, Boulder City High School
New Hampshire - Anthony Fernandez, Nashua, Nashua High School South
New Jersey - Jimmy Mullen, Hopatcong, St. Joseph Regional High School, Virginia Tech University
New Mexico - Adan Benavidez, Bloomfield, Bloomfield High School, Kent State University
New York - Tyler Ferrara, Binghamton, Chenango Forks High School, Cornell University
North Carolina - Jeremiah Price, State Road, Surry Central High School, Appalachian State University
North Dakota - Boeden Greenley, Lisbon, Lisbon High School, North Dakota State University
Ohio - Joseph Blaze, IV, Perrysburg, Perrysburg High School, Purdue University
Oklahoma - Cael Hughes, Glencoe, Stillwater High School, Oklahoma State University
Oregon - Hayden Walters, Central Point, Crater High School, University of Michigan
Pennsylvania - Rocco Welsh, Fredricktown, Waynesburg Central High School, Ohio State University
Rhode Island - Jacob Joyce, Chepachet, Ponaganset High School, Stanford University
South Carolina - Colt Schrader, Greer, Eastside High School, United States Military Academy
South Dakota - Owen Hansen, Gregory, Gregory High School, Augustana University
Tennessee - Hunter Mason, Newport, Greeneville High School, Virginia Tech University
Texas - Shawn Ryncarz, Arlington, James Martin High School, Morgan State University
Utah - Kyison Garcia, South Jordan, Mountain Ridge High School, Penn State University
Vermont - Coy Lyford, Randolph, Spaulding High School
Virginia - Patrick Jordon, Providence Forge, New Kent High School, Virginia Military Institute
Washington - Q'veli Quintanilla, Spokane, University High School, Utah Valley University
West Virginia - Matthew Dolan, Martinsburg, Spring Mills High School, West Virginia University
Wisconsin - Greyson Clark, Wrightstown, Kaukauna High School, Purdue University
Wyoming - Lane Catlin, Gillette, Thunder Basin High School, University of Wyoming
All-Time National Winners of Dave Schultz High School Excellence Award

Year - Name, High School, Hometown, State (Superlatives)
2022 - Cory Land, Moody High School, Moody, Alabama
2021 - Alex Facundo, Davison High School, Essexville, Michigan
2020 - Braxton Amos, Parkersburg South High School, Mineral Wells, West Virginia (Freestyle Junior World Champion and Greco-Roman Junior World Bronze Medalist)
2019 - Cohlton Schultz, Ponderosa High School, Parker, Colorado (Greco-Roman Cadet World Champion)
2018 - David Carr, Perry High School, Massillon, Ohio (NCAA Champion and Junior World Champion)
2017 - Daton Fix, Charles Page High School, Sand Springs, Oklahoma (World Silver Medalist, Junior World Champion and 2X Junior World Bronze Medalist)
2016 - Mark Hall II, Apple Valley High School, Apple Valley, Minnesota (NCAA Champion, 2X Junior World Champion and Cadet World Champion)
2015 - Zahid Valencia, St. John Bosco High School, Bellflower, California (2X NCAA Champion and Junior World Silver Medalist)
2014 - Chance Marsteller, Kennard-Dale High School, Fawn Grove, Pennsylvania
2013 - Zain Retherford, Benton Area High School, Benton, Pennsylvania (3X NCAA Champion)
2012 - Taylor Massa, St. Johns High School, St. Johns, Michigan
2011 - Morgan McIntosh, Calvary Chapel High School, Santa Ana, California
2010 - Logan Stieber, Monroeville High School, Monroeville, Ohio (World Champion and 4X NCAA Champion)
2009 - David Taylor, Graham High School, St. Paris, Ohio (Olympic Gold Medalist, 2X World Champion, World Silver Medalist and 2X NCAA Champion)
2008 - Jason Chamberlain, Springville High School, Springville, Utah
2007 - Zachary Sanders, Wabasha-Kellogg High School, Wabasha, Minnesota
2006 - David Craig, Brandon High School, Brandon, Florida
2005 - Troy Nickerson, Chenango Forks High School, Chenango Forks, New York (NCAA Champion)
2004 - Coleman Scott, Waynesburg High School, Waynesburg, Pennsylvania (NCAA Champion and Olympic bronze medalist)
2003 - C.P. Schlatter, St. Paul Graham High School, Urbana, Ohio
2002 - Teyon Ware, Edmond North High School, Edmond, Oklahoma (2X NCAA Champion)
2001 - Steven Mocco, Blair Academy, Blairstown, New Jersey (2X NCAA Champion and Olympian)
2000 - Ben Connell, Lugoff-Elgin High School, Lugoff, South Carolina
1999 - Zach Roberson, Blue Valley North West High School, Overland Park, Kansas (NCAA Champion)
1998 - Garrett Lowney, Freedom High School, Appleton, Wisconsin (2X Olympian) and Justin Ruiz, Taylorsville High School, Salt Lake City, Utah (Olympian)
1997 - Jeff Knupp, Walsh Jesuit High School, Akron, Ohio
1996 - David Kjeldgaard, Lewis Central High School, Council Bluffs, Iowa