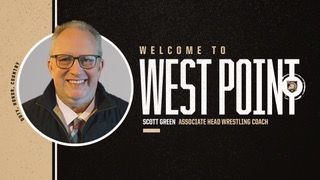 Official State Chapter of the National Wrestling Hall of Fame
---
Welcome back Coach Scott Green to New York
The Upstate New York Chapter of the National Wrestling Hall of Fame would like to welcome Coach Scott Green upon his return to the New York wrestling landscape. Scott was a local wrestling coach at numerous Section IV high schools and coached J P O'Connor at Oxford Academy and Central School. O'Connor would go on to be a national champion at Harvard University. Scott spent 11 years at Wyoming Seminary and has taken a coaching job at the United States Military Academy working with head coach Kevin Ward. While at Wyoming, Green developed the prep school as one of the best in the country. The following is a short bio on Scott that appeared on the Army wrestling website. Welcome back to New York Scott!
WEST POINT, N.Y. - Army West Point wrestling head coach Kevin Ward has rounded out his coaching staff for the 2021-22 season with the hiring of Scott Green, who will join the program as an assistant coach. Ward is confident that Green's hire will help the Army continue to build up its national reputation.
"I couldn't be more thrilled to add Scott Green to our staff. One of the commitments I make to all of our wrestlers is to surround them with the best people and coaches we can find and there is no one we would rather have support, develop and mentor our Cadets than Scott Green." said Ward. "He has a phenomenal track record of recruiting and developing some of the nation's best wrestlers and his skill set will help elevate our program as we continue ot climb up the national ranks."
Green lands at West Point after an 11-year tenure as the head coach at Wyoming Seminary high school. In his time with the Blue Knights, Green turned Wyoming Seminary into one of the best high school programs in the country, twice winning the National Prep championship (2014, 2020) while mentoring six National Prep individual champions. Green posted a 208-9 record in dual meets with Wyoming Seminary since 2010, guiding the Blue Knights to 14 straight Pennsylvania Prep Championships. He also coached 100 wrestlers to individual state titles, with 41 going on to win National Prep titles.
"Coaching at West Point is an incredible opportunity. I am thrilled to get back into a Division I wrestling role," Green said. "Kevin Ward has the team headed in the right direction and I am confident I can add to that momentum. Once you set foot on campus, you know what a special institution it is. The U.S.M.A molds tomorrow's leaders in their time there, and wrestling fits into that formula very nicely."
Prior to joining Sem, Green coached at his alma mater, Binghamton University, and internationally, leading United States athletes to titles in Amsterdam, Cuba, Hungary and Puerto Rico.
Green and the Black Knights will have a few more months to train and prepare before they hit the mats for their first competition this Winter.