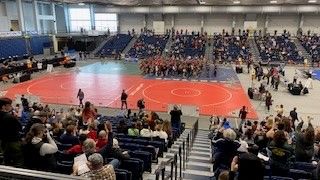 Official State Chapter of the National Wrestling Hall of Fame
---
First Girls Invitational Wrestling Tournament held at the SRC Arena
On January 27, 2024 many of the girls who wrestled as certified wrestlers by the NYSPHAA participated in an unofficial wrestling tournament sponsored by the NYSPHSAA. Since girls wrestling is considered an "emerging sport," the NYSPHSAA cannot call it an official state championship. Girls from all the sections in New York joined together at the SRC Arena, a day before the boys dual meet wrestling tournament, to wrestle their way to an individual championship. The day was fill with many exciting and well executed wrestling match. The coaching and wrestling were excellent … we saluted all the girls who participated in the event. All of you are true champions in the eyes of the fans. The following were crowned the best in the state at their respective weights.
94 – Zoey Jewitt – General Brown
100 – Gabriella Barone – Niagara -Wheatfield
107 – Sara Paulis – Minisink Valley
114 – Yianna Foufas – Mepham
120 – Ashley Diaz – Seaford
126 – Alexandria Viers – Rocky Point
132- Emily Sindoni – Tioga
138 – Zoey Lints – Duanesburg-Schoharie
145 – Madison Westerberg – Waterloo
152 – Isabella Gretzinger – Shenendehowa
165 – Renne Kinkin – Mexico
185 - Sophie Pollack – Canandaiqua Academy
235 – Mackenzie Laforest – Waverly
Congratulations to all the young ladies who wrestled. Well done!!