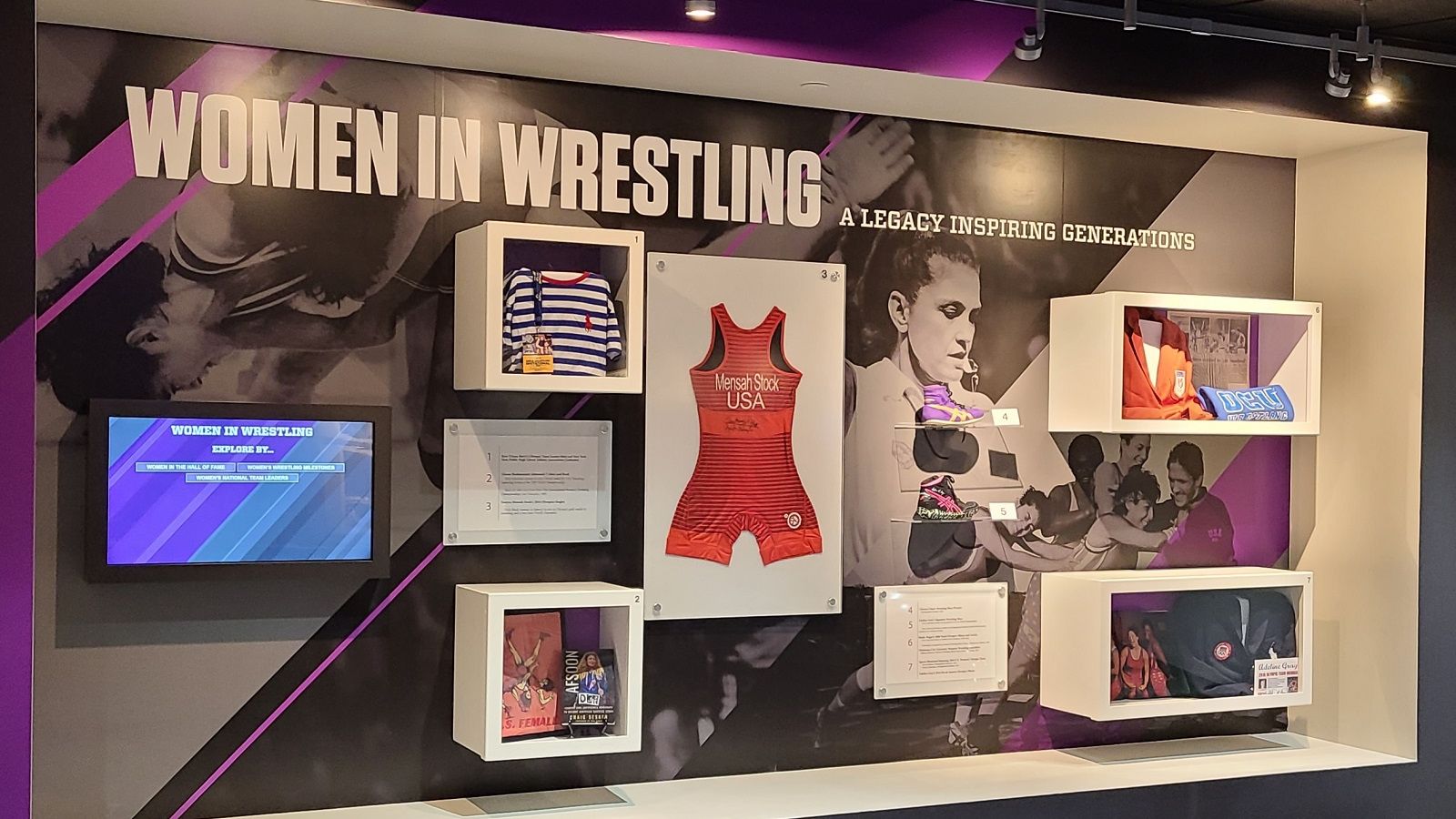 National Wrestling Hall of Fame Unveils New Exhibit Women In Wrestling – A Legacy Inspiring Generations
The National Wrestling Hall of Fame has a new exhibit - Women In Wrestling – A Legacy Inspiring Generations.

A collaboration between the Hall of Fame and the Committee to Advance Women's Wrestling, the exhibit will showcase women's wrestling history and was made possible through generous contributions from former and current United States Olympic Women's National Team Leaders Kyra Tirana Barry, Jim Bennett, Christina 'Kiki' Kelley, Jeff Levitetz, the Martori Family, Steve Silver, and Stan Zeamer.

"This exhibit celebrates women's wrestling as it continues to surge in popularity at every level," said Lee Roy Smith, Executive Director of the National Wrestling Hall of Fame. "We hope that sharing the stories, particularly about its evolution and the pioneering athletes who have brought it to this point, will help make visitors more aware of what women's wrestling has to offer for participants and fans.

"This project was made possible through the generosity and leadership of former and present Olympic Women's National Team Leaders, who sponsored the exhibit," he added. "I want to particularly thank Kyra Tirana Barry, an Olympic Team Leader and Co-Chairperson for the Committee to Advance Women's Wrestling, for spearheading the fundraising for this exciting new exhibit."

"Thank you to our partners at the National Wrestling Hall of Fame for creating this new permanent exhibit at the NWHOF museum to highlight and memorialize women's achievements in wrestling," said Kyra Tirana Barry, Co-Chairperson for the Committee to Advance Women's Wrestling. "I am thrilled to see the female legends of our sport featured alongside their male counterparts.

"The visibility and recognition of these pioneering women plays a fundamental role in the sport's future. It allows every young girl the ability to dream and goal setting while seeing herself at the highest level in every aspect of wrestling," she added. "I would also like to thank my fellow Olympic Women's National Team Leaders for their endless vision, passion and support of our national team members. Together they are propelling U.S. women's wrestling to grow and thrive."

Featured in the exhibit are images of Afsoon Roshanzamir Johnston, Sheila Wager, and the members of the 2004 United States Olympic team (Sara McMann, Patricia Miranda, Toccara Montgomery and Tela O'Donnell Bacher) with Women's National Team Head Coach Terry Steiner.

It also includes a digital kiosk where visitors will be able to access a timeline of great moments in U.S. women's wrestling history, females honored by the Hall of Fame, and see the group of donors who made the exhibit possible.
CLICK to visit "Great Moments in U.S. Women's Wrestling History"
The exhibit also features women's wrestling memorabilia, including a singlet from Tamyra Mensah Stock, the first Black woman in history to win an Olympic gold medal in wrestling and a two-time World champion.

Johnston is the first American woman to win a World medal for USA Wrestling, capturing bronze at the 1989 World Championships. It was also the first Women's World Championships that the United States entered. Asia de Weese and Leia Kawaii both earned silver medals.

Wager became the first U.S. female to referee at the Olympics when she worked the 1988 Seoul Olympics. Wager, who also worked the 1992 Barcelona Olympics, was honored as a Meritorious Official by the National Wrestling Hall of Fame in 1995, becoming the first female to be recognized by the Hall of Fame.

The first U.S. Olympic team in women's freestyle wrestling featured three women who wrestled on women's college teams: McMann (University of Minnesota Morris), O'Donnell (Pacific University) and Montgomery (University of the Cumberlands). Two wrestled on men's college teams, Miranda (Stanford University) and McMann (Lock Haven University).

Miranda won the first Olympic medal for the USA in history, a bronze, while McMann became the first U.S. woman Olympic finalist. One of the official coaches of the team was Tricia Saunders, alongside her husband Townsend and Steiner. Tricia Saunders became the first female inducted into the Hall of Fame as a Distinguished Member in 2006 while McMann was inducted in 2022 and Miranda will be inducted in 2023.

Thirty-nine state high school athletic associations have voted to approve girls wrestling as an official sport, and 36 held official girls high school state wrestling championships in 2022-23. Hawaii was the first state to host a girls state championship in 1998 while Texas began its girls tournament in 1999. The number grew to six states by 2015 and has exploded in recent years to 38 states.

States that hosted state-sanctioned girls wrestling championships in 2022-23 are Alaska, Arizona, Arkansas, California, Colorado, Connecticut, Florida, Georgia, Hawaii, Idaho, Illinois, Iowa, Kansas, Maine, Maryland, Massachusetts, Michigan, Minnesota, Missouri, Montana, Nebraska, Nevada, New Jersey, New Mexico, North Carolina, North Dakota, Ohio, Oklahoma, Oregon, South Dakota, Tennessee, Texas, Utah, Washington, Wisconsin and Wyoming.

To date there are 153 intercollegiate women's wrestling teams. The NCAA has approved "Emerging Sport Status" for women's wrestling at the Division I, Division II and Division III levels while the NAIA recognizes women's wrestling as an official varsity sport and held their first official championship in 2023.

Women's wrestling is one of the fastest growing high school sports with participation growing by more than 71 percent from 16,562 in 2018 to 28,447 in 2020. Growth has continued through the pandemic and more than 52,400 female high school wrestlers competed in 2022-23.
Mentioned in this article