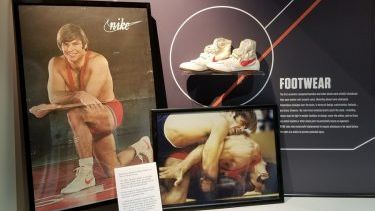 Official State Chapter of the National Wrestling Hall of Fame
---
Oklahoma Chapter of National Wrestling Hall of Fame will induct 7 on Oct. 9
STILLWATER, Okla. – Seven will be honored for their contributions to the sport of wrestling by the Oklahoma Chapter of the National Wrestling Hall of Fame on Sunday, Oct. 9 at the Jim Thorpe Museum in Oklahoma City.
Tom Brack, Mike Clark, Rex Holt, Thomas Lumly and Steve Randall will be presented with the Lifetime Service to Wrestling award, an honor given annually to coaches, officials and contributors who have given a minimum of 20 years of service to the sport of wrestling. Matt Grice will receive the Medal of Courage award, given to an individual who has overcome insurmountable odds whether it be physical or mental, and Markwayne Mullin will be presented the Outstanding American award, given to an individual who has succeeded in other walks of life, but who attributes part of their success to what they learned in wrestling.
The reception begins at 3 p.m. with dinner at 4 p.m., and the induction ceremony at 5 p.m.
Reservations are $55 per person and can be purchased online at
www.ok-nwhof.ticketleap.com
or by telephone at (405) 377-5243.
2016 HONOREE BIOS:
Markwayne Mullin
, 2016 Outstanding American, did whatever it took to wrestle through elementary and middle school, including switching schools four times after the school he was attending canceled its wrestling program. One difficult day, his dream of wrestling at a major university came to an end because of a recurring shoulder injury. Mullin wrestled briefly at Missouri Valley College before leaving to take over his family's plumbing business. Lessons learned as a wrestler combined with a passion for the sport, which shapes an athlete's character and imparts traits like self-motivation and perseverance, have truly shaped the individual Mullin has become. He has built successful businesses that employ over 150 Oklahomans. Mullin was elected to serve the people of Oklahoma's Second Congressional District in November 2012 and is currently serving his second term in office. Mullin takes every opportunity to speak to high school and college wrestling programs, sharing his story and encouraging young wrestlers to dream big and never give up. He reminds them the importance of following through with their commitments, both in athletics and in life. Mullin's work in the U.S. House of Representatives has earned him numerous legislative awards, and he is one of only two Native Americans serving in the House of Representatives.
Matt Grice
, 2016 Medal of Courage, was a four-time Oklahoma state wrestling champion at Harrah High School and was named Outstanding Wrestler three times, a feat that has never been accomplished by any other competitor. He had a career record of 143-3 and was named Oklahoma Wrestler of the Year in 2000. Grice was the most highly recruited wrestler in the nation at his weight and chose to attend the University of Oklahoma, but injuries from an automobile accident the summer after his first year kept him from furthering his impressive wrestling career. The injuries did not keep him from graduating, and he began to build careers as both an Oklahoma City police officer and as an MMA fighter. He was training to fight at UFC 166 in 2013 when his vehicle was hit from behind by a vehicle traveling more than 60 miles per hour. Following surgery for a traumatic brain injury, Grice was in a coma for a month and in the hospital for three months. When he first woke up, he did not remember that he had a wife and two daughters. When he was allowed to return home, he couldn't stay alone, couldn't drive and couldn't work because doctors did not want his brain to be overstimulated. His will and drive to fight helped him defy odds and exceed doctor's expectations when he returned to work at the Oklahoma City Police Department. He also returned to MMA as a coach, learning that he can still be involved in the sport he loves by encouraging and teaching others.
Tom Brack
, 2016 Lifetime Service to Wrestling, was a four-time Oklahoma state finalist and a state champion in 1970 for Geary High School. Brack coached wrestling in Oklahoma for 34 years, beginning at Duncan Junior High School in 1974. He started the wrestling program at Marlow High School in 1979 and coached at Comanche High School from 1982-94. Brack returned to Duncan in 1995 and after another year with the junior high program took over the high school job in 1997, a role he held until 2009. He was named Oklahoma Wrestling Coaches Association Coach of the Year in 1984, 1988 and 2003 and was All-State coach in 2004. Brack was named Oklahoma Officials Association Coach of the Year in 2005 and the Duncan Banner Coach of the Year in 1988, 1989, 1999, 2000, 2002, 2003, 2004, 2005, 2008 and 2009. He led teams to 46 tournament championships, seven regional championships, 11 state runner-up finishes and state championships in 1988 and 1993. Brack has a career record of 408-119-4, including 272-77-1 at the high school level. He coached 27 state individual champions, including two three-time winners and six two-time winners, and 26 state runners-up. Brack had 169 wrestlers qualify for Oklahoma state tournaments, including 54 regional champions. He had a former wrestler win an NAIA national title, and two wrestlers who won NCAA Division II national championships, including one who was also named Outstanding Wrestler.
Mike Clark
, 2016 Lifetime Service to Wrestling, is currently the Yukon Athletic Director. He was a two-time Oklahoma state runner-up at Midwest City in 1979 and 1980 and helped his team win state titles in 1981 and 1982. Clark went on to wrestle at Central State University and Oklahoma State University. He earned All-America status as a freshman and sophomore while helping CSU win back-to-back championships. Upon graduation in 1985, Clark went to work in the Moore school system and coached the Moore West Junior High wrestling team. Clark coached at Westmoore High School, Harrah High School and Midwest City High School from 1988-2004 before entering into the administration of the district. He coached 23 individual Oklahoma state champions and had a career coaching record of 108-35. Before accepting the Yukon Athletic Director position, he was the Mid-Del Athletic Director and the Assistant Director of the Oklahoma Secondary School Activities Association, overseeing numerous sports including wrestling. Clark never really left wrestling and continues to help the sport by serving on the National Federation of High Schools Wrestling Rules Committee as well as a being certified Bronze level coach by USA Wrestling.
Rex Holt
, 2016 Lifetime Service to Wrestling, has been broadcasting Oklahoma State wrestling since 1978. He became the "Voice of the Cowboys" in 1979 and served in the role for 18 seasons until a change in station ownership. He returned to the microphone for OSU Wrestling in 2004 and will celebrate his 31 season in 2016-17. While a sophomore at OSU, he began working as a sportswriter for the Stillwater News Press in 1975. He became the wrestling writer in 1976 and covered his first NCAA tournament in 1977. Holt worked at the News Press until 1997 and wrote thousands of wrestling match and feature stories about OSU, Stillwater High School, Perry High School, Pawnee High School, Morrison High School and Cushing High School. He moved to Guthrie as a sophomore in 1971 and took advantage of the opportunity to wrestle. Despite a late start in the sport, he wrestled for two years and placed fourth at the Carl Albert Invitational. Holt has also been the "Voice of Cowboy Baseball" for 34 years and broadcasts Stillwater High School football and wrestling, too. For the past 26 years, Holt has hosted "Game Day Live at Joe's" before and after OSU wrestling matches, football games and basketball games, and he also hosts "The Game," a daily sports talk show on KSPI-AM in Stillwater.
Thomas Lumly
, 2016 Lifetime Service to Wrestling, was a true philanthropist and one of the first founders to help establish the National Wrestling Hall of Fame in Stillwater, Oklahoma. He was a member of the Board of Directors and a generous benefactor for the Tulsa YMCA, and manager of an AAU team in 1958 for one of the first international meets wrestled in Oklahoma against a Russian team, an event titled "East meets West." Affectionately known as "The Grandfather of Wrestling," Lumly was one of the most recognized figures in Oklahoma during his era because of his association with all aspects of high school, collegiate and international wrestling. Not only did he promote wrestling throughout the U.S., but he also spent countless hours, money and effort to bring wrestlers from other countries to the United States, helping the international wrestlers establish themselves as exchange students. Lumly formed the U.S. Amateur Wrestling Foundation in an effort to raise funds for Olympic and World tournaments, and international exchange trips for U.S. teams in the 1950s and 1960s. He also served on the Advisory Board for the University of Tulsa and for Oklahoma State University, and was a member of the Board of Directors for the International Rotary Club. He was also on the Board of Directors for the Masonic Burn Center for Children, President of Nomads and a member of the Tulsa Chamber of Commerce.
Stephen Randall
, 2016 Lifetime Service to Wrestling, was a two-time Oklahoma state champion from the famed Perry High School, earning Outstanding Wrestler honors in 1970. He helped Oklahoma State University win three consecutive Big 8 team titles while capturing the Big 8 championship at 142 pounds in 1975 after back-to-back runner-up finishes in 1973 and 1974. He was a two-time NCAA All-American, placing second in 1974 and fourth in 1975, and he won the Midland Championships in 1973. Randall has spent his life coaching and officiating sports. He returned to Perry as wrestling coach in 1983 after coaching at Okarche and Altus. He coached his high school alma mater to state championships in 1984, 1986 and 1989 and a runner-up finish in 1987. He coached 13 state champions at Perry and one three-time state champion. He was named Oklahoma Wrestling Coach of the Year in 1989 as well as 2A Coach of the Year in 1982, 1984 and 1989. He is also a decorated softball coach, winning state titles in 2010 and 2013 after starting the slow-pitch softball program at Union High School in 1999. As a wrestling official, Randall officiated for 14 years and had the privilege of officiating 14 regional tournaments, 13 state tournaments and two All-State matches.