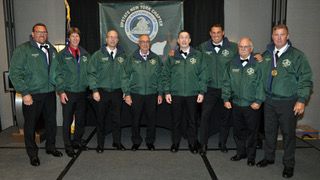 Official State Chapter of the National Wrestling Hall of Fame
---
Upstate New Chapter Honors Class of 2021
The Upstate New York Chapter of the National Wrestling Hall of Fame held its annual ceremony on September 19, 2021 at the Double Tree Hotel in Syracuse, New York with about 250 people in attendance. The chapter has provided a few interesting highlights from the celebration.
Mia Macaluso became the first New York State Tricia Saunders' Award winner and then go on to be selected the Northeast Regional winner as well. Mia and Damiana Racciatti, 2021 chapter's nominee for the award, are now wrestling together at East Stroudsburg University.
Tom Shifflet and Mitch Clark joined their respective fathers, Joe Shifflet and John Clark, as members of the Chapter's Hall of Fame and will be enshrined in the John Vaughn Room of the NWHoF in Stillwater, Oklahoma. In 2019 Don Quinn Jr received the Outstanding American Award and joined his father in the Hall of Fame.
Timm Slade, a retired Executive Director of Section VI Athletics for the New York State Public High School Athletic Association, became the first Executive Director of the state to be recognized by the chapter. Timm garnered the Outstanding American Award for his many contributions to wrestling in his section and state.
This year twin brothers, Mason and Marek Bush, shared the Robert Feldmeier Award. The Feldmeier Award is given by the chapter to the wrestler/wrestlers that meet the different criteria for this prestigious award. The Bush brothers are coached by their father, Bob Bush, at Central Valley High School in Section III.
Additionally, Mitch Clark was acknowledged for his historical first accomplishment … Mitch got a first period technical fall over his opponent in the finals of the NCAA finals. Mitch's coach, Russ Hellickson, was Mitch's presenter at the event on the 19th.
Gene Mills, a former Syracuse standout wrestler, and Dave Auble, a stellar Cornell grappler for Coach Jimmy Miller, who were named Outstanding Wrestlers in the NCAA Division I wrestling championships were in attendance. Dave won the Outstanding Wrestler's award in 1960 after he captured his second NCAA championship. Gene Mills "The Pinning Machine" collected his award in 1981. Additionally, Mills harvested two NCAA championships as well at Syracuse University.
Perhaps, the most important element of the celebration was that all the attendees were able to get together safely on a face to face basis. This represented the first time since the pandemic that the wrestling community in the upstate area was afforded the opportunity to see their friends in wrestling. Everyone specified what a wonderful thing it was to see each other.