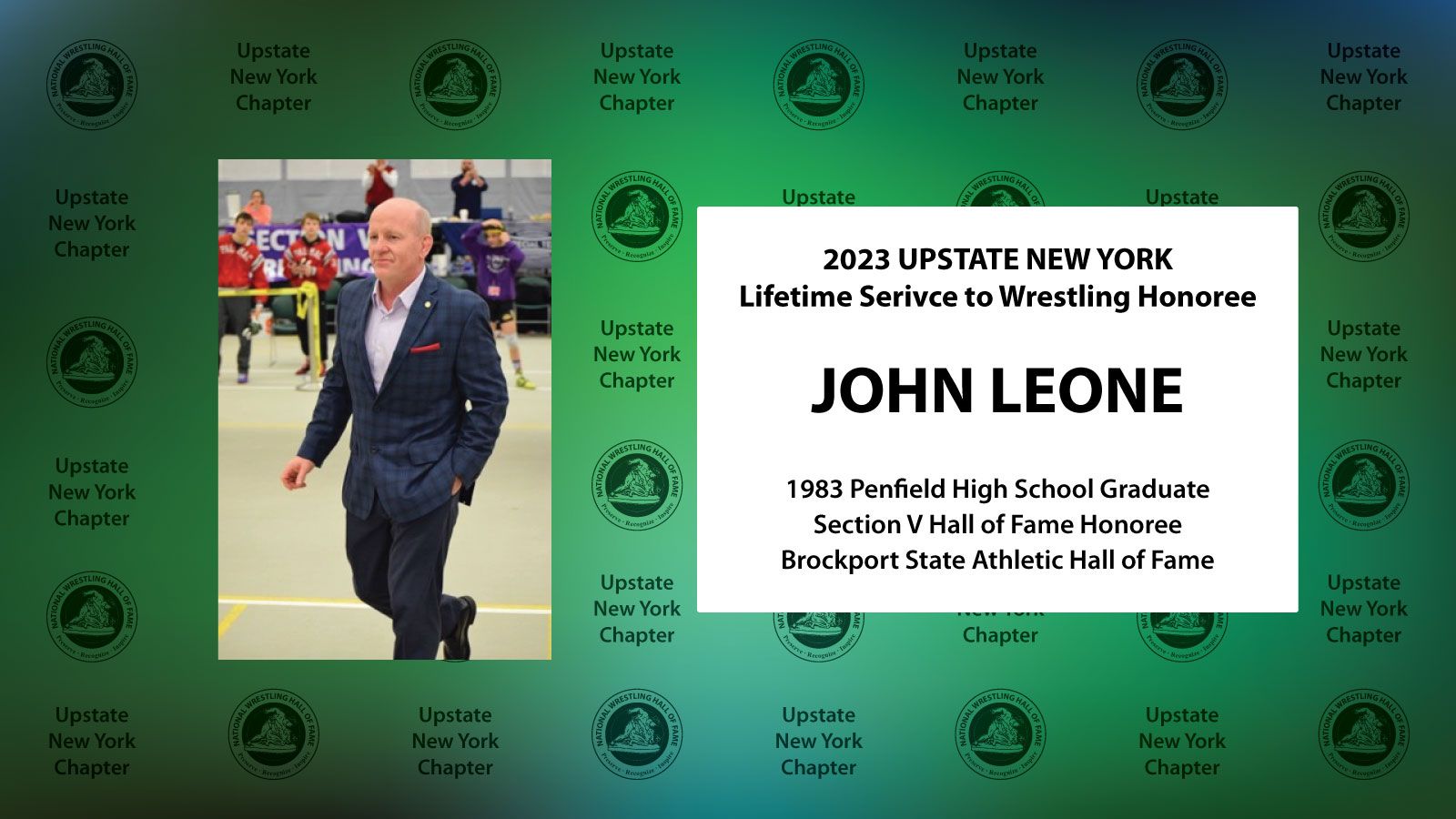 Official State Chapter of the National Wrestling Hall of Fame
---
John Leone to be Honored in Upstate New York Class of 2023
John Leone is a 1983 graduate of Penfield High School where he was a two time Section V champion and the winner of numerous wrestling tournaments in the section. John would go on to wrestle at Brockport State under legendary coach, Don Murray. While at Brockport State, John would be a four time Division III All-American. Furthermore, in his senior year he would become a NCAA Division III champion at the 158 pound weight class for the Eagles. Additionally, Leone was a three time SUNYAC Champion, a New York Collegiate Champion, and served as the captain of his team for the two years that Brockport were the runner-up in the Division III championships. He also worked as an assistant to Murray following his graduation from Brockport with a degree in physical education.
Ensuing working for Brockport, Coach Leone worked as an assistant coach at Spencerport High School under Bill Jacoutot. At Spencerport their teams were considered the best in Section V and the state. John would go on from Spenceport to Greece-Arcadia for 1 year and then he would return to his alma mater, Penfield, and build the program into one of the most feared teams in Section V. His record at Penfield was a lofty 295-53 and in the 2009-10 season his Penfield grapplers would capture a sectional championship. While at Penfield, John started the Titan Wrestling Club and was instrumental in developing the Takedown Cancer Wrestling Duals. The duals raised well over 40,000 dollars for the benefit of Camp Good Days and Special Times. In addition, one of Coach Leone's significant accomplishment at Penfield was the coaching of four time NYSPHSAA champion Frankie Gissendaner.
Neil Cook, wrestling coach at Brighton High School, had this to say about Coach Leone, "What amazes me is John's ability to teach wrestling to any age group. I have seen many excellent teachers of the sport over the past 30 years. Without a doubt John is probably is the best that I have seen. He can break down a technique and can motivate a wrestler to work harder than they have ever thought possible." Statements like this can be hear from all the coaches, wrestlers, and fans of wrestling in Section V. Coach Leone has been a model for all coaches to emulate.
His achievements are many and include two-time (1996 and 1997) USA Wrestling Northeast Regional Developmental Coach of the Year; NWCA Assistant Coach of the Year in NYS (1995); head coach, USA Wrestling Cadet World Team to Bulgaria (1997); U.S. Olympic Committee Developmental Coach of the Year (1997). Furthermore, he has been selected to the Section V Hall of Fame, and Brockport State Athletic Hall of Fame and was awarded the Terry Robert Justice Award for "outstanding Service to High School Wrestling." The Chapter acknowledge the many accomplishments of Coach Leone and welcome John into the Upstate New York Chapter's Hall of Fame for his contributions to wrestling throughout the state. Along with the other inductees, he will be enshrined in the John T. Vaughan Hall of Honors of the National Wrestling Hall of Fame in Stillwater, Oklahoma.