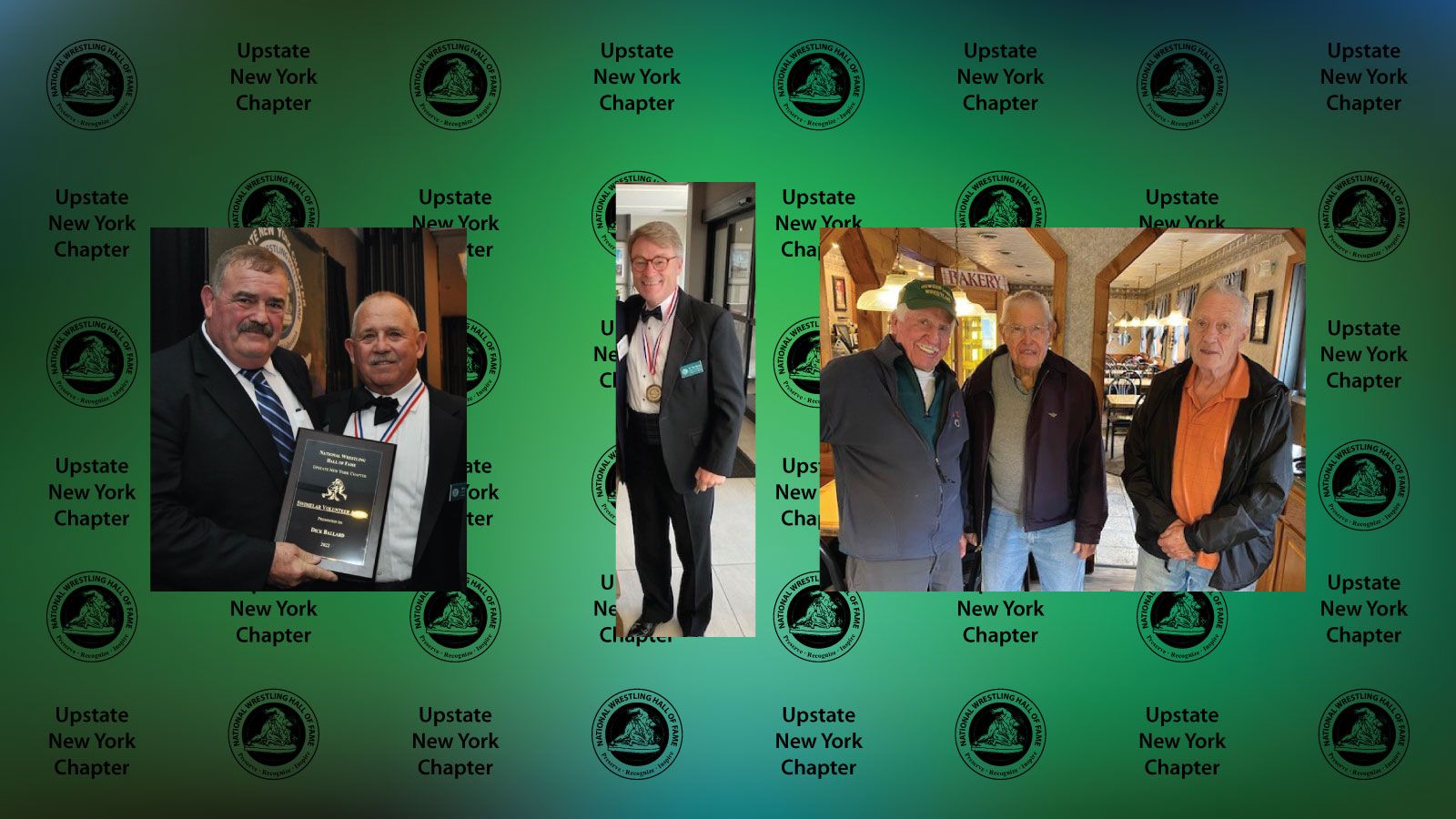 Official State Chapter of the National Wrestling Hall of Fame
---
It Takes A Team
The Upstate New York Chapter of the NWHOF would like to convey our sincere gratitude to a number of individuals who helped to make our annual Hall of Fame ceremony such a success.
Bob Zifchock, Hall of Famer (2016), and Superintendent of Waverly Central School, Eric Knolles, served as the Master Ceremonies and did a superb job of taking carry of presenting the awards to our honorees. In addition, Tim Herman, a Stanbro Media Award winner, and Roberta and Hall of Famer Frank Marotta (2003), were responsible for all the photography pertaining to the event. Tim filmed the event and it can be seen on youtube … https://youtu.be/McW8A1-N_k4. Dr. Tom Martin (Outstanding American Award winner 2015) helped with organized the awards and facilitating the presentation on the podium. Additionally, Rick Armstrong, Hall of Famer (2012) his wife Ginny along with Stan (Hall of Famer (1998) and Sue Elinsky were responsible for operating the registration table at the ceremony. All of these people played a significant role in enhancing the affair. A ceremony requires a team and the Chapter is very fortunate to have such a good Board who helps to make this ceremony first class. But above all it is the honorees and award winners who truly makes this a very special event for all.
The Chapter would also like to convey its sincere gratitude to all the people who helped support our group and empowers us to carry out the missions of the Chapter and the NWHOF. Thank you very much!
Meeting of Past Hall of Famers
On October 19, 2022, President Carl Koenig had lunch with a few of our senior Hall of Famers. Larry Rector, who Is 99 years young, Coach Jim Howard, 90 years young, Kate Johnson, and Roy Hunt, who is just 78 years young. The quartette shared past memories, trade old stories and enjoyed each other's company. This group truly reflects the value of the Chapter's mission to preserve the heritage of wrestling in the Upstate New York area. What a wonderful experience it was to be with such a wonderful group of legends of our sport.