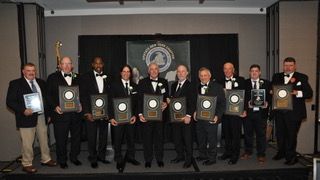 Official State Chapter of the National Wrestling Hall of Fame
---
25th Annual Upstate New York Inductions
On Sunday September 25, 2022, the Upstate New York Chapter of the National Wrestling Hall of Fame held it's 25th annual ceremony. The following individuals … Christopher Bourne, Dana Charpentier, John Grillo, Roy Guarino, Randy Morrison and Rob Weeks received the Lifetime Service Award and were enshrined into the State Chapter Room of the National Wrestling Hall of Fame in Stillwater, Oklahoma. The Pastor Arthur Jones Jr was awarded the Outstanding American Award and Scott Key garnered the Medal of Courage Award. Additionally, Matt O'Rourke was honored with the Chapter's Stanbro Media Award and Dick Ballard walked off with the Swimelar Volunteer Award. The Chapter also saluted Kole Mulhauser with the Robert Feldmeier Outstanding Wrestling Award for the Division I wrestler and Carter Baer took home the honors with the Richard "Pete" Hausrath Award for the Division II wrestler. Silver medal winner Sofia Macaluso was given the 1st Annual Steve Silver Award bestowed to the most outstanding female wrestler in the state. The ceremony drew 335 people and MC's Bob Zifchock and Dr. Eric Knolles presided over the event.
The ceremony contained many new and interesting happenings. For the first time the event had a former Super Bowl player in attendance … Arthur Jones III was present to witness his father, Pastor Arthur Jones Jr, receive the Outstanding American Award. The Chapter's nomination for the Tricia Saunder's Award, Sofia Macaluso, was present. Sofia was the first National winner of the Saunder's award for the Chapter. And National Outstanding American Award winner, Steve Silver, was there to present Sofia with the first annual Steve Silver award. Steve wrestled in New York State for Hall of Fame coach Walter Teike and won two Section V titles. In addition, the ceremony featured the return of well over 30 past honorees. Coach Don Quinn and Coach Jim Howard represented the 1997 group, which was the 2nd group of award winners. Here is the list of all past honoree - Gene Tracy, Donald Quinn, Donald P. Quinn, Brad Hamer, Scott Feischlag, Joe Gustainis, Fred Brown, Ed Michael, Anthony Policare, John Kopalek, Marty Sherman, Joe McCabe, Bob Stulmaker, Jim Howard, Frank Millard, Pete Hausrath, Mike Hogan, Frank Popolizio, Jack LaBombard, Frank Marotta, Dr. Frank Oliveri, Jim Lamb, Sonja Stanbro, Rick Gumble, Fred Marcello, Wayne Ferguson, Stanley Elinski, Mike Wilcox – Volunteer Award, Rick Armstrong, Don Kovalchick, Dr. Thomas Martin, Robert Zifchock, Neal Aubel, Tim Herman – Stanbro Media Award, Steve Silver – National Outstanding American Award, Sonny Greenhalgh – National Merit Award, Pat Greene and Eric Knuutila.
The Chapter would also like to pay special tribute to all the people who donated so generously to help make this event happen – Thank You!