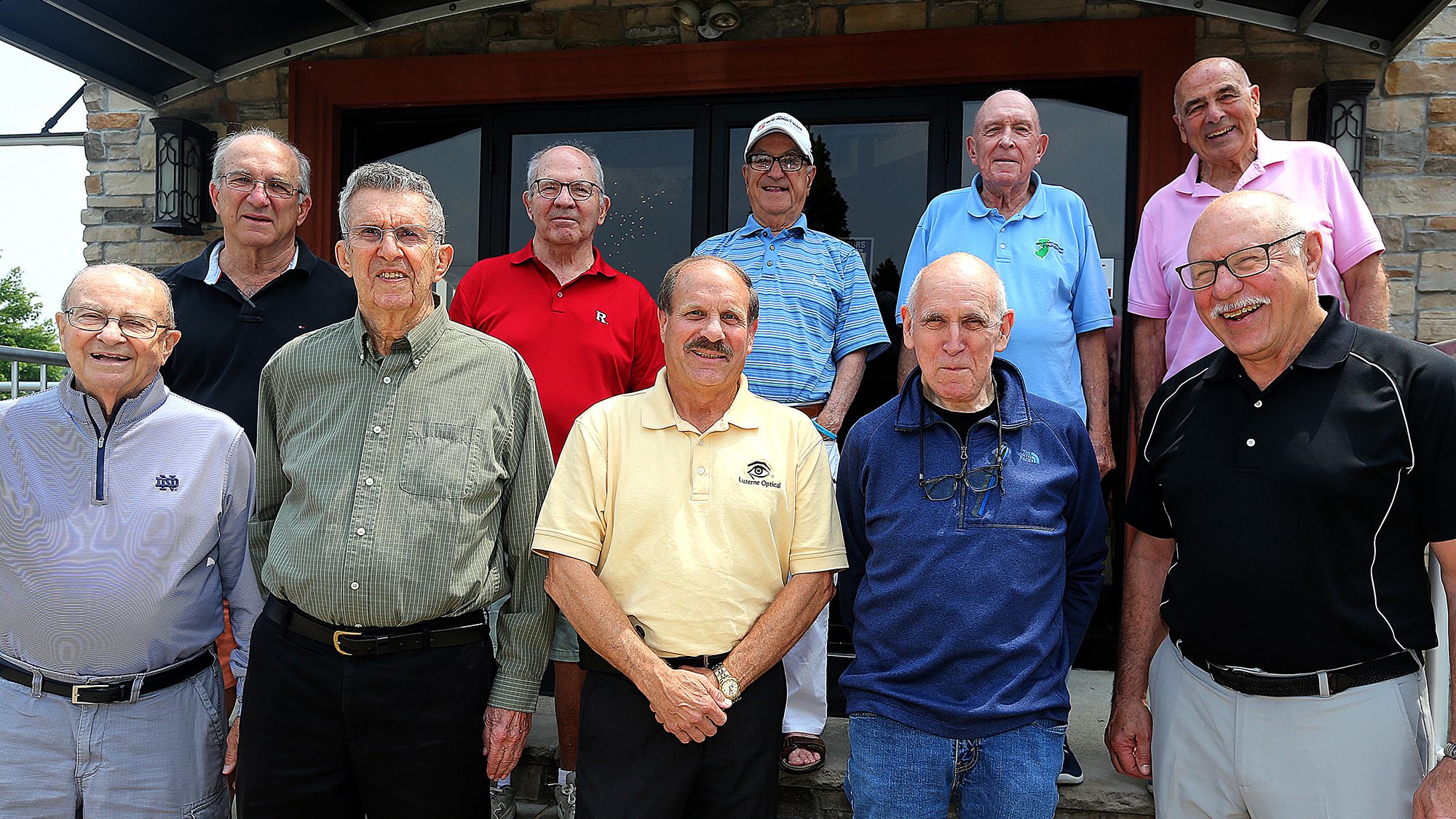 Official State Chapter of the National Wrestling Hall of Fame
---
New Jersey Diner Boys
- Story by Paul Franklin
- Photo by Ed Pagliarini
- Published by My Central Jersey
FLEMINGTON, NJ - They are the senior citizens version of the breakfast club.
Once a month, 12 to 15 men are seated in the back of the Flemington-Raritan Diner, a few tables pushed together, with no particular arrangement of who sits next to whom.
They are not teenagers just days out of school. Quite the opposite. All are in their 70's, some in their 80's, and all are among the most recognizable former high school wrestling coaches and officials in the state. Most of them are members of the New Jersey Chapter of the National Wrestling Hall of Fame.
The gathering began more than 15 years ago, initially at California Grill, then Friday's, then Country Griddle and finally the diner on Route 31 North.
A central location for the group, they drive in from as far away as New Providence, Lawrenceville, Point Pleasant, Jackson Township and even Pennsylvania.
Only two of them are not retired. Only two of them never wrestled competitively. But they all know the sport, and a slew of sports facts and memories dating to the 1950s.
Routine topics rotate from heart attacks and hip replacements, to fly fishing, gardening, vacations, being a grandparent and, um, wait, memory loss. Jokes and insults are as common as coffee, cheese omelettes, fruit cups, burgers, and occasionally a chocolate ice cream sundae.
"Don't tell my wife,'' cracked Bob Shernce about the treat one late spring morning. A former coach at Mt. Olive High School, he also wrestled for Seton Hall University. He is among the members of the NJ Chapter of the NWHOF.
When it comes to New Jersey wrestling, this group is a veritable Who's Who.
· Ken Bernabe is current Vice President of the NJ Chapter Board as well as being a member of the New Jersey Chapter of the National Wrestling Hall of Fame. He wrestled at Bridgewater-Raritan High School and then Rider University (Class of 1969). He coached at B-R East as well as West Windsor-Plainsboro South and officiated high school matches for 30 years.
· Dr. Sam Crosby was a state champion at Somerville High before going on to Rutgers to wrestle and play football. He officiated high school wrestling for 40 years and is also a member of the NJ Chapter of the NWHOF.
· Ernie Finizio was in the first class inducted into the state chapter of the NWHOF. Head coach at Roselle Park seven years, he also was a high school official 35 years.
· Jerry Sachsel coached high school wrestling 43 years, known mostly for his 15 years at Millburn. As a wrestler at Jonathan Dayton in Springfield and then at the University of Notre Dame, he never lost a dual meet match. A two-time state champion, he is also a member of the state chapter of the NWHOF.
· Dave Kinney was a two-time state champion at Somerville High before competing at Purdue University. A member of the New Jersey Chapter of the NWHOF, he had a successful career as coach of his high school alma mater.
· Norm Winter wrestled at Union High School before wrestling for Rutgers. Another member of the state's chapter of the NWHOF, he won more than 200 matches as coach of Piscataway High School.
· Joel Melitski wrestled at Somerville High School and went on to wrestle at Bloomsburg State where he placed second in the 1964 NAIA national championships. He went on to coach at Bernards High School for 34 years.
· Mike Leta graduated from North Plainfield High School before going to Rutgers, where he became RU's first All-American when he took third place in the 1960 NCAA nationals. He went on to be a very successful coach at Bridgewater-Raritan West and is another member of the NJ Chapter of the NWHOF.
· Ted Resnick wrestled at North Hunterdon before going out to Iowa to wrestle at Midwestern College. He became a wrestling official for many years and is also in the New Jersey Chapter of the National Hall of Fame. He owns and continues to work at the Flemington Department Store.
· Pennsylvania native Chet Dalgewicz wrestled at East Stroudsburg State where he lost only once in dual meet competition. He placed fifth in the 1966 NCAA tournament. He went on to be an assistant at Princeton University for 22 years.
· Ed Glassheim wrestled at East Brunswick High School before wrestling at the University of Dayton. A wrestling official going into his 50th season, he still works full-time in sales.
· Bill Dudeck wrestled at Somerville High School, was an assistant coach at Bridgewater Raritan, coached recreation wrestling and officiated for 30 years.
· Frank Sica is one of only two guys who did not wrestle, though he did help out at as an assistant coach at Irvington High School after being around the program at Montclair State. He is on the state chapter Board.
· Matt Menkowski graduated from Bridgewater Raritan East and Rider and is in his 48th season as a NJSIAA official. This is his 28th year as author and chairman of the NJSIAA History of New Jersey Wrestling publication.
· Bill Garbarini is a Somerville High and Rutgers grad and one of the most passionate wrestling fans around. A season ticket holder for Rutgers matches, he is on the Board of the NJ Wrestling Hall of Fame, and has served on the Board of the Scarlet Knights Wrestling Club.
As he often does, Bernabe waits until the group is assembled, standing and saying, "Gentleman. And I use the term loosely."
He will cover topics such as the annual chapter golf outing, the passing around of a raffle or acknowledging an honor one of them recently received.
Waitress Angela Galeone begins taking orders while often remembering what drinks some regulars prefer. "These guys are the only people who consistently come with a set schedule,'' she said. "They're really good guys. It's really nice to see guys who have been friends for so long."
Meanwhile Garbarini is relating a story to Shernce, saying, "I was with someone, I can't remember who. He said some outstanding things about you, and that's when I wondered if he really knew you well."
Down the other end, Resnick is noting how nice it is to get together. "It's the only time I get to talk with the old guys. But then,'' he noted, "when would I ever want to talk to them?"
A few seats away, Sachsel flashes a quick smile and says, "And coming here is a chance to catch up on who died. Your eyes aren't that good anymore and you can't always read the obits.
"But seriously, everybody here could have done something else today. Some have changed doctor appointments. You just want to be here."
"It's two hours to get caught up,'' Glassheim added. "If it's not your family, there's no two better hours you can spend. And this is family."
"Who had the rye toast?'' the waitress asks above the loud chatter and clanking of silverware. "Anyone need more napkins?"
Conversations across the tables range from the shooting skills of Pete Maravich, the improvement of the Baltimore Orioles, and did anyone know that Clarion had three national champions one year.
Kinney is told about a jab from Melitski from the other end of the tables, regarding tomato gardens.
"I can only imagine,'' Kinney said.
Across from him, Bernabe yells enthusiastically, "Kinney is in his tomato garden 24 hours! He has a cot out there! He talks to them!"
Dalgewicz was shaking his head, laughing.
"I told my wife that when I retired, it was time for family and friends. And these are my good friends. When I leave here," he said, glancing across the table, "I have a smile on my face for two days."
Our Mission: To honor the sport of wrestling by preserving its history, recognizing extraordinary individual achievements, and inspiring future generations