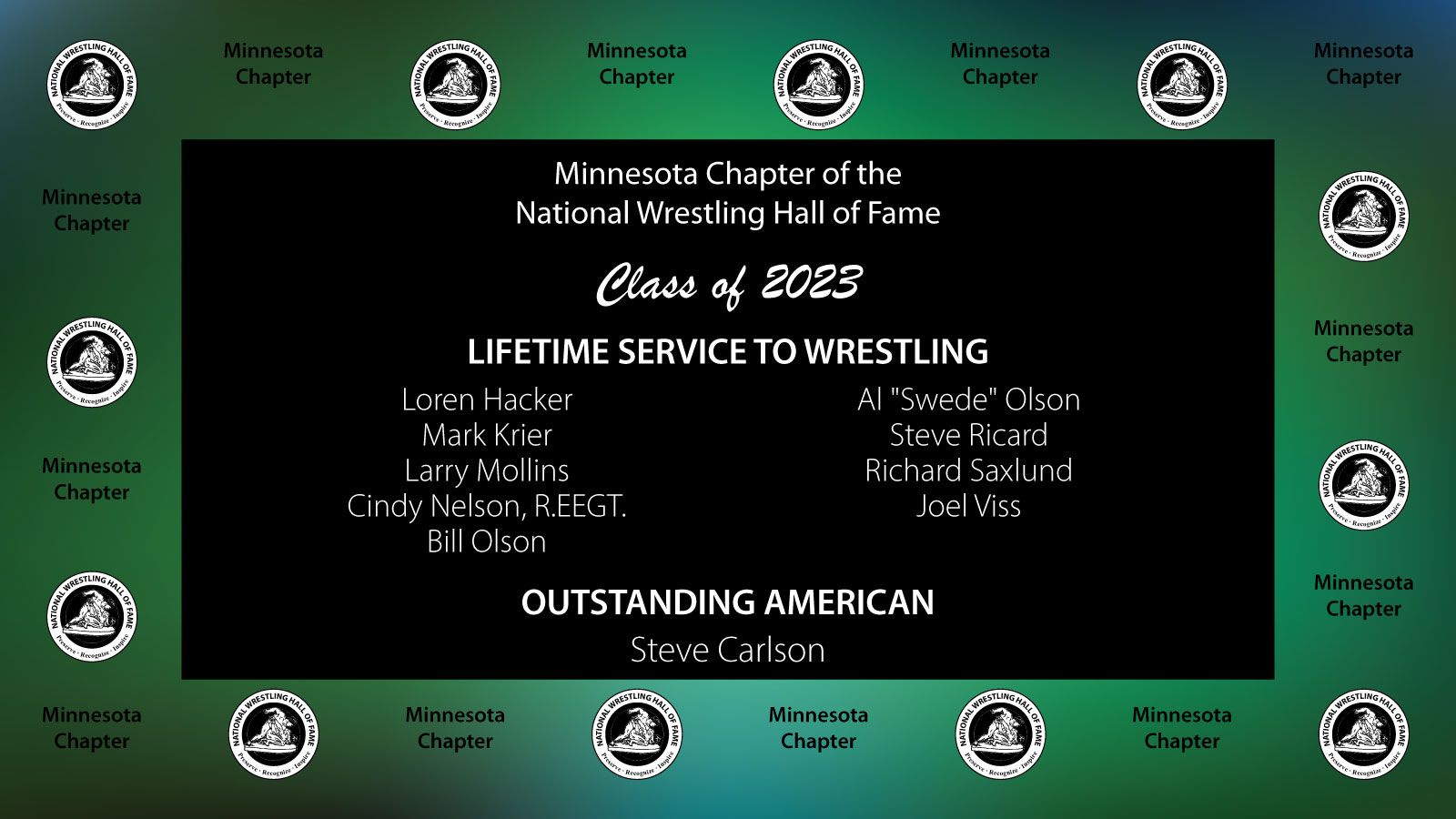 Official State Chapter of the National Wrestling Hall of Fame
---
Minnesota Chapter will induct ten new members on April 22, 2023
The NWHOF-MN Chapter will induct 10 new members on April 22, 2023 at the 20th Anniversary, and 21st Honors Class for Lifetime Service and Outstanding Americans. The event will be held at Austin Country Club, 1202 28th St. NE, Austin, MN.
Schedule:
Social Hour 12 Noon
Silent Auction 12-6 PM
Dinner & Video 1-2:30 PM
Program & Inductions: 3-6 PM
Short Bios Follow
STEVE CARLSON: OUTSTANDING AMERICAN (FRIDLY, MN & NAPLES, FL.)
Steve was a 2X State Champ and runner up for Hall of Famer Don Meyers at Fridley HS. Steve was a Captain for the University of Minnesota. Steve won the U.S.W.F. Open as A true Freshman and earned OW honors. Seve was an outstanding Financial Planner. Steve raised over $3 Million Dollars in Fund Raising for the Gopher Wrestling Club!!!
LOREN HACKER: LIFETIME SERVICE (CANBY, & DAWON-BOYD HS)
Loren coached 32 years as Head Coach at Mcintosh HS, SD, Canby, and Dawson-Boyd HS) An All-American HWT at NCAA III University of Minnesota Morris. Loren's team finished 6th in State, A member of the Dave Bartelma HOF. and long time volunteer for MSHSL Tournament, was Superintendent at Dawson-Boyd & Hancock, MN
MARK KRIER: LIFETIME SERVICE: (ZUMBROTA-MAZEPPA)
Mark was a three time State High School Champion for Plainview-Elgin-Millville HS. His records were 132-3 and 145-9 overall. Mark coached for 34 years, and was selected two different times as Assistant State HS Coach of the year for Owatonna, and Zumbrota-Mazeppa. Mark is a member of the MWCA Hall of Fame, Plainview Hall of Fame, and MCC Region 1 HOF.
LARRY MOLLINS: LIFETIME SERVICE (PERHAM, MN)
Larry Mollins gave back to the Sport of Wrestling for 48 years, An outstanding coach at Perham, MN, his teams recorded a 115-31-7- record. His 1979 Team won the MSCA Award for the old format in the one Class system in Class A State Individual Team Championship. The past 37 years Larry has been the voice for announcing wrestling coverage in Northwest Minnesota!
CINDY NELSON: LIFETIME SERVICE (Mantorville, MN)
Cindy just completed her 34th year giving back to the sport of Wrestling as a volunteer in 19 different wrestling events on an annual basis. Some of those events include State Tournament Table, NYWA, the Clash Tournament, The Clash Committee Board, , National High School Wrestling Duals, Clash All Tournament Scholar Team Chair, & Clash Girls Tournament Director.
AL "SWEDE" OLSON: (FOSSTON-BAGLEY (HS)
Al "Swede" Olson never left the Fosston/Bagley Wrestling Room. After graduation, he was a volunteer assistant. Assisted the Program for 47 years, and officiated 45 years in both capacities. His teams won over 345 duals, 74 state entrants, 25 100+ winners, and was selected 8AA assistant coach of the year honors3 different times. A member of MWC HOF.
BILL OLSON: LIFETIME SERVICE (BYRON, MN)
Bill Olson has been one of the top officials in the state of Minnesota the past 35 years. Wrestle for the great One Class Program from Le Roy -Ostrander,Winona State College And Waldorf Junior College. Bill has worked multiple State Tournament, the Head Official The past 17 years for the National High School Wrestling Duals at La Crosse, WI & Rochester.
STEVE RICARD: LIFETIME SERVICE (BENSON, MN)
Steve has given back to the Sport of Wrestling for 32 Years, as a coach, High School & MN USA Wrestling Official. Steve has been a youth coach forever as well. Outstanding Wrestler at Fertile-Beltrami HS, and a 4x Qualifier for MSUM , a three time NAIA Academic All-American for the Dragons!. According to Spencer Yohe. "Steve Ricard volunteers more time to the Sport of Wrestling in Minnesota than Steve Ricard."
RICHARD "DICK" SAXLUND: (LIFETIME SERVICE PIPESTONE HS, & WEST FARGO, ND)
Richard gave back 44 years to the Sport of Wrestling as a Coach. Pipestone Wrestling, where Richard was head coach for 35 years , 2 years at Le Roy HS, and 7 years as a junior high coach for West Fargo, ND. Richard's a Hall of Fame member at Mayville State Univ. Pipestone (2 HOF's), and MWCA. Son Steve won 3 NCAA II Championships for North Dakota State!
JOEL VISS: LIFETIME SERVICE (CHATFIELD HS)
Joel Viss wrestled for Spencer Yohe at Hancock HS, and was a NIC runner up at Bemidji State, And 2-Time NAIA National Qualifier for Coach Ken Martin. Joel served in the US Marine Corps Reserve in Paris Island, Mpls., and Quantico, VA! Joel was the head Coach at Chatfield HS For 31 Years, with a 399-242-5 record and drove the Team Bus. Joel's team produced a State Championship in 2014, and also placed 4th & 3rd at State. MWCA & MCC Region 1 HOF!