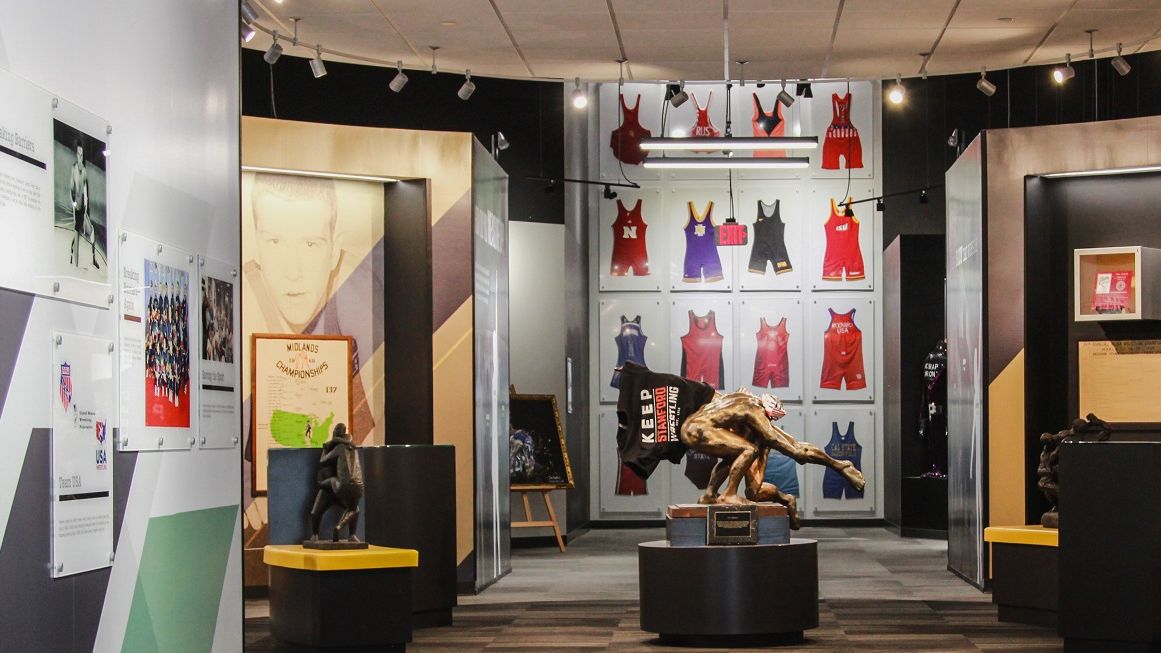 Yellowblue LED Lighting Improves Dan Gable Museum Visitor Experience
Pleasant Hill, Iowa - Yellowblue LED, the commercial LED lighting company of Eco Technologies International, helped the National Wrestling Hall of Fame Dan Gable Museum improve the overall visitor experience and save thousands in energy costs with a complete LED light upgrade.

"Our new LED lights are the best, and I couldn't believe how much they improved the museum," states Dan Gable, the museum's namesake and legendary gold medal Olympic wrestler, NCAA champion coach and Presidential Medal of Freedom recipient. "The updated LED lighting highlights each display perfectly and offers an open, comfortable space that visitors really want to spend time in and enjoy."
WATCH Exclusive Interview With Dan Gable
During a $1.5 million renovation, the Dan Gable Museum installed $100,000 in new LED lights from Yellowblue LED, replacing all of the old incandescent lighting in the building.

"After a seamless installation process, the new LED lights created an ambiance that really highlights the museum artifacts and provides a cooler, safer space for our employees and visitors," said Jim Miller, Director of the Dan Gable Museum. "Best of all, we saved on our energy bills and eliminated the hassles and expense of bulb replacement and maintenance fees."

The museum now uses approximately 65 percent less energy to power the new LED lighting and emits 70 percent less heat with the upgrade, saving thousands each year on their utility bills.

"As a huge fan of wrestling and all that Dan Gable has contributed to the world, especially our local area, it has been a huge honor to help the museum offer a better experience for visitors and reduce energy costs," said Craig Schwienebart, Yellowblue Eco Tech President.

Currently, Yellowblue LED serves the entire Midwest and more and plans to expand significantly in 2022.

About Yellowblue LED

As part of Eco Technologies International since 2011, Yellowblue LED is an Alliant Energy Small Business Energy Solutions Award winner in the commercial lighting industry, helping thousands of small to medium-sized businesses find the perfect LED lights to increase productivity and greatly reduce utility costs. Yellowblue LED currently has regional offices in metro Milwaukee, WI, Des Moines, IA and Dallas, TX, serving the entire Midwest and more through a network of Independent Agents and Representatives. Through their proprietary software and systems, they make sales simple and provide cost-effective, beautiful lighting solutions for customers. For more information, visit YellowblueLED.com.
Our Mission: To honor the sport of wrestling by preserving its history, recognizing extraordinary individual achievements, and inspiring future generations