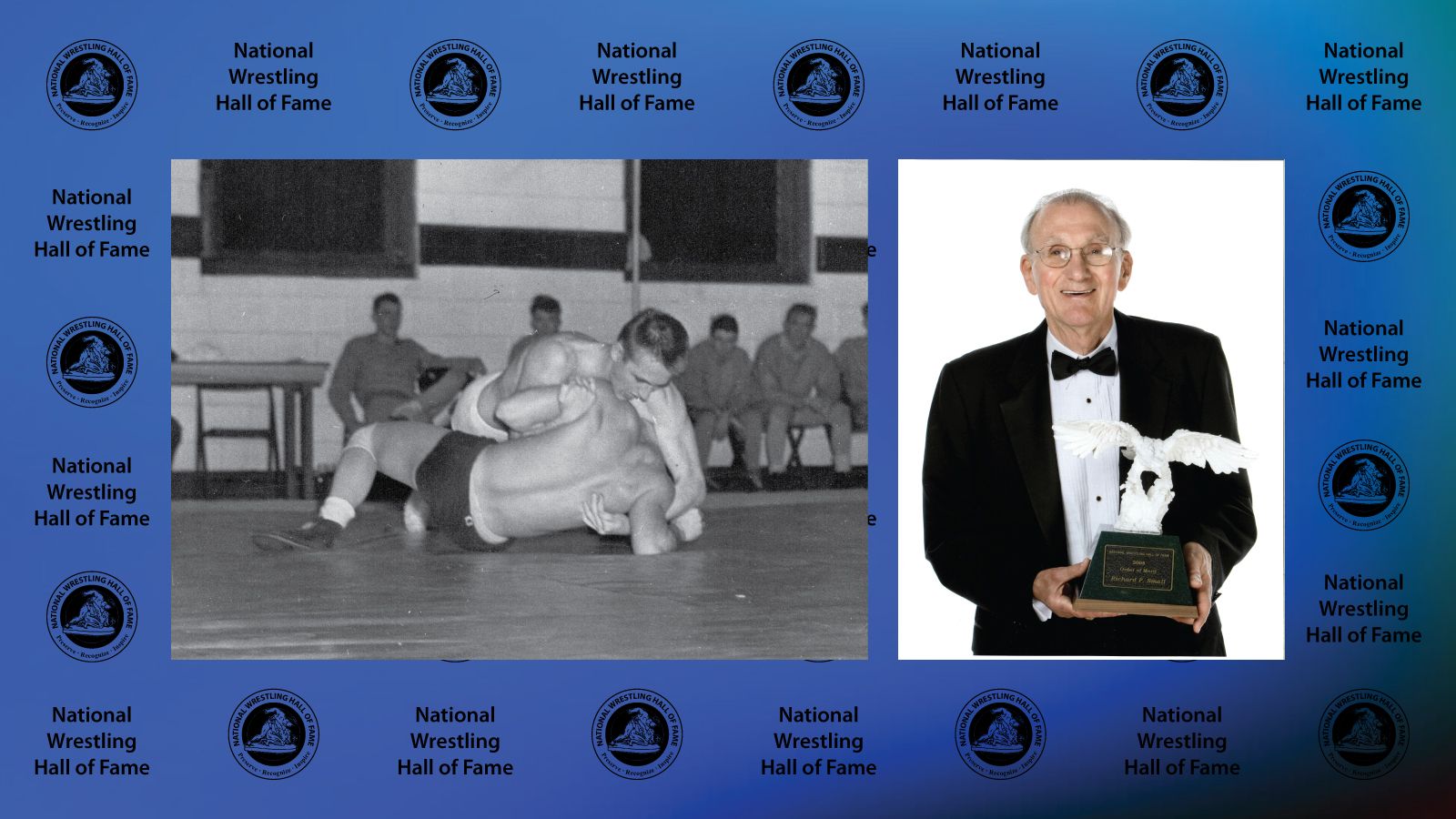 Order of Merit Recipient Richard Small Passes Away
The National Wrestling Hall of Fame was saddened to learn that Richard Small, who received the Hall of Fame's Order of Merit award in 2008, has passed away, at the age of 93.

"On behalf of the National Wrestling Hall of Fame Board of Governors and staff, I want to extend our sincerest sympathies to Richard's wife, Norma, his family and all of those in wrestling who he impacted," said Lee Roy Smith, Executive Director of the National Wrestling Hall of Fame. "Not only was Richard an influential board member and officer, he helped to provide a legacy of sustainability for the Cornell College wrestling program and the National Wrestling Hall of Fame. He will forever be remembered for his generous and responsible stewardship."

A champion wrestler for Cornell College in Iowa, Richard Small used the tenacity learned on the wrestling mat to forge a wildly successful business career. Since his retirement in 1998, he has devoted much of his time, energy and finances to supporting and promoting the sport of wrestling.

He graduated from Thornton Township High School in Harvey, Illinois, in 1946 and attended Cornell College in Mt. Vernon, Iowa, where he was a Midwest Conference wrestling champion and a member of the 1947 NCAA and AAU national championship team.

In 1950, he received a bachelor's degree in economics and business administration. He attended Northwestern University Graduate School of Business and in 1973, attended the Harvard Business School Advanced Management Program for senior executives.

In 1952, he founded Checker Oil Company, an oil-marketing firm, with a lease on an abandoned gas station in Olympia Fields, Illinois. Under his leadership as chairman and chief executive officer, the firm grew to a network of several hundred service stations in 18 states with revenues of $500 million.

Small sold his interest in Checker to Marathon Petroleum Company in 1983, and in 1984, began a new career as president and majority stockholder of Tri-Star Aerospace, Inc. of Deerfield Beach, Florida. In September of 1996, he sold most of his shareholdings in Tri-Star and retired in September 1998.

Although he has contributed to numerous charities throughout his lifetime, since his retirement, he has demonstrated his devotion to two lifelong loves, wrestling and Cornell College. He is the most generous all-time benefactor to his alma mater, Cornell.

For many years, he has taken his responsibilities as a member of the Board of Governors of the National Wrestling Hall of Fame very seriously, at times making weekly trips to Stillwater to offer his wisdom, business acumen and encouragement.

In 2007, Richard and Norma Small issued a financial challenge to the wrestling community to match their contributions and endow the Hall for perpetuity. Thanks to Richard and Norma Small, the National Wrestling Hall of Fame's Endowment Fund is growing annually.
Mentioned in this article