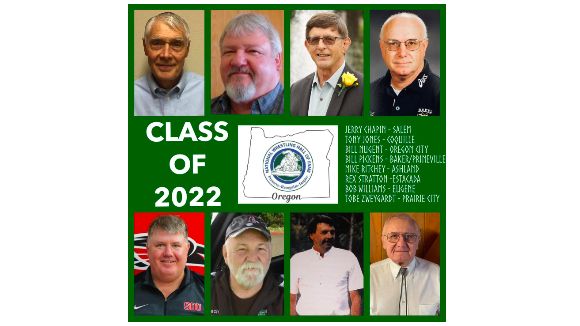 NWHOF - Oregon Chapter names Class of 2022
The Oregon Chapter of the National Wrestling Hall of Fame announces the Class of 2022.
Outstanding American honoree:
♦ Jerry Chapin - Army, Salem
Lifetime Service to Wrestling honorees:
♦ Tony Jones - Coach, OWA Leadership, Coquille/SWOCC
♦ Bill Nugent - Coach, Oregon City/Tualatin
♦ Bill Pickens - Coach, Baker/Prineville
♦ Mike Ritchey - Coach, Southern Oregon Univ., Ashland
♦ Rex Stratton -Official/Coach, POWA/Estacada
♦ Bob Williams - Coach, S.Eugene/Sheldon/Pleasant Hill HS
♦ Tobe Zweygardt - Official/Coach, Prairie City
The 27th Annual Oregon Chapter of the National Wrestling Hall of Fame (NWHOF) Awards Banquet will be on Saturday, October 22nd, 2022. The venue is the Embassy Suites at Washington Square in Tigard.
Event tickets can be purchased at: or-nwhof.ticketleap.com/27th-nwhof-or/
We will also honor the Oregon 2022 NWCA Coaches of the Year & NWHOF Excellence Athletes of the Year. Silent auction and social 4:00pm-6:30pm prior to the banquet at the same location.
Hotel reservations with the Group Code: CES607 can be found at:
https://www.hilton.com/en/book/reservation/deeplink/?ctyhocn=PDXBVES&groupCode=CES607&arrivaldate=2022-10-21&departuredate=2022-10-23&cid=OM,WW,HILTONLINK,EN,DirectLink&fromID=HILTONLINKDIRECT
You can find out more info about the NWHOF Oregon Chapter at: https://nwhof.org/state-chapters/oregon
Thank you for your support!!!
-Trent Kroll - President of the Oregon Chapter