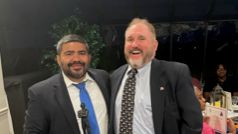 NJ Chapter Board Member Oscar Orellana, Honored As Administrator of the Year
At the recent Shore Conference wrestling awards banquet Oscar Orellana, NJ Chapter board member, was honored as Wrestling's High School Administrator of the Year.
Presently Oscar is the Athletic Director at Lakewood High School. Previously he was the wrestling coach where he revitalized the Boy's program and got the Girl's Wrestling Team going. Lakewood's girls' team has 40 plus participates and is one of the largest girl's programs in the state.
Under Oscar's direction, for the past five years, Lakewood has hosted "The Urban Classic - Rumble in the Pines" - A 20 team wrestling tournament for the inner-city schools throughout New Jersey. Oscar also runs two other tournaments for high school boys and girls throughout the season.
Oscar is also The Shore Conference Girls Wrestling Tournament Director, which has girls competing from over thirty high schools.
Pete Frampton comments that "Oscar is known for always lending a hand and offering his facilities to help all student athletes not only in Lakewood but throughout the Shore Conference and for that matter throughout New Jersey. Oscar recognizes and celebrates the value that wrestling and all sports have in the lives of kids."
Our Mission: To honor the sport of wrestling by preserving its history, recognizing extraordinary individual achievements, and inspiring future generations