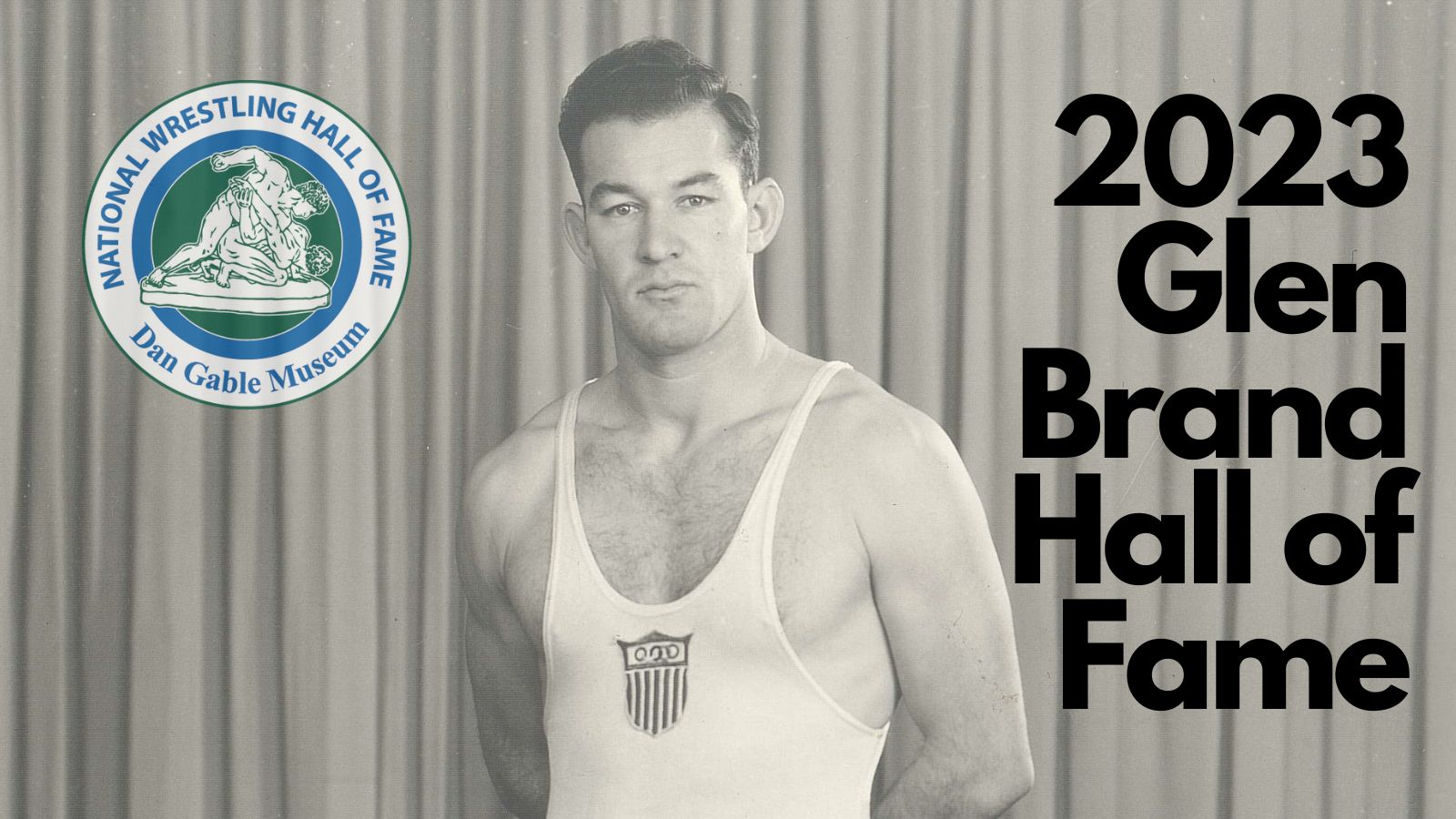 Glen Brand Wrestling Hall of Fame of Iowa Class of 2023 Announced
WATERLOO, Iowa - Featuring 20 individual state championships, 14 NCAA All-Americans, a four-time Women's Collegiate Wrestling Association All-American, three Junior World champions, a seven-time state championship high school coach, the state of Iowa's first NCAA Division II national championship team, one of the most influential wrestling promoters in the world, and three Pan American Games silver medalists, the Class of 2023 will be inducted into the Glen Brand Wrestling Hall of Fame of Iowa on June 23.
Rachel Watters, Jon Reader, Nate Gallick, John Oostendorp, Lennie Zalesky and the 1974-1975 University of Northern Iowa wrestling team will be inducted into the Glen Brand Wrestling Hall of Fame of Iowa. The Hinschberger / Shedenhelm Family will be presented with the Bowlsby Family Legacy Award, Mark Reiland will posthumously receive the Bob Siddens High School Coaching Excellence Award and Josh Schamberger will be presented with the Russ Smith Community Impact Award. Ben Kueter will be presented with the Bob Steenlage Iowa High School Wrestler of the Year award while Lilly Luft will receive the Iowa High School Female Wrestler of the Year award.
Located inside the National Wrestling Hall of Fame Dan Gable Museum in Waterloo, Iowa, the Glen Brand Hall of Fame was established in 2002 to honor native-born Iowans and those who wrestled or coached for an Iowa school who have made an impact on wrestling on a national level or who have done extraordinary work in Iowa.
A banquet honoring the Class of 2023 will be held at Prairie Links Golf & Event Center in Waverly, Iowa, on June 23. Click here to purchase tickets. For more information, contact the National Wrestling Hall of Fame Dan Gable Museum at (319) 233-0745 or dgmstaff@nwhof.org.
Rachel Watters, a native of Ankeny, Iowa, wrestled for Ballard Community High School, lettering four years on the boys team. In 2016, she became the first female to win a sectional title when she won the 145-pound championship. While still in high school, Watters was the youngest wrestler to qualify and compete in the 2016 United States Olympic Team Trials. She was a three-time ASICS/Vaughan Freestyle Nationals champion and a two-time Folkstyle Nationals champion. Throughout high school and college, Watters won five age-group national champions and represented the United States in three Junior World Championships and two U23 World Championships. She was a four-time All-American for Oklahoma City University and went undefeated as a senior while becoming the first Iowan to win a WCWA national title and the Sooner Athletic Conference championship. Watters was a four-time recipient of the Iowa/USA Wrestling Female Athlete of the Year award. She competed in USA Wrestling's Final X competition in 2018 and was a member of the USA Senior National Team. Watters won a silver medal at the 2019 Pan-American Championships and competed in the 2021 U.S. Olympic Team Trials.
Jon Reader, a native of Davison, Michigan, was an NCAA champion, three-time All-American and four-time NCAA qualifier for Iowa State. During his run to the 174-pound title in 2011, he was 39-0, including 27 bonus-point wins, and ranked No. 1 in every major poll for the entire year. Reader finished seventh at the NCAA tournament in 2008 and fourth in 2009. He had a career record of 124-23, the 18th-best win percentage in Iowa State's 100-Win Club, and his 124 wins tied him for ninth place in career wins. Reader was a member of the University World Team in 2010 and 2012 while representing the United States at the 2012 World University Championships and winning the gold medal at the 2012 Hari Ram Grand Prix. He was a Pan American silver medalist in 2009 and competed in the 2016 U.S. Olympic Trials. Reader was a three-time Michigan high school state champion with a career record of 234-6. He currently is the associate head wrestling coach for the University of Wisconsin.
Nate Gallick, a native of Tucson, Arizona, wrestled at Iowa State for Hall of Fame coach Bobby Douglas. He as an NCAA champion, two-time finalist and three-time All-American for the Cyclones while also capturing two Midlands titles and three Big 12 Conference championships. After a runner-up finish as a junior, Gallick went 35-0 and won the NCAA title at 141 pounds in 2006 while also being named Iowa State Student-Athlete of the Year. He was a multiple Cadet and Junior national champion in freestyle and Greco-Roman while also capturing University national and world titles in freestyle. Gallick was named Outstanding Wrestler after winning the 2007 U.S. Senior Nationals. He was a four-time U.S. National Team member and finished third at the U.S. Olympic Team Trails in 2008. A two-time Arizona state high school champion, Gallick was the Arizona winner of the National Wrestling Hall of Fame's Dave Schultz High School Excellence Award in 2001. He coached alongside Chris Bono at the University of Tennessee at Chattanooga for two seasons and was a volunteer assistant coach at Iowa State for Kevin Jackson in 2009. Gallick has worked almost 13 years for Wells Fargo and is currently a senior sales manager.
John Oostendorp, a native of Nichols, Iowa, was an all-state linebacker in football and the first state champion wrestler in the history of West Liberty High School. He pinned all but one opponent as a senior and won his state finals match 10-0. Oostendorp wrestled and played linebacker at the University of Iowa. A four-year starter at heavyweight, he was a two-time All-American and a Big Ten champion while compiling a career record of 108-26 with 40 pins. As a senior, Oostendorp defeated eventual Olympic and World champion Rulon Gardner in the third-place match. Oostendorp won the Espior U20 National Championships in 1989 and represented the United States at the U20 World Championships, finishing fifth. His redshirt freshman year at Iowa, he won the Junior Greco-Roman National Championships and represented the U.S. at the Junior World Championships, finishing fifth. Oostendorp competed in the 1995 World Championships and won the 1996 Greco-Roman national championship. He was the alternate for the 1996 Olympics and the 1997 World Championships. Oostendorp is in his 22nd year as the head wrestling coach for Coe College in Cedar Rapids, Iowa. He is a three-time American Rivers Conference Coach of the Year and was named National Wrestling Coaches Association National Coach of the Year in 2009. Oostendorp led the Kohawks to back-to-back fourth-place finishes at the 2008 and 2009 NCAA Championships, the two highest finishes in school history. He has guided Coe to 10 Top 10 finishes, including six trophy finishes, at the NCAA tournament. Oostendorp has coached seven national champions and more than 90 All-Americans during his career with the Kohawks.
Lennie Zalesky, a native of Cedar Rapids, Iowa, was a state champion for Cedar Rapids Prairie High School. He was a three-time All-American and three-time Big Ten champion who helped the University of Iowa win four straight NCAA team championships. After a fourth-place finish as a sophomore, Zalesky went 73-2-1 as a junior and senior while advancing to the NCAA finals at 142 pounds both seasons. He won the Henry Deglane Tournament in Nice, France in 1983 and the Cerro Pelado International Tournament in Cuba in 1986 while capturing silver medals at the 1983 Pan American Games, the 1984 World Cup, the 1984 Tbilisi Tournament and the 1983 Canadian Cup. Zalesky received bachelor's degrees in finance, education and Russian language from Iowa while earning his master's degree in Slavic linguistics and literature from the University of Indiana. After coaching at his alma mater from 1986-90, he spent eight seasons as the head wrestling coach at Palmer High School in Palmer, Alaska. Zalesky was inducted into the Alaska Wrestling Hall of Fame in 2010. He then coached nine years at the University of California, Davis, being named Pac 10 Coach of the Year in 2007. Zalesky was head coach at California Baptist University from 2011 until his retirement in 2022. He was named NCAA Division II Coach of the Year in 2017 and Rocky Mountain Athletic Conference Coach of the Year in 2016.
The 1974-1975 University of Northern Iowa Wrestling Team was dominant in 1975, compiling a 15-4 record and winning the state of Iowa's first NCAA Division II national championship. Led by Chuck Patten, the Panthers advanced five wrestlers to the finals: Dave Cunningham at 118 pounds, Jim Miller at 134 pounds, Ken Snyder at 142 pounds, Dick Erickson at 177 pounds, and Randy Omvig at heavyweight. Miller and Snyder both won their second consecutive national title while Omvig won his first. Members of the 1974-75 UNI Wrestling Team were Stanley Allen, Michael Asche, Jon Bagenstos, Gary Bentrim, Jeffrey Billerbeck, James Blasingame, Richard Briggs, Russell Clark, Stephen Coon, Thomas Cornally, David Coulter, David Cunningham, Larry Dawson, Dallas Deike, Joseph Deutsch, Randy Dodd, Michael Eremieff, Richard Erickson, Lowell Ewalt, Kevin Finn, Thomas Garcia, Al Garrison, Ron Gomis, Alan Halferty, Paul Herder, Thomas Hinschberger, Cassim Igram, Dan Keller, Dick Kennedy, Kurt Mattison, Bruce McClure, Nolan Meggers, Jeffrey Melvin, Gary Meyers, James Miller, Randall Omvig, Ronald Ott, Chuck Parsons, Stephen Pate, Kenneth Peterson, Lars Sacquitne, Lonny Silber, Michael Skopec, Kenneth Snyder, Lawrence Soderberg, Dana Sutherland, Randall Terpstra, Hal Turner, Russell Vermie, Paul Viktora, Paul Vornbrock, Mark Wakeland, John Wistey, and Michael Woodall.
The Hinschberger / Shedenhelm Family, comprised of 14 wrestlers, will receive the Bowlsby Family Legacy Award. Since 1971, a Hinschberger / Shedenhelm family member has wrestled or coached. The Hinschberger / Shedenhelm legacy began at Belle Plaine High School with the Hinschberger brothers: Tom, Jim, Dean, Kurt, and Bruce. Tom, the eldest, finished fourth at the Iowa high school championships in 1972 and wrestled for the University of Northern Iowa before sustaining a career-ending injury in 1975. Kurt was a two-time Iowa state champion in 1978 and 1979 while Jim, Dean and Bruce all wrestled. Kurt married Terri Jo Shedenhelm, a native of Belle Plaine, Iowa, and they had two sons, Dustin and Drew. Dustin was a three-time NCAA Division III national champion for Wartburg College after placing fourth (2000), third (2001) and first (2002) at the Iowa state tournament. Drew finished sixth (2006), third (2008) and first (2009) at the Iowa state tournament and was a national qualifier for Coe College. Dean's two sons, Erich and Lance, also wrestled. Erich placed fourth at the Iowa state tournament in 1998 while Lance finished sixth (2012) and third (2013) at state before wrestling at Upper Iowa University. Terri Jo's brothers, Kurt and Kevin Shedenhelm, also wrestled for Belle Plaine. Kurt finished fifth in 1981 and third in 1982 and 1983 at the Iowa state tournament and was a Freestyle Junior Nationals runner-up before becoming a three-time NCAA qualifier for the University of Northern Iowa. Kevin placed third (1983) and second (1984) at the Iowa state tournament and also wrestled for UNI. Kevin became the head wrestling coach at Denver (Iowa) High School and coached his three sons, Blaze, Chase, and Izaak. Blaze was a state qualifier in 2010 while Chase was state runner-up in 2012 and state champion in 2013 and Izaak finished third in 2015 and first in 2016. Chase and Izaak both wrestled for UNI.
The Bowlsby Family Legacy Award is named after the Bowlsby Family from Waterloo. John Bowlsby and Bob Bowlsby wrestled for legendary coach Bob Siddens at Waterloo West High School while their parents, Bob and Pat, and sisters, Ann, Sarah, and Jane, were instrumental in their careers.
Josh Schamberger will receive the Russ Smith Community Impact Award, presented annually to an individual who demonstrates exceptional local impact on wrestling in Iowa. The President/CEO of Think Iowa City and the Iowa City Area Sports Commission for the past 22 years, Schamberger has had an especially strong impact on the sport of wrestling. He has been the organizer and driving force behind Iowa hosting two USA Wrestling Olympic Team Trials. Schamberger has also been responsible for hosting numerous other USA Wrestling and United World Wrestling events, including U.S. Senior Opens, a World Team Trials Challenge Tournament, Girls Folkstyle Nationals, a National Recruiting Showcase, and the 2018 UWW Freestyle World Cup. He was also organizer for the 2022 UWW Men's and Women's Freestyle World Cup, marking the first time in history that men and women competed alongside each other in a World Cup. Schamberger and his team host and coordinate the Dan Gable Donnybrook high school tournament, the 2020 and 2021 Iowa Wrestling Coaches and Officials Association girls state tournaments, the 2020 NWCA Division III Championships, the recent Soldier Salute, and the upcoming Iowa High School Girls Athletic Union high school state tournament and the Girls State Tournament and the Iowa High School Athletic Association boys state dual tournament. In addition to securing and hosting these events in Iowa, Schamberger has also represented USA Wrestling at international tournaments in Cuba, Serbia, France, Estonia, and Italy. He has also been a strong supporter and advocate for the growth of girls wrestling, helping to secure funding for many area high school clubs before girls wrestling was sanctioned. Schamberger was a key partner in helping the University of Iowa establish its women's wrestling program and serves as the founding board president of the Hawkeye Women's Wrestling Club.
Mark Reiland will posthumously receive the Bob Siddens High School Excellence Award. Reiland was an assistant coach at Iowa City West High School from 1992 to 1996 before becoming head coach at Solon High School in 1997. After going 25-12-1 in two seasons at Solon, he returned to Iowa City West as head coach. From 1999 to 2018, he led the Trojans to a 411-96 record with five state dual team titles and two traditional state team titles. His teams also had three state dual runner-up finishes and five traditional state team runner-up finishes. Iowa City West won 14 Mississippi Valley Conference dual meet titles and 10 tournament titles. Reiland coached 152 state qualifiers with 26 state champions and 95 state place-winners.
The Bob Siddens High School Excellence Award is presented to an Iowa high school wrestling coach who exemplifies the high standards that Siddens set during his coaching career at Waterloo West. Siddens was inducted into the GBHOF in 2003 and was the inaugural recipient of the award bearing his name in 2012.