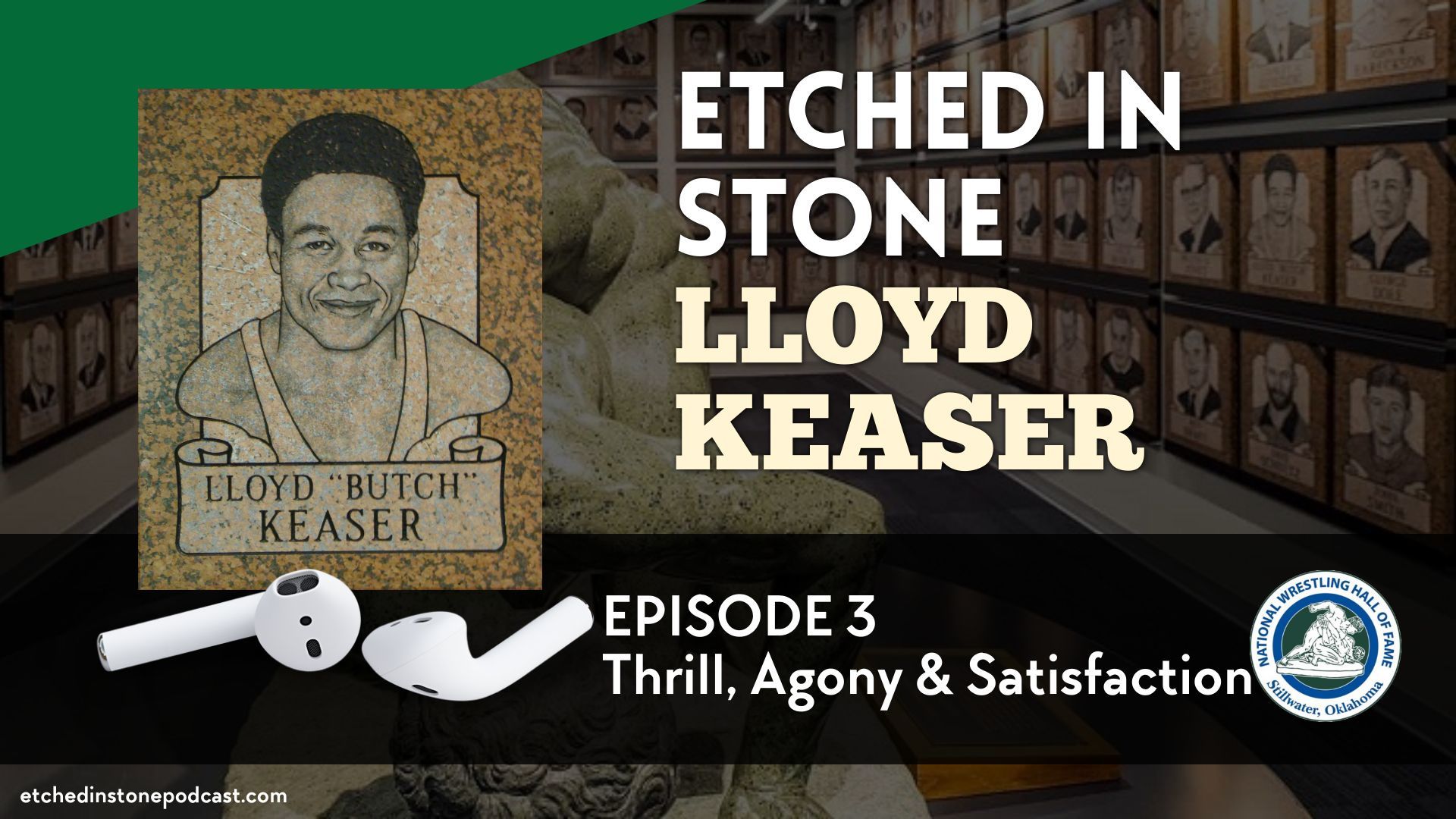 Final Episode of Etched In Stone Podcast Featuring World Champion, Distinguished Member Lloyd "Butch" Keaser Available Tuesday
The National Wrestling Hall of Fame and USA Wrestling are happy to announce that the final episode of their "Etched In Stone - Stories of Wrestling Legends" podcast featuring World Champion, Olympic silver medalist and Distinguished Member Lloyd "Butch" Keaser will be available Tuesday at etchedinstonepodcast.com.
Presented by the United States Marines, the three-episode series is narrated by Hall of Fame wrestling writer, broadcaster and announcer Jason Bryant who produced it in conjunction with award-winning journalist and WIN Magazine editor Mike Finn, who conducted extensive interviews with Keaser and others who have been a part of his journey.
Growing up in poverty during desegregation in a Baltimore suburb, Keaser became a two-time All-American at the United States Naval Academy and made history in 1973 when he became the first Black wrestler to win a World Championship gold medal. He added a silver medal at the 1976 Olympics while also capturing a bronze and a silver medal at the legendary Tbilisi tournament. After rising to the rank of captain, he retired from the Marines Corps and became a successful business leader for IBM.
In addition to etchedinstonepodcast.com, the Keaser podcast is available through Google Podcasts, Apple Podcasts, Spotify and Stitcher. Finn also wrote and designed a digital storybook that can be read by CLICKING HERE.
The three podcasts also include Olympic and World Champion Jordan Burroughs, fellow Distinguished Member and Olympic and World Champion Dan Gable, wife Cate Keaser, brother Michael Keaser, sister Deborah Keaser, Russian rival and Olympic and World Champion Pavel Pinigin, high school coach Dick Purdy, and Navy wrestling teammate Tom Schuler.
Podcasts featuring Distinguished Members Mark Churella, John Smith and Patrick Smith are also available. The Hall of Fame and USA Wrestling are developing future EIS podcasts on Distinguished Members, including Gable and Leroy Kemp.
The brainchild of 1976 NCAA wrestling champion Pat Christenson, the EIS podcast series features legendary wrestlers discussing the trials and tribulations they encountered on the way to becoming one of wrestling's best. Podcasts provide additional insight on the legend through interviews with competitors, coaches, teammates and others who were part of the journey. The podcasts are made by former wrestlers and wrestling insiders, who utilize their knowledge and unique perspective to extract the stories that fans want to hear.