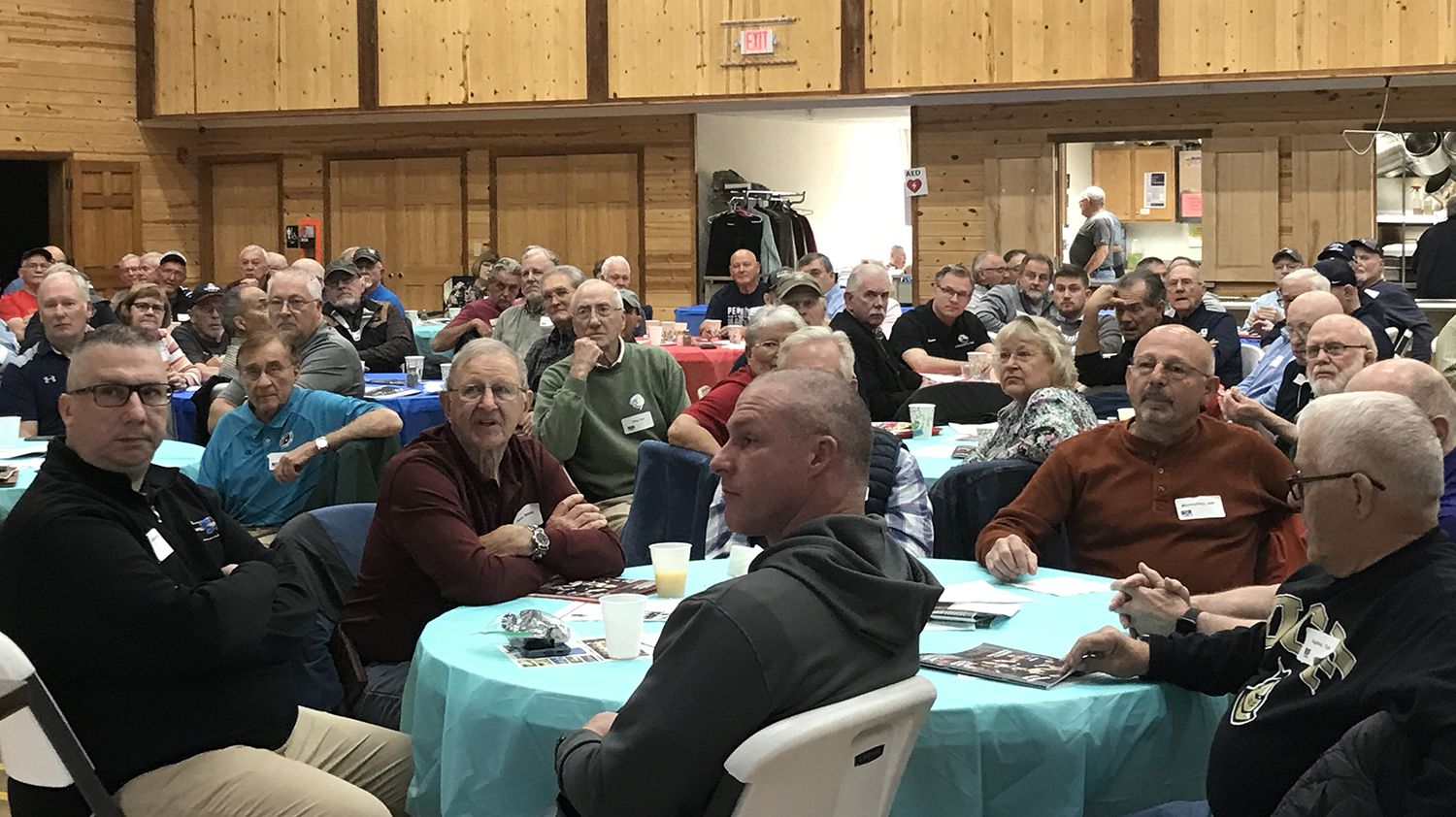 Official State Chapter of the National Wrestling Hall of Fame
---
The central Pennsylvania wrestling breakfast draws large crowd
If you build it they will come. And come they do from far and wide twice a year just to talk wrestling.
The concept for "The Central Pennsylvania Wrestling Breakfast" was developed by PA Chapter Board members Dick Rhoades, Tom Elling and Lloyd Rhoades nearly twenty years ago. The three, having attended a similar function in Williamsport, decided it would be a good idea to establish something similar in the District 6 area of the Commonwealth. They did and the idea has flourished.
Coaches, former wrestlers, officials, and media make the pilgrimage to Lock Haven, Pennsylvania, twice a year (fall and spring). Hall of Famers, former NCAA All-Americans, former state champions- all convene at the First Church of Christ in Mill Hall to talk wrestling. The breakfast has attracted attendees from Texas, Georgia, Minnesota, Florida, and, of course, Pennsylvania and surrounding states.
The very first 'meeting' was held in State College with twenty-four in attendance. Since that time and four locations, the attendance has grown to over 200.
Wrestling people come to renew friendships and to tell stories that have been told and retold for so many years.
Some as young as fifteen have been among the group ... Some in their 80s and 90s. Penn State's oldest living NCAA Champion John Johnston and former Penn State coaches Rich Lorenzo and John Fritz are regulars. Another old coach and nationally-known fly fisherman Joe Humphreys rarely misses. Former pro athletes (Ed Ott, Tom O'Malley, and Matt Millen) have attended.
The structure is simple- it begins with a social hour, then a buffet breakfast (served by church member volunteers) and a brief program thereafter. Wisconsin NCAA Champion (1996) Dr. Jeff Walter is scheduled speak at the October gathering.
We'd encourage other states to develop their own wrestling reunion. It promotes wrestling and gets good wrestling people together.