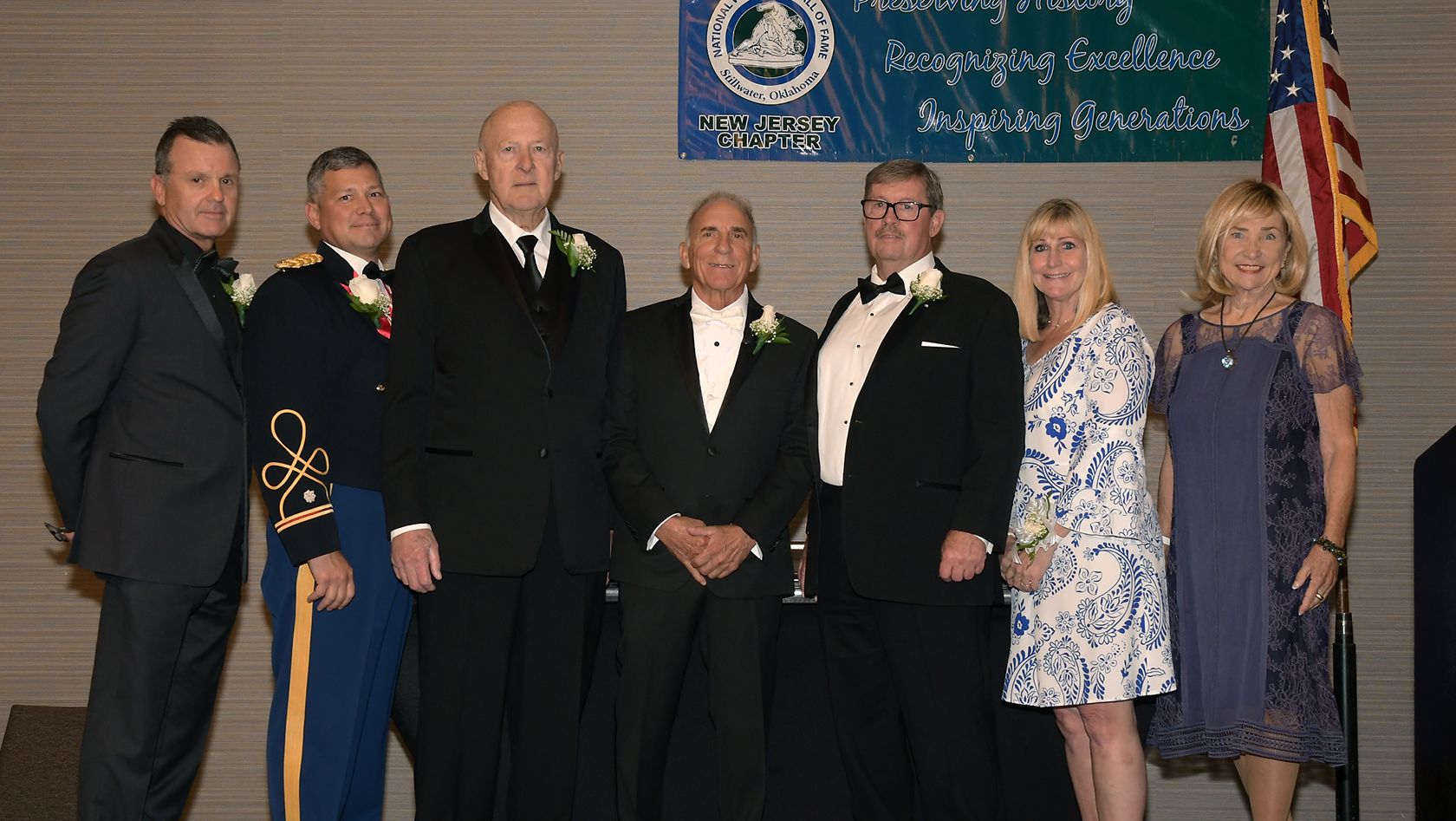 Official State Chapter of the National Wrestling Hall of Fame
---
New Jersey Inducts Seven into Class of 2021
The New Jersey Chapter of the National Wrestling Hall of Fame held its 20th Hall of Fame Induction banquet before more than 250 attendees in mid-September. The Chapter inducted seven honorees.
Thirty current members of the state Hall of Fame were acknowledged prior to inductions, an overdue reunion since last year's event was cancelled due to the pandemic.
Krista Graff, Director for all USA Chapters, frequently attends the New Jersey induction ceremonies and complimented the organization for having, "A well run and well organized induction ceremony."
Larry Nugent, USA Wrestling representative, was given an Outstanding Contributor Award on behalf of the New Jersey Chapter.
The Chapter inductees' resumes ranged from their wrestling careers, high school coaching success, to long-term officiating as well as special lifetime awards. Each spoke in front an enthusiastic crowd, which included family members.
Bill Pavlak, who wrestled at Slippery Rock University, coached high school 14 years, posting a 160-22-3 record. His teams won 10 district titles, eight conference titles, six sectional titles and four group championships. Nineteen of his wrestlers placed in state tournaments, four reaching the finals with one winning a state title. New Jersey coach of the Year in 2000, he was also a long-time referee.
Fred Piotrowski coached at the high school level 36 years while accumulating 364 victories. A member of two other wrestling Hall of Fames, his teams totaled nine conference championships, eight district titles, three state sectional championships and had 16 state place winners. A graduate of Springfield College, he has also been involved in numerous community wrestling programs.
Ron Grigoletto, a graduate of California State College, coached on the high school level eight years before officiating for 25. He refereed 15 state championships. Inducted into two other wrestling Hall of Fames as well as other wrestling associations, he has received a National Federation Interscholastic Officials Association Distinguished Service award.
Joe Luongo wrestled at the University of Nebraska and went right into high school coaching, where in five season had a record of 49-9-1. From there he joined the New Jersey Wrestling Officials Association, were he went on to be State President, Northeast Chapter President, the Northeast Chapter Cadet Supervisor, and for more than 10 years has been its State Evaluator. He is a member of six Hall of Fames.
Lin Jastrabek has been president of the Night of Champions Foundation, a group that aids USA Wrestling and the U.S. Olympic Committee. The organization has raised more than one million dollars, one in which she has served as president the last 14 years. She was named Woman of the Year by USA Wrestling in 2000. She has also served leadership positions for other wrestling associations.
John Illengwarth was a two-time high school state place winner before having a successful wrestling career at Lehigh; winning 39 matches with 23 falls. He was a three-time NCAA qualifier, placing sixth in 1963. Twice he reached the EIWA semi-finals. Before his death in 2018 he was involved in numerous wrestling organizations, including being a member of the New Jersey Chapter's Board of Directors.
Terrence Alvarez was inducted as an Outstanding American. Having wrestled four years in college, the Gettysburg graduate joined the Army in 1996 and went on to serve in Bagdad and Afghanistan. Among his awards and decorations are two Bronze Star medals, four Meritorious Service medals, two Army Commendation Medals, three Overseas Service Medallions, a Combat Action Badge, and the basic Parachutist Badge.
- Submitted by Paul Franklin, New Jersey Executive Board member
Our Mission: To honor the sport of wrestling by preserving its history, recognizing extraordinary individual achievements, and inspiring future generations