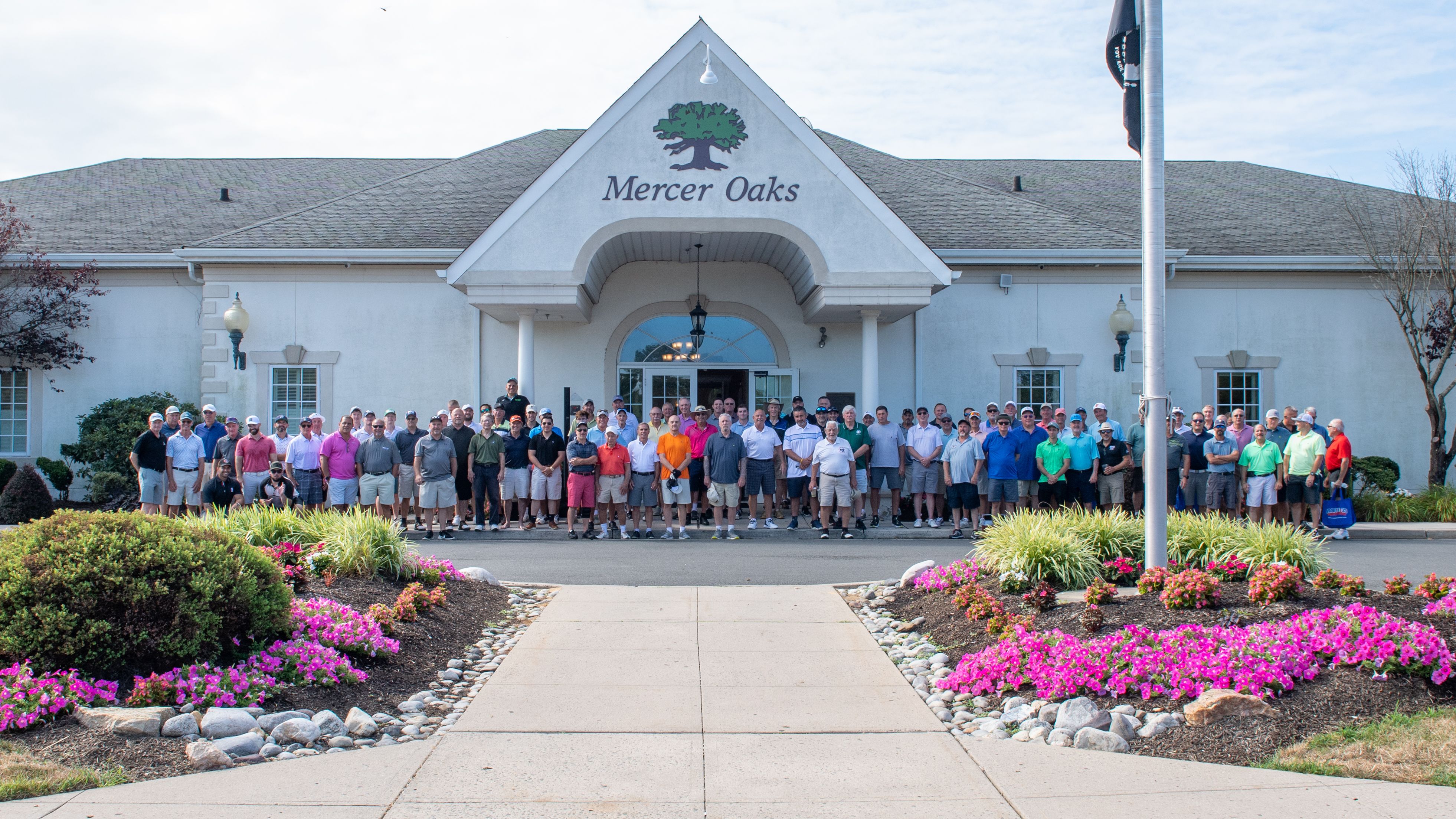 Official State Chapter of the National Wrestling Hall of Fame
---
19th Annual NJ Chapter Golf Outing A Huge Success
In short, as the saying goes, a good time was had by all. Unless of course you shot 20 over par. But even then, camaraderie more than made up for shots into sand traps or water lilies.
The New Jersey Chapter of the National Wrestling Hall of Fame held its 19th annual golf outing in late July at Mercer Oaks Golf Course in West Windsor, NJ. A turnout of 112 golfers was unofficially the largest turnout for the event.
"It was really good to celebrate New Jersey and pal around with some guys I hadn't seen in a year or maybe more,'' offered John Hangey, head wrestling coach at nearby Rider University. "A guy came up to me whose son I coached five-six years ago. I said, 'Holy Cow!' I remembered his face and all of a sudden stories started popping. It was really cool to go down memory lane a little bit.''
The fund raiser included several gifts, highlighted by two flat screen TVs and a grill that were donated by local businesses. A 50-50 raffle went for more than $1,000.
Everybody had a great time,'' Bob Shernce said, a 2019 NJ-NWHOF inductee who wrestled at Seton Hall University. "The day could not have been nicer. My group shot 10 under, which for old men is pretty good.''
He also won the grill, hitting the green on a par-3.
"The brunch and dinner were as always real good. And the people at Mercer Oaks couldn't have been nicer. There were drinks in coolers throughout the course. They've always treated us very well."
Funds were again raised to support camp scholarships for school wrestlers, veterans organizations, other charities as well as chapter functions. For the first time last year camp scholarships were awarded to four boy and girl wrestlers to improve their wrestling skills, as well as a contribution to Vietnam veterans.
For the second year the event was chaired by Ken Bernabe, a 2013 inductee into the NJ-NWHOF.
"It was a perfect day,'' said Ernie Finizio, founder of the initial golf outing who chaired the event 12 years. "There was excellent effort and preparation that (Bernabe) and the committee put in. Just terrific. It was a successful event; a very successful day for the Wrestling Hall of Fame."
Hangey agreed, adding, "Let's say I had a typical golf day for me. I was driving OK, my iron game was average, and my putting as always stinks. It's that wrestler in me. I don't have that good soft touch.
"But I enjoy scramble tournaments,'' he added with a smile. "It hides the flaws in my game."
At this outing, not even flaws could hide the joy of the day.
By Paul Franklin, NJ-NWHOF BOARD MEMBER