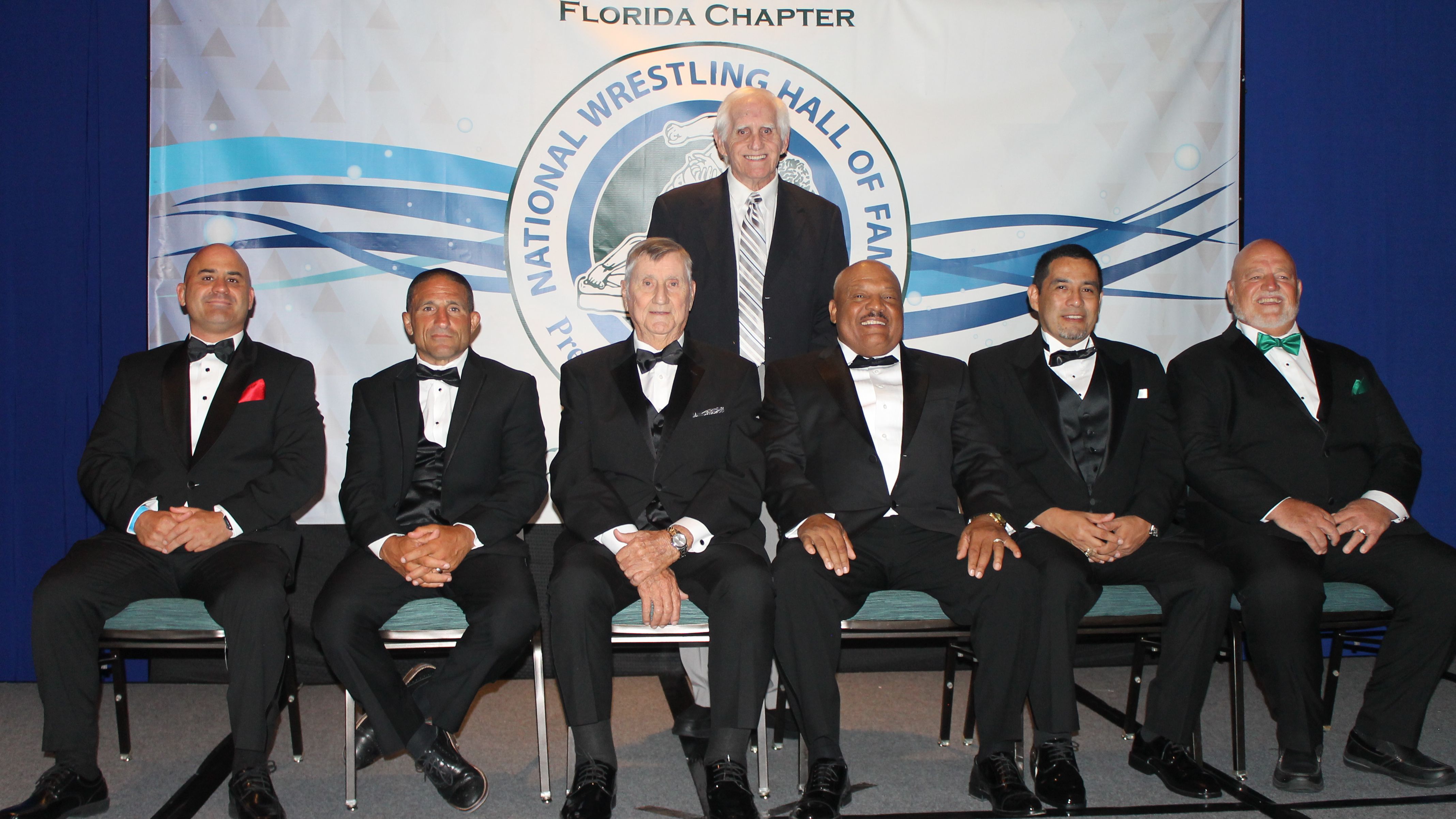 Official State Chapter of the National Wrestling Hall of Fame
---
The Sound of Lifetime Service 2023
The Florida Chapter trumpeted 'The Sound of Lifetime Service' 2023' to accompany the 24th annual Honors Weekend at the Lake Buena Vista Wyndham hotel. The 3 events over two days were orchestrated once again by Jane and Gary Townsend (2015) along with the always competent 'Board of Directors' Band. Saturday evening inductees Sean Ballard, Chris Bono, Don Kanuf, Sam Pruitt, Saul Tejada and Don Weekley, were elevated into the Hall of Fame with the support of alumni, family and friends. It was a fabulous turnout that highlighted Florida Wrestling and those who have made the sport their life.
The focus of our chapter is to present an Honors Ceremony that is equal to the dedication of the men and women have for the sport of wrestling. So we begin each weekend with the sound of tradition. The Friday evening 'Meet and Greet' includes the very important 50/50 raffle followed by the 'Inductee T-Shirt Signing'. Attendees left smiling because they knew that in the morning there would be the 'Testimonial Breakfast'. This event is an opportunity for the guests to hear the inspiring words from those who were impacted by their coaches. Life changing impact. We enjoyed listening to our chapter's John Vaughn Award recipient Gerald Gergley tell a tale of how his Florida Tech University squad streaked campus....in weight class order!
The final event was Induction 2023, tuxedoed style. Once again the Board of Directors Band played the ever inspirational, 'Sound of Lifetime Service' played under the expert direction of Jane and Gary. Congratulations!
Check out our Video
Our Mission: To honor the sport of wrestling by preserving its history, recognizing extraordinary individual achievements, and inspiring future generations