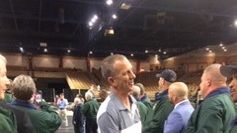 Official State Chapter of the National Wrestling Hall of Fame
---
May We Introduce to You..........
It is during the electric atmosphere of the pre FHSAA State Championship Finals, Florida Scholastic wrestlers and fans will meet the current and future NWHOF Florida Chapter members. The traditional 'Green Jacket' tunnel will form to funnel the Class of 2023 to the center mat. Sean Ballard, Chris Bono, Donald Knauf, Sam Pruitt, Saul Tejada and Donald Weekley will make their way through the warm greetings of alumni to the cheers of the crowd.
For the second year the FHSAA is sanctioning a girls tournament along side the boys. The Board takes advantage by establishing a large footprint inside the arena that covers the 3-day event. On March 1 University of Wisconsin Head Coach, Chris Bono is scheduled to speak in the evening at our sponsored event. A boy and girl will each receive a 'Next Level' Scholarship that will be presented on the floor by K&L Attorneys. On the upper level of the Silver Spurs Arena our traveling Museum covers 80 feet of dedicated space to the history of Florida Wrestling. Our videos, artifacts and entertaining 'Wheel of Fortune' is shared with every visitor.
The HOF finishes the weekend with presentations at each weight's medal ceremony. We are proud participants in the ever increasing achievements of Florida High School Wrestling.