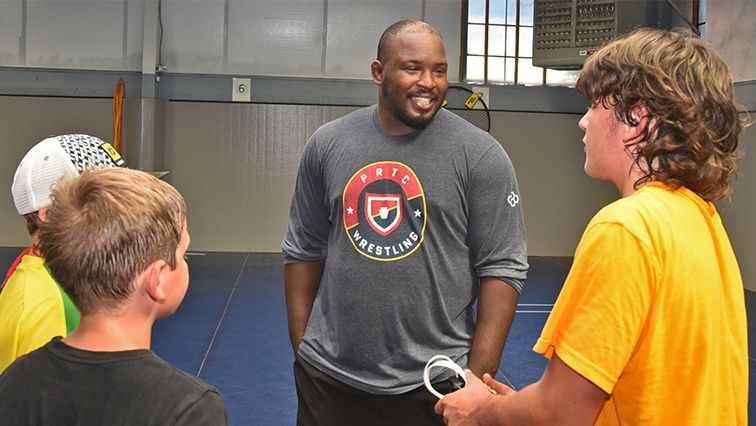 Official State Chapter of the National Wrestling Hall of Fame
---
Richard Perry's remarkable recovery shared in New York Times story
On June 3, Middletown High graduate Richard Perry will be inducted into the National Wrestling Hall of Fame as a Medal of Courage recipient.
A Medal of Courage award is for a wrestler or former wrestler who has overcome what appear to be insurmountable challenges, providing inspiration to others.
Perry, who had just made the U.S. national team for the first time in 2018, was severely injured in a national team training camp in San Diego at the U.S. Marines' Camp Pendleton.
Participating in a drill with foam-padded batons, Perry took a shot to the face and the foam protection dislodged, allowing the baton's thin, hard central rod to slip through a hole in his protective facemask. The end struck Perry's eye orbit, shattering it. The pieces then penetrated Perry's brain tissue. Perry almost died and doctors initially did not believe that he would recover, noting that if he did survive, he would be bedridden or, at best, in a wheelchair for the rest of his life. Perry's injuries left him completely paralyzed for months, unable to speak, move, or eat on his own.
Jeré Longman, a sports reporter for The New York Times since October 1993 who covers a variety of international sports, primarily those of the Olympics, wrote an extensive story on Perry's recovery and the impact it has had on his family. Perry and his wife, Gina, have four children and live outside of Philadelphia.
Longman wrote about Perry's remarkable recovery and the limitations of what he can do today – nearly five years after that fateful incident. This story was published on Thursday, May 18.
Perry was a student at Middletown High where he wrestled for two seasons under head coach Mark Fong, who had been trying to recruit him to wrestle for several years. As a senior in 2008, he won the Class L and State Open title at 215 pounds and was second in New England. In 2009, he spent a year at Hyde-Woodstock and finished second in New England (215).
Perry wrestled at Bloomsburg University, won over 100 matches, won an Eastern Wrestling League title at 197 pounds in 2014 and wrestled in the NCAA Division I tournament three times.
New York Times, May 18: After a kill shot to his eye, a wrestler restarts his life
Published Sunday, May 21, 2023 by the Connecticut Chapter of the National Wrestling Hall of Fame