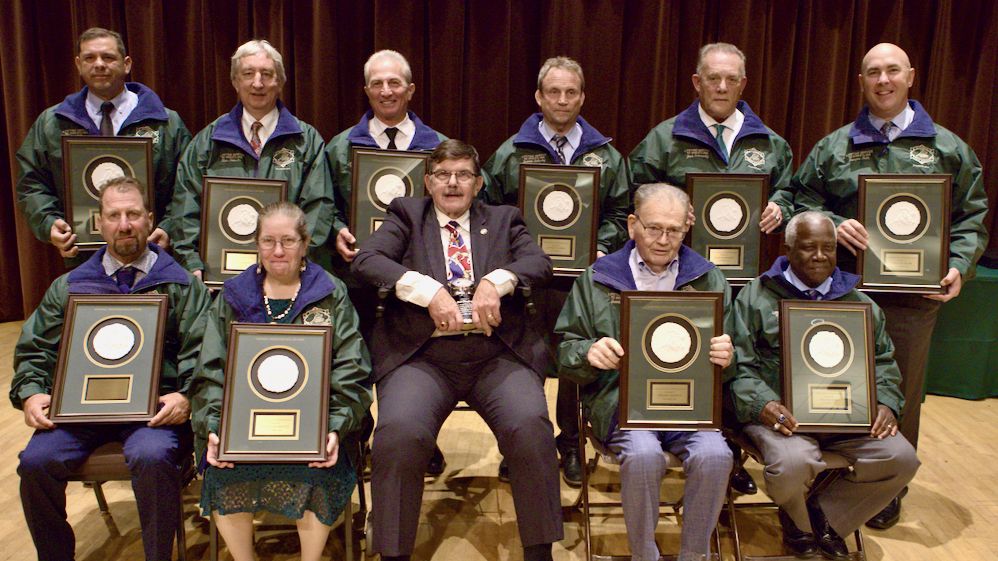 Official State Chapter of the National Wrestling Hall of Fame
---
California Chapter Honors Class of 2022 and Retiring President Dan Dierdorff
Oct. 15, 2022. The California Chapter of the National Wrestling Hall on Fame honored Dan W. Dierdorff at the 2022 induction banquet and ceremony for serving as its Chairman for the past 26 years. Mark Black of Santa Monica will serve as the new Chairman of the California Chapter. Ned Blass was the original Chairman of the CA Chapter. Laguna Hills High School's wrestling team hosted the event, attended by over 300 people in the Laguna Hills Community Center.
Dierdorff, now 86, was born and raised in San Diego where he was a four-year varsity wrestler at San Diego High School and later at San Diego State University. He placed 2nd in the AAU Pacific Coast Championships in 1957, then won first place in the 1960 Pacific Southwest District Olympic Trials and in the 1961 AAU Pacific Southwest Championships.
In over 50 years of officiating, his resume includes five World Championships, four World Cups, two Pan American Games, two NCAA Division 1 Championships two NCAA Division 2 Championships, six Senior World Championships, 10 Junior World Championships, many Div. 1 duals over 25 years, 35 California Junior College Championships, and many high school CIF State Championships, including the first. He officiated international competition for 26 years, retiring with a FILA Exceptionale 1 rating. He was selected as the Outstanding Official by FILA in the 1978 World Championships, and again in California by the National High School Association.
Dierdorff served as treasurer of the National AAU in 1973, and he was appointed by San Diego Mayor Pete Wilson in 1974 to serve on the San Diego Stadium Authority Committee for eight years. Inducted into the National Wrestling Hall of Fame for "Lifetime Service" in 1999, then into the California Wrestling Hall of Fame in 2007, he received awards from CA community college and high school associations for 50 years of service.
Mark Black attended Claremont High School on the eastern edge of Los Angeles County where he was a three-time varsity letterman in wrestling and a two-time league champion. He then continued his athletic career at UCLA, where he was named the program's most improved wrestler in 1971-72 and compiled a career record of 75-25. He took third place in the Pacific-8 Conference in 1974 and was fourth in the league in 1975, participating in the NCAA Wrestling Division 1 Championships in Iowa and at Princeton, both years at 150 pounds.
Black competed seven times at the USA Wrestling Veterans National Championship, winning a National Championship in Greco and Freestyle. He also participated in the FILA Veterans World Championships in Istanbul in 2007, taking third place in the 167.5-pound division. But despite his own accomplishments on the mat, Black is known primarily for a 40-year coaching career during which he's compiled an overall record of 269-115.
His foray into the coaching ranks began at UCLA, where he was an assistant during the 1976-77 season. He then landed at Santa Monica High School where he's been since 1977 except for a season at El Camino College in 1981-82. Black, a science teacher at the high school, has coached hundreds of students and guided many talented youngsters to success. He worked out with Laurence Jackson, a three-time state champion at Samohi, and he coached Yusef Syed a state champion in 2007, and Hana Askren who later wrestled for the Israeli national team. Black is with the preliminary 2028 U.S. Olympic Wrestling committee.
Black has coached in USA Nationals, World Team and Olympic Trials, USA Cadet and Junior Women's Nationals, Junior Western Regional Greco and Freestyle, and Veteran Men's World Championships in Greco and Freestyle. He has coached the Santa Monica Bay Wrestling Club since founding it in 1990. Black has also been involved in Beat the Streets LA, a nonprofit that empowers area youth through wrestling. He was inducted into the National Wrestling Hall of Fame by the California Chapter in 2016 for "Lifetime Service."