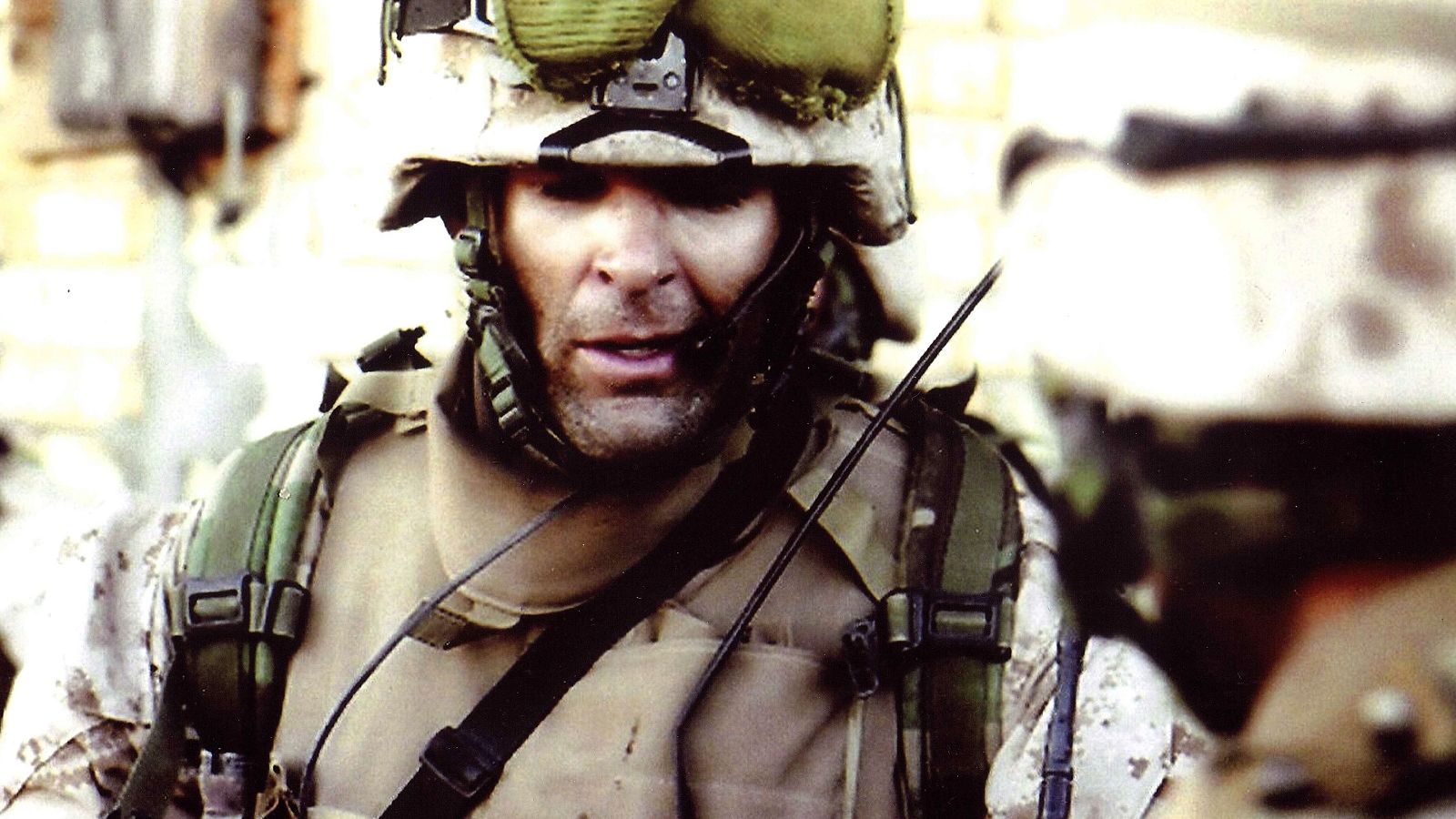 Zembiec An All-American In Many Ways
By Roger Moore
Glory Beyond the Sport: Wrestling and the Military
If there's ever been a lead-from-the-front commander it was Doug Zembiec.

Eric Kapitulik, a classmate of Zembiec at the Naval Academy, said he felt bad for those who didn't get a chance to meet him because they "missed the opportunity to know a legend."

In an email to Dan Morse, a Washington Post reporter, Sergeant Major Bill Skiles wrote:

"I could talk for days about how much this man meant to me and to his Marines but I know throughout my life I will know about a man that was the definition of what a Marine should be, what a committed husband and father should be and what this country looks for in a true hero in every stretch of the word."

Major Doug Zembiec died May 11, 2007, while commanding a raid on insurgent forces in Baghdad, Iraq. It was his fourth tour in the Middle East.

As a rifle company commander, Zembiec led 168 Marines and sailors in the first conventional ground assault at Fallujah, Iraq, in April of 2004. He earned his nickname, "The Lion of Fallujah," for his heroism when he braved enemy fire, climbed on a tank, and personally directed the gunner's fire at insurgents.

His leg was sliced open by shrapnel during the battle.

During the month-long battle for the city of Fallujah, Echo Company – Zembiec was given command of Echo in July of 2003 – did more fighting and bleeding than any other Marine unit.

During one fight, much of E Company was on a rooftop taking fire from AK-47s and rocket-propelled grenades. Radio contact with an M1A1 tank below was not working.

Zembiec, a Captain at the time, worked his way down the stairs of the building and onto the tank where he got the tankers to open their hatch so he could tell them where to fire while being fired upon himself.

It wasn't the first or last time he would show his leadership skills.

He was La Cueva (N.M.) High School's first state champion wrestler and first Division I All-American. In 2007, the wrestling room was renamed in his honor.

A 1995 Naval Academy graduate, Zembiec's 91 career victories are tied for 13th in program history. He was an All-American in 1995, finishing eighth at 177 pounds. A three-time NCAA qualifier, Zembiec lost to the eventual champion in the 1994 quarterfinals.

He was commissioned a 2nd Lieutenant in the Marines on May 31, 1995.

As a platoon commander, Zembiec's reconnaissance platoon was among the first conventional forces to enter Kosovo during Operation Joint Guardian in June of 1999.

After graduating from Expeditionary Warfare School in May of 2003, he was given command of Company E, 2nd Battalion, 1st Marine Regiment in July.

A Special Man

A special bond was forged between Zembiec and another former wrestler, Ray Mendoza, a Big Ten champion heavyweight for Ohio State.

After Mendoza's death in November of 2004 along the Syrian border, Zembiec sent a long letter to Mendoza's mother that included … "His death brought tears to my eyes, tears that fell in front of my Marines. I am unashamed of that."

At Zembiec's funeral, Capt. Pete McGeory, a Naval chaplain, said people who knew and fought alongside him in Iraq were convinced that "he was a hero in every sense of the word; a courageous patriot."

McGeory went on to say that Zembiec was "the very definition, it seemed to him, of Semper Fi."

Kapitulik delivered the eulogy at the funeral. He spoke of a journal Zembiec had kept for most of his adult life. It included some of his "pearls of wisdom," nuggets that included some of his own thoughts and some he'd picked up from those who inspired him. Among them:

I'd rather live one day as a lion than a hundred years as a dog.

Prepare as if no one will ever help you.

Become the greatest husband and father ever.

Perhaps the most telling entry was this:

Be a man of principle. Fight for what you believe in. Keep your word. Live with integrity. Be brave. Believe in something bigger than yourself. Serve your country. Teach. Mentor. Give something back to society. Lead from the front. Conquer your fears. Be a good friend. Be humble and be self-confident. Appreciate your friends and family. Be a leader and not a follower. Be valorous on the field of battle. And take responsibility for your actions.

Kapitulik said the creed came from the man who knew Zembiec the longest, as indicated by the Major's written description: "Principles my father taught me."

Honesty was never a problem for The Lion of Fallujah.

"Marines are violent by nature – that's what makes us different," said Zembiec in a Washington Post interview. "These young Marines didn't' enlist to get money for college. They joined the Marines to be part of a legacy."

He often said "One of the most noble things you can do is kill the enemy."

Buried at Arlington National Cemetery in Virginia, Doug Zembiec is survived by his wife Pamela and daughter Fallyn Justice Zembiec and parents Donald and Jo Ann Zembiec and brother John Zembiec.

Reg Wicks, Zembiec's coach at Navy, told the Albuquerque Journal's Michael Coleman that "He loved his country and he made the ultimate sacrifice by dying for it. It's too bad we couldn't keep him here longer because he's such a great leader and a great person."
Our Mission: To honor the sport of wrestling by preserving its history, recognizing extraordinary individual achievements, and inspiring future generations