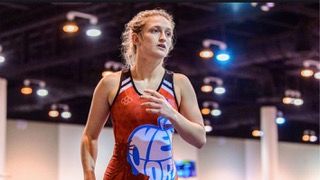 Upstate New York to Present Awards before Annual Induction Ceremony
The Upstate New York Chapter of the National Wrestling Hall of Fame is very honored to be presenting at its ceremony several awards for area upstate New York wrestlers.
The Robert Feldmeier Outstanding Wrestlers Award which is given each year to a deserving senior or seniors who has given much to his community and school and has demonstrated exceptional wrestling skills. The 2019-20 award is a shared award going to Greg Diakomehalis from Hilton High School and Anthony Noto from Honeyoe-Penn Yan High School. Both Greg and Anthony hails from Section V in New York State. Greg is presently enrolled at Cornell University and Anthony has elected to wrestle at Lock Haven University. Anthony has won 4 Division II New York State Public High School Athletic Association championships and Greg has set a new Section V record by winning 5 Division 1 NYSPHSAA titles. Additionally, Anthony and Greg have received the Most Outstanding Wrestler Award in the New York state championships.
The 2020-21 award winners are the Bush twin brothers from Central Valley High School in Section III. Mason and his brother Marek have wrestled for their father, Bob Bush who is a math teacher at Central Valley. Marek won the 2019 national Musial Award for outstanding sportsmanship and has won a NYSPHSAA championship. Mason was the Most Outstanding Wrestler in the Section III championships and is wrestling at the University of Buffalo next year.
Mia Macaluso, Minisink Valley High School, was nominated for the Tricia Saunders High School Excellence Award and was chosen by the NWHoF to receive the award for the entire state in 2020. Later Mia would go on to be selected the Northeast Region winner of the Saunders' award. Mia wrestled at East Stroudburg this season and won the Junior World Trials in Irving, Texas. Her team has just won the title at the Junior World Women Freestyle championships in Russia.
This year Damiana Raccactti, from Liverpool High School in Section III, was nominated by the chapter for the award but Ally Fitzgerald from Island Park captured the award for the state of New York. Damiana has decided to join Mia at East Stroudsburg next year and will wrestle for coaches Greg Shoemaker and Anibal Nieves. Furthermore, Damiana has received the Channel 9 TV and Byrne Dairy & Deli Athlete of the Week awards for her accomplishments as a high school athlete.
The Upstate New York Chapter is proud to recognize the accomplishments of these outstanding wrestlers in the upstate region.
Our Mission: To honor the sport of wrestling by preserving its history, recognizing extraordinary individual achievements, and inspiring future generations