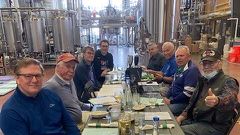 Upstate New York Chapter Board Meets to Continue Efforts for the September Inductions
On Sunday, April 25, 2022 the Upstate New York Chapter of the National Wrestling Hall of Fame held their meeting at the Meier Creek Brewery and Restaurant in Cazenovia, New York. The Board appreciated the great hospitality that Meier Creek Restaurant provided. The restaurant is owned by the Feldmeier family and the late Robert Feldmeier has the Chapter's local award dedicated to him for the Outstanding Wrestling in the NYSPHSAA Division I wrestling tournament. This year the award is being given to Princeton bound Kole Mulhauser. Bob Feldmeier attended Princeton and his son Jake was a Princeton graduate. In addition, Bob's daughter, Jeanne Jackson, is a Board Member of the Chapter.
Several important items were discussed including our dedication to helping get the NYSPHSAA to sanction the girl's wrestling program in the state. Furthermore, our winner of the Outstanding Female Wrestler in the upstate area and our nominee for the Tricia Saunder Award, Sofia Macaluso, has been reported to have made a commitment to follow her sister Mia to East Stroudsburg.
The Board also approved that our local award to the Outstanding Wrestler at the NYSPHSAA wrestling tournament award for Division II will be made each year in honor of Hall of Fame member, Richard "Pete" Hausrath. The family of Jim and Freddie Carrier has agreed to support this award in order to continue the legacy of Coach Hausrath. Pete has done a great deal as a wrestler and coach of wrestling. Carter Baer from Gouverner Central School, who will be attending Binghamton University this fall, has garnered this award for 2022. The Chapter is very appreciative of the encouragement that the Carrier family has given to the chapter and our sport of wrestling.
Plans for the September 25th Ceremony were also discussed in great deal.