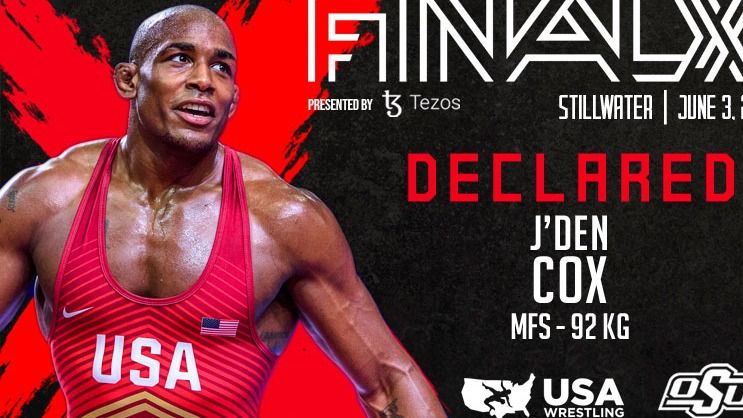 Two-Time World Champion and 2016 Olympic Bronze Medalist Cox Will Compete In Final X Stillwater
By Gary Abbott
USA Wrestling
Two-time World champion and 2016 Olympic bronze medalist J'den Cox (Ann Arbor, Michigan/Titan Mercury WC/Cliff Keen WC) has officially accepted his 92 kg men's freestyle berth in Final X.
He will battle for a spot on the 2022 U.S. World Team in Final X Stillwater, presented by Tezos, on Friday, June 3 at Gallagher-Iba Arena on the campus of Oklahoma State University.
The Missouri and Central Region winner of the National Wrestling Hall of Fame's Dave Schultz High School Excellence Award in 2013, Cox won World freestyle gold medals at 92 kg in 2018 in Budapest, Hungary and 2019 in Nur-Sultan, Kazakhstan. He captured a bronze medal at the 2016 Olympic Games in Rio de Janiero, Brazil at 86 kg. Cox has also won a pair of World bronze medals, one in 2017 at 86 kg and the other in 2021 at 92 kg. He was a 2019 Pan American Championships champion, and claimed the 2018 U.S. Open title. Cox was a three-time NCAA champion and four-time All-American for the University of Missouri. A native of Columbia, Missouri, Cox won four Missouri state titles for Hickman High School.
CLICK to ORDER Tickets for Final X Stillwater, presented by Tezos
The Final X series will determine the 2022 U.S. Senior World Teams in men's freestyle, women's freestyle and Greco-Roman wrestling which will compete in Belgrade, Serbia, Sept. 10-18.
The Team Selection procedures for the U.S. World Teams in each style allows for 2021 Senior World medalists and 2020 Olympic medalists to advance directly to Final X at a specified weight class. Cox has met this requirement and accepted his qualification.
There are 15 weight classes contested in Final X Stillwater, five in men's freestyle, five in women's freestyle and five in Greco-Roman. The weight classes assigned to the Final X Stillwater are:
· Men's freestyle: 57 kg, 61 kg, 70 kg, 92 kg, 97 kg
· Women's freestyle: 55 kg, 59 kg, 65 kg, 68 kg, 76 kg
· Greco-Roman: 55 kg, 63 kg, 72 kg, 82 kg, 130 kg
The Final X opponent for Gilman will be determined at the World Team Trials Challenge Tournament, set for Coralville, Iowa, May 20-22.
Final X Stillwater will be held alongside the National Wrestling Hall of Fame Honors Weekend, which is happening at the Hall of Fame facility next door, June 3-4.
In addition to Final X Stillwater, Final X New York (which serves as the Beat the Streets Annual Benefit this year), will be held at Hulu Theater at Madison Square Garden in New York City, Wednesday, June 8. There will be 15 other weight classes contested in New York.
FloWrestling will serve as the host broadcasting partner for both Final X Stillwater, presented by Tezos, and Final X New York, presented by Tezos
Final X Stillwater, presented by Tezos
Friday, June 3
Gallagher-Iba Arena at Oklahoma State University
Declared Qualifiers to date
Women's freestyle 55 kg – Jenna Burkert (Colorado Springs, Colo./U.S. Army WCAP) vs. winner at World Team Trials Challenge Tournament
Women's freestyle 65 kg - Forrest Molinari (Tempe, Ariz./Sunkist Kids) vs. winner at World Team Trials Challenge Tournament
Women's freestyle 68 kg - Tamyra Mensah Stock (Colorado Springs, Colo./Titan Mercury WC/USOPTC) vs. winner at World Team Trials Challenge Tournament
Men's freestyle 57 kg – Thomas Gilman (State College, Pa./Titan Mercury WC/Nittany Lion WC) vs. winner at World Team Trials Challenge Tournament
Men's freestyle 61 kg – Daton Fix (Sand Springs, Okla./Titan Mercury WC/Cowboy RTC) vs. winner at World Team Trials Challenge Tournament
Men's freestyle 92 kg - J'den Cox (Ann Arbor, Mich./Titan Mercury WC/Cliff Keen WC) vs. winner at World Team Trials Challenge Tournament

Men's freestyle 97 kg - Kyle Snyder (State College, Pa./Titan Mercury WC/Nittany Lion WC) vs. winner at World Team Trials Challenge Tournament