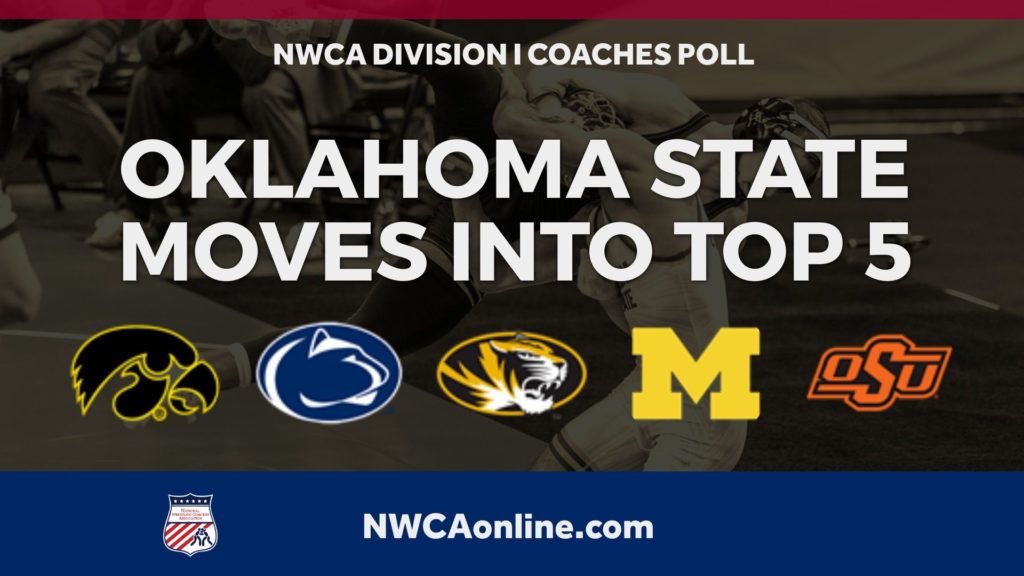 Top 10 Teams Get Busy; Oklahoma State Moves Into Top 5
By Jason Bryant
National Wrestling Coaches Association
Manheim, Pennsylvania – The top 10 teams in the nation went a combined 10-1 last week, with the only loss coming to another Top 10 team as the NWCA Division I Coaches Poll was released on Tuesday.
The movement within the Top 10 is primarily due to Ohio State's 17-13 win at Virginia Tech on Friday. The win moved the Buckeyes (2-0) to No. 8, while it dropped the Hokies (1-1) to No. 10. Ohio State picked up swing match victories at 125 pounds and 285 pounds to knock off Virginia Tech in front of 4,500 fans in Blacksburg. The Hokies rebounded to beat Gardner-Webb the following day in Cassell Coliseum.
Top-ranked Iowa opened its season with a 32-12 win over No. 21 Princeton before a sold-out crowd at iconic Carver-Hawkeye Arena. Expect crowds of over 14,000 on the regular this season as all the Hawkeye wrestling season tickets have sold out. The win was Iowa's 19th in a row, the longest dual win streak currently in Division I.
Second-ranked Penn State (3-0) beat Army West Point 32-7 in Rec Hall, while Missouri won its 15th in a row to improve to 3-0 on the season and 3-0 against its new Big 12 rivals. The Tigers topped Air Force 39-3. Fourth-ranked Michigan (3-0) won a pair of duals in New York, first beating Columbia 34-3 before heading to Western New York to beat Buffalo 31-3.
Oklahoma State (2-0) moved to No. 5 after dispensing with then-No. 11 Minnesota 23-10 in Minneapolis.
Despite the 34-6 win over West Virginia, NC State (1-0) slid one spot to No. 6. Seventh-ranked Arizona State opened its dual schedule with a 22-12 win over then-No. 17 Oklahoma. Nebraska (3-0) moved up a spot after beating then-No. 13 North Carolina. Peyton Robb's upset win over returning NCAA champion Austin O'Connor highlighted the Husker win.
Other ranked action saw Stanford head coach Rob Koll's return to Cornell and it was his former squad that came away victorious 30-9. The big result there saw Cornell's Julian Ramirez upend returning 165-pound NCAA champion Shane Griffith of Stanford 3-2.
Lehigh (2-1) re-emerged into the Top 25 coming in at No. 22 this week after beating then-No. 15 Pittsburgh 26-9 in Grace Hall. Pittsburgh (3-1) dropped to No. 23, but quickly rebounded to beat Maryland on Monday night.
This week: An abbreviated schedule is on tap this week as the Thanksgiving Holiday will limit the amount of wrestling opportunities. Ohio State hosts Division II Notre Dame College on Tuesday and we won't have any Division I competition until Saturday. The Garden State Grapple is a new event that will take place at the Prudential Center in Newark, New Jersey – home of the NHL's New Jersey Devils. No. 15 Rutgers will face Hofstra and No. 14 North Carolina, while No. 19 Wisconsin will take on Hofstra and North Carolina in a set of double duals on Saturday night. Army West Point heads to the Midwest to take on No. 13 Iowa State, along with California Baptist. Oregon State will also head to Iowa to take on the top-ranked Hawkeyes. On Sunday, Drexel heads to Stillwater to take on fifth-ranked Oklahoma State while South Dakota State heads to the Twin Cities to face No. 12 Minnesota.
Methodology: The NWCA Division I Wrestling Coaches Poll is voted on by two coaches from each Division I wrestling conference. Each first-place vote is worth 25 points, 24 points for a second-place vote, 23 for a third-place vote and so on through to one point for a 25th-place vote. The poll is based on dual meet results.
NWCA Division I Wrestling Coaches Poll
November 23, 2021
RankTeam (First)RecordPointsConferencePrevious1Iowa (14)(1-0)350Big Ten12Penn State(3-0)336Big Ten23Missouri(3-0)315Big 1234Michigan(3-0)302Big Ten45Oklahoma State(2-0)287Big 1266NC State(1-0)286ACC57Arizona State(1-0)272Pac-1278Ohio State(2-0)253Big Ten99Nebraska(3-0)231Big Ten1010Virginia Tech(1-1)228ACC1111Cornell(1-0)211EIWA1212Minnesota(0-1)182Big Ten1113Iowa State(0-0)176Big 121314North Carolina(3-2)149ACC1415Rutgers(6-0)147Big Ten1816Northern Iowa(0-0)138Big 121617Purdue(6-0)111Big Ten2018Oklahoma(2-1)110Big 121719Wisconsin(2-0)76Big Ten2220Illinois(0-0)67Big Ten1921Princeton(0-1)63EIWA2122Lehigh(2-1)56EIWANR23Pittsburgh(2-1)46ACC1524Stanford(1-2)41Pac-122325Northwestern(0-0)38Big Ten25
Others Receiving Votes: Wyoming 34, Cal Poly 15, Campbell 13, Central Michigan 10, Virginia 3, Appalachian State, Oregon State 2.
Dropped Out: No. 24 Wyoming (0-0).
Upcoming Coaches Poll Release Dates for 2021-22: Nov. 30, Dec. 7, Dec. 14, Dec. 21, Jan. 4, Jan. 11, Jan. 18, Jan. 25, Feb. 1, Feb. 8, Feb. 15, Feb. 22.
Our Mission: To honor the sport of wrestling by preserving its history, recognizing extraordinary individual achievements, and inspiring future generations