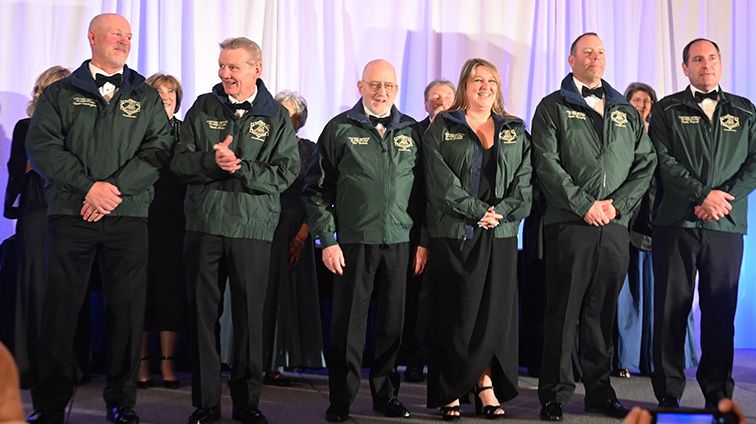 Six inducted into Connecticut Chapter of National Wrestling Hall of Fame
The 2022 induction ceremony for the Connecticut Chapter of the National Wrestling Hall of Fame at Foxwoods Resort Casino was just a few hours away.
Mike Cunningham, the coach of the State Open champion Xavier High wrestling team, was quite familiar with the feeling of anticipation. "My son said, it's like you're in the finals and you have six hours to wait."
Cunningham was one of six to be honored on Saturday night before a crowd of nearly 500 people. He joined his father, Jim who was inducted in 2010, in the Connecticut Chapter.
Derby's Sarah Jadach, the chair of USA Wrestling Connecticut, became the first woman to be inducted into the chapter. She joined her father, Walter, or Buster as everyone calls him, in the Connecticut Chapter. Buster Jadach was also inducted in 2010.
Enfield's Ben Aleks was inducted along with Platt High coach Bryan McCarty, New Milford's Erich "Doc" Doubek and the late Frank Kapral, the coach at the Coast Guard, a long-time official and a man who helped wrestling grow in eastern Connecticut.
It was a night full of emotion and joy. Dozens of friends and family were there to salute the inductees, who each received Lifetime Service to Wrestling honors. Two inductees have over 100 people there to enjoy the evening with them.
There were a few surprises and touching moments.
Stratford High's Giuseppe Amat-Paredes and Masuk's James Dutkowsky got a moment in the spotlight remembering their match in January that Dutkowsky won 12-10. The official in that match, Ted Oczkowski, president of the Connecticut chapter, was impressed with the sportsmanship and compassion that Paredes showed Dutkowsky in the match.
New Milford's Evan Lindner and Fairfield Warde's Will Ebert were recognized with the Connecticut chapter's annual scholarship awards. Lindner received the Scholar Athlete award while Ebert received the Career Achievement award.
Ebert and Bristol Eastern's Ella Nichols were also recognized as National High School Coaches Association (NHSCA) Senior national champions.
However, this was a night for the inductees to shine and they did.
Aleks couldn't speak due to a battle with a motor neuron disorder. But there is nothing wrong with his hearing and he spent much of the evening moving through the banquet hall to spend time with family, friends and former athletes who were there to honor his long career.
Tim Jensen, who nominated Aleks, spoke for his friend reading the speech that Aleks prepared. Aleks stood by Jensen as he read his speech
"Saturday night event was like no other," Aleks wrote in an email response. "Being an inductee is far more intense then attending (as a fan). The whole process is so overwhelming the atmosphere is elegant and electric.I met so many friends, and former wrestlers. I wish I could have spent more time with everyone. A spectacular event!"
Aleks won a YMCA New England title in 1967 and was second at the national YMCA tournament. He was the head coach at Cathedral High in Springfield for nine years before he spent 11 years as the head coach at Fermi High in Enfield (1983-94).
He remained in wrestling and helped as a volunteer coach at Enfield High, Fermi High and the Enfield youth wrestling program. When the town of Enfield renovated Enfield High and failed to make space for a wrestling room, Aleks contributed greatly to the development of a dedicated wrestling room for the high school team and youth wrestling program. It was named the Ben Aleks Wrestling Center in his honor in 2019.
The six inductees joined 45 other men in the Connecticut Chapter of the National Wrestling Hall of Fame. Eighteen men who were previously honored by the chapter attended the banquet to honor this year's class of men and women.
Mike Cunningham has been coaching for 27 years, most recently at Xavier, where he has led the Falcons to ten Southern Connecticut Conference (SCC) titles, three state championships (2011, 2012, 2020, 2022) and two State Open titles (2012 and 2022). His Falcons were second in New England at the 2022 tournament in March – their best ever-finish. More than 35 wrestlers have won state titles in the Cunningham era. He has also coached boys lacrosse and boys soccer at Xavier. Prior to his tenure at Xavier, he was the head coach for four years at Rocky Hill and one year at Wesleyan University.
Sarah Jadach has been part of USA Wrestling for more than 20 years. She joined the organization in 1999 as membership director, became vice chair and became the first woman to be named chair of USA Wrestling Connecticut in 2009. She is currently one of four women in the nation currently serving as a state chair in USA Wrestling. Since 2005, Sarah has been coordinating and overseeing the participation of the Connecticut team at the USA Wrestling Cadet, Junior and Freestyle national tournaments each July in Fargo, North Dakota.
Doubek served as the meet director for 80 tournaments throughout the years including the Western Connecticut Conference (WCC), Southwest Conference (SWC), Western New England Independent School Wrestling Association (WNEISWA) championship tournaments and New Milford's annual tournament, one of the longest running tournaments in the state (35 years). In 1998, he and his wife, Neen, were co-founders of the New Milford Wrestling Association, where he has served as president (1998-2004) and treasurer (2014-present).
Greg Kapral stood in for his father, Frank, who passed away in 2020 at the age of 91. But Frank's wife of 68 years, Doris, who is in her 90s, was at the banquet with the Kapral family to honor the work of her husband.
Frank Kapral was a wrestling coach at Coast Guard for seven years but he also helped the sport blossom in eastern Connecticut. He founded the Coast Guard's Small Fry wrestling program in the 1960s for boys ages 8-18 and began the state's first Pee-Wee wrestling league. He was commissioner of the Southern Connecticut Interscholastic Wrestling Officials Association for nearly 25 years. He also wrote two textbooks, including the Coach's Illustrated Guide to Championship Wrestling in 1964.
McCarty was hired to be the head coach at Platt in 1991-92 at the age of 18 after spending one season as an assistant coach. McCarty, who was awarded the Coach of the Year award in 2012 from the Connecticut High School Coaches Association, has led the Panthers to 511 dual meet wins, which is No. 5 on state's career win list in wrestling. A Special Education teacher in the Meriden school system, Bryan was named Platt High Teacher of the Year in 2017.
Joan Fulp, USA Wrestling's Girls High School Development Committee co-chair, was the guest speaker at the banquet. In 2020, she became the first woman to be elected to USA Wrestling's Executive Board as second vice president. Fulp has been a tireless advocate for women's wrestling throughout her career.
Posted May 2, 2022 by the Connecticut Chapter of the National Wrestling Hall of Fame