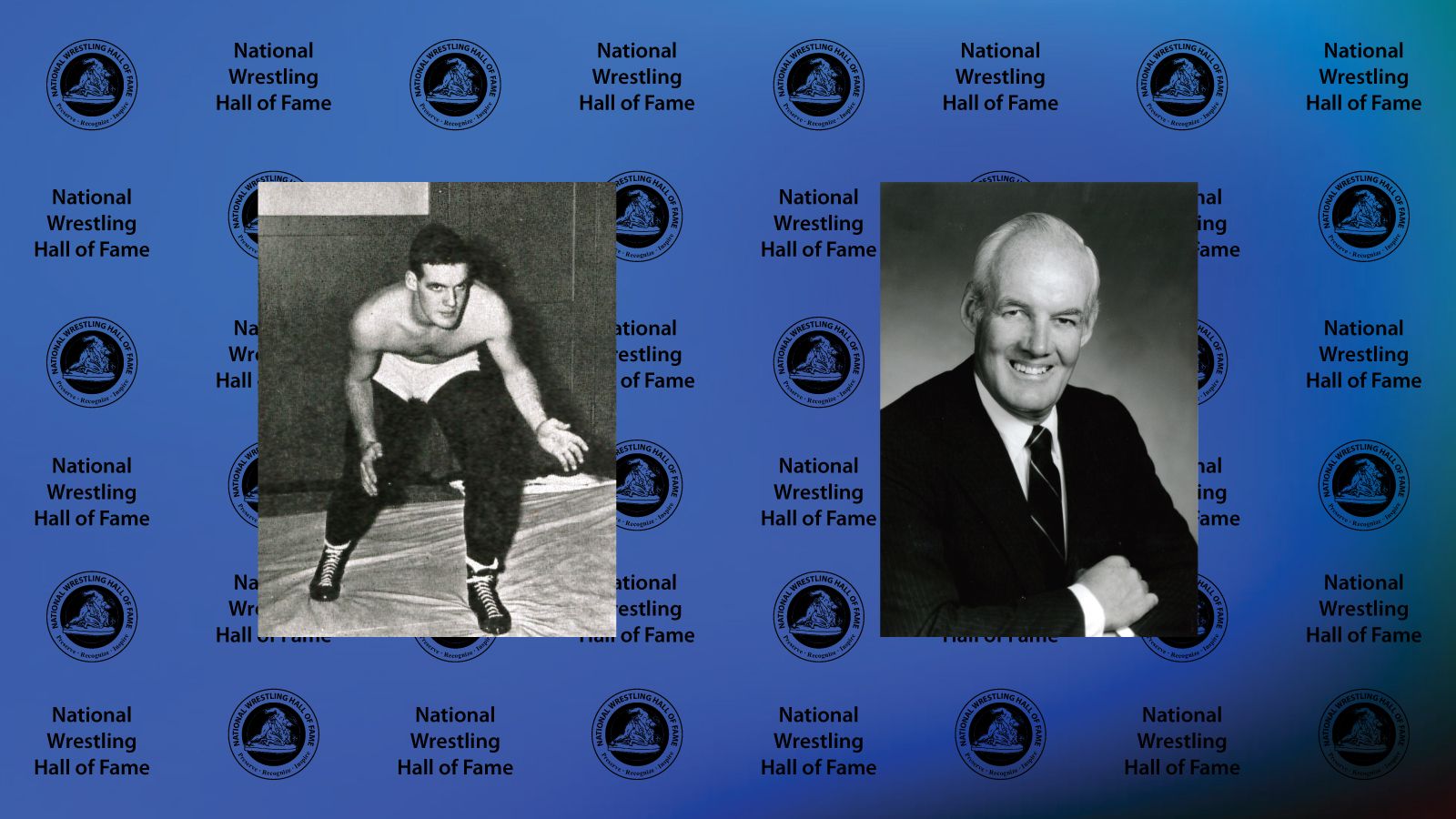 Outstanding American James M. Biggar Passes Away
The National Wrestling Hall of Fame was saddened to learn that James M. Biggar, honored as an Outstanding American by the Hall of Fame in 1992, has passed away.
A celebration of life will be held at 2 p.m. on December 29 at The Country Club, 2825 Lander Road, Pepper Pike, Ohio.
Biggar was a heavyweight wrestler for Case Tech, now Case Western Reserve University. A three-year letterman and unbeaten in dual meets as a senior, he was also all-conference in football and is a member of the Case Western Reserve Athletic Hall of Fame.
After earning bachelor's degrees in mechanical engineering and engineering administration, Biggar joined Reliance Electric in their Sales Management Training Program and worked his way up to marketing director of the AC Motor Division.

In 1960, at the young age of 32, he took a leap of faith and proudly joined the Stouffer Corporation, as Director of Marketing of the fledgling Frozen Food Division, a company led by his father-in-law Vernon Stouffer. Stouffer's was a successful restaurant company founded in 1922, when Vernon's parents opened Stouffer Lunch, a 12 seat dairy stand serving cheese sandwiches, buttermilk, and homemade Dutch Apple Pie under the lower staircase in downtown Cleveland's Old Arcade Building. From those humble beginnings, Vernon and brother Gordon opened dozens of restaurants nationwide from Times Square to Disneyland.

When Biggar joined the company, Stouffer Frozen Foods were sold nationwide in grocery stores but the now publicly held company faced many critics internally and externally for pursuing a money losing business line in an infant industry few understood. Taking on that challenge, he led a team that established their niche against the food giants of the era by utilizing the highest quality ingredients and maintaining premium price positioning. Stouffer's pulled back from their national distribution to markets near their restaurants to leverage their good name and offered grocers a guaranteed profit which they always met.

As the division profitably expanded, Biggar became one of the early pioneers of the quickly expanding frozen food industry and experienced the career of a lifetime. Stouffer's Prepared Foods brand is now a multi-billion-dollar business with four large manufacturing plants producing retail and food service products such as Lean Cuisine, French Bread Pizza, Mac 'N Cheese and the many entrees and side dish favorites. The company currently employs thousands of dedicated workers.

As an executive, Biggar was extremely involved with product development, production tasting by hour code, product package design and advertising strategy. His responsibilities increased steadily as he became president of the Stouffer Foods Division in 1967, and in 1972, president and CEO of the Stouffer Corporation which by then had added management food service, hotels and resorts.

Nestle SA of Switzerland purchased the company in 1973. Jim was later promoted to CEO and Chairman of Nestle Enterprises in 1982, with responsibility for all Nestle USA food businesses which included chocolate and confections, coffee, tea, wine, and baby food. Major acquisitions followed, including Hills Bros. Coffee and a repositioning of the hotel business through purchases such as The Mayflower, Washington, DC and The Stanford Court, San Francisco.

Ever the man of action, unable to sit still, Biggar's retirement from Nestle in 1991 provided opportunities to start a new business. Jim formed the Glencairn Corporation to develop a 490-acre property that straddled I-77, at I-271 in Richfield, Ohio. Today, several hundred beautiful homes grace Glencairn Forest, a "nature preserved community" immediately adjacent to the Cuyahoga Valley National Park and the Kinross Lakes commercial office park is home to several corporate headquarters and regional offices.

In the same year, he increased his community engagement at a pivotal moment in Cleveland's s redevelopment. He accepted appointments as chairman of both the New Cleveland Campaign as well as the Gateway Economic Development Corporation which oversaw the construction of Jacobs Field and Gund Arena (now called Progressive Field and Rocket Mortgage Field House).

Additionally, he helped form the Greater Cleveland Development Partnership, the first civic public-private real estate seed capital investment program of its kind in the United States. Many of the major projects built in Cleveland in the last few decades have since benefitted from this fund including the stadiums, arena, Rock and Roll Hall of Fame, Great Lakes Science Center, major hotels, the Cleveland Convention Center, etc.

In many ways, Biggar served as one of the founding fathers of Cleveland's comeback story of the last four decades.
Our Mission: To honor the sport of wrestling by preserving its history, recognizing extraordinary individual achievements, and inspiring future generations