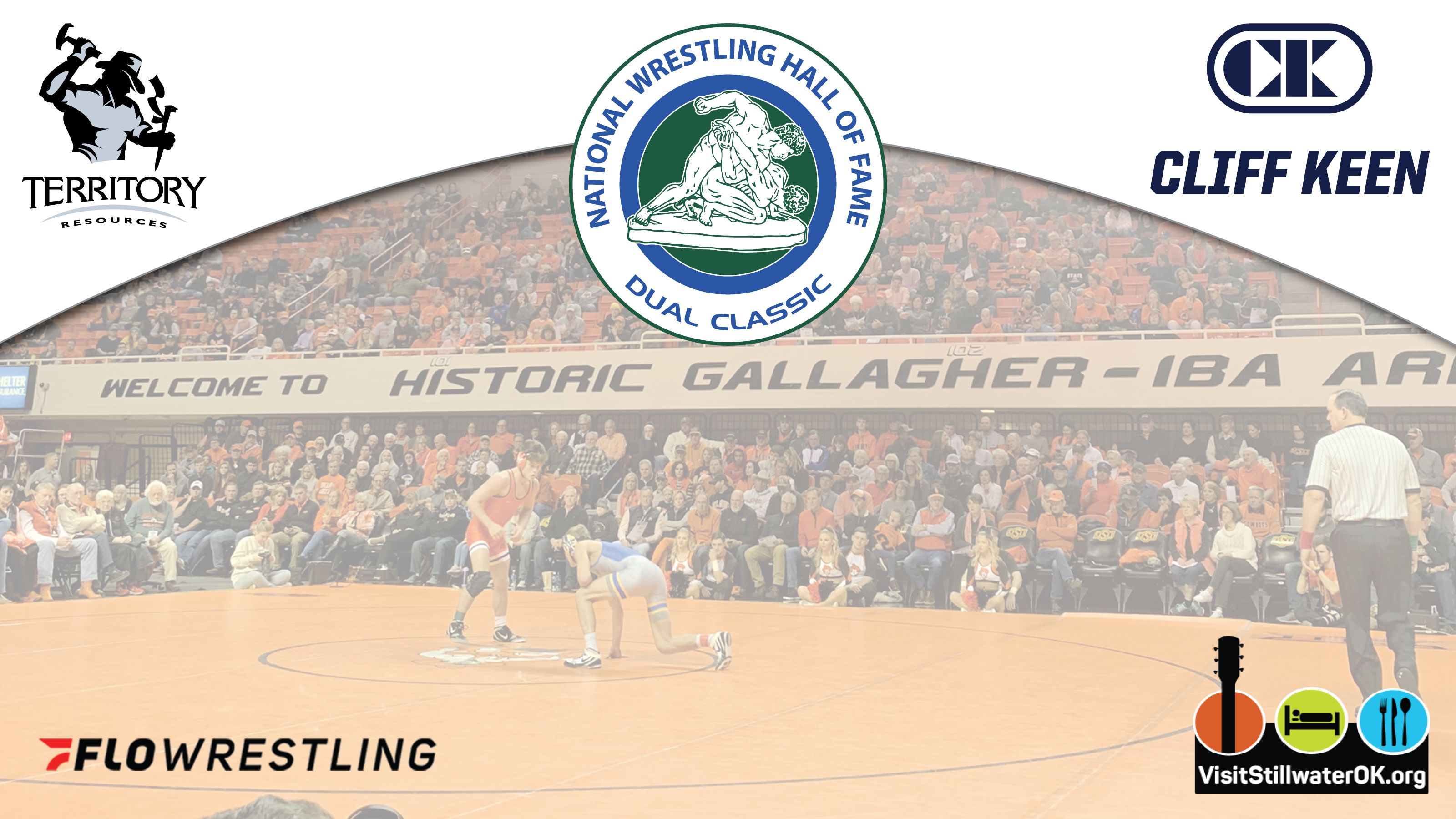 National Wrestling Hall of Fame Dual Classic Adds National Power Lake Highland (Florida) and Blackwell (Oklahoma)
The National Wrestling Hall of Fame announced on Monday that it has added Lake Highland Preparatory School from Orlando, Florida and Blackwell High School from Oklahoma to the field of the inaugural National Wrestling Hall of Fame Dual Classic presented by Cliff Keen Athletic and Territory Resources on December 21 and 22 at Gallagher-Iba Arena.
Lake Highland finished fourth at the National Prep Championships in 2022 while Blackwell finished second in Class 3A at the 2022 Oklahoma state high school tournament. Following the 2020 season, Lake Highland elected not to compete any longer in the Florida High School Athletic Association. The Highlanders won 11 state wrestling team titles from 2012 to 2020 with eight individual bracket tournament titles and all three state dual championships contested.
Featuring 16 of the top high school teams in the United States, the field also includes Oklahoma powerhouses Bixby High School, Edmond North High School, Stillwater High School and Tuttle High School, Allen High School (Allen, Texas), Delbarton School (Morristown, New Jersey), Derby High School (Derby, Kansas), Liberty High School (Liberty, Missouri), Loyola Academy (Wilmette, Illinois), James Martin High School (Arlington, Texas), Pomona High School (Arvada, Colorado), Poway High School (Poway, California), St. Joseph Regional High School (Montvale, New Jersey), and St. Pius X High School (Kansas City, Missouri).
All-session tickets are on sale at 2022NWHOFDualClassicTickets and at the Oklahoma State box office. All-session tickets are $15 for youth (18 and under) and $25 for adults. Groups of 12 or more can purchase all-session tickets for $10 each, using Promo Code: 22HOF. Individual session tickets will be available on the day of event.
FloWrestling will broadcast all 40 dual matches at FloWrestling.org.
Each of the competing teams will receive a private tour of the National Wrestling Hall of Fame and Museum.
Teams will also attend a post-event banquet that includes presentation of awards and a roundtable discussion with Hall of Fame Distinguished Members Dan Gable and John Smith. Banquet tickets can be purchased at https://bit.ly/3zFMNUA
The 16 teams will be seeded and divided into four pools. Pool A will be Nos. 1, 8, 9 and 16, Pool B will be Nos. 2, 7, 10 and 15, Pool C will be Nos. 3, 6, 11 and 14, and Pool D will be Nos. 4, 5, 12 and 13. Pools 1 and 2 will compete in the first session and Pools 3 and 4 will compete in the second session on December 21.
Each team will wrestle three duals on December 21. The top four finishers in each pool will be placed into the Gold Pool, the four runners-up will be placed into the Silver Pool, the four third-place finishers will be placed into the Bronze Pool, and the four fourth-place finishers will be placed into the Copper Pool.
Teams in the pools will be seeded based on their original tournament seed. In the first session on December 22, the highest original seed in each pool will meet the lowest original seed and the two remaining teams will meet The final session will have the winners in each pool meeting to determine the pool winner and runner-up while the other two will meet to determine the pool's third-place and fourth-place finishers.
Our Mission: To honor the sport of wrestling by preserving its history, recognizing extraordinary individual achievements, and inspiring future generations