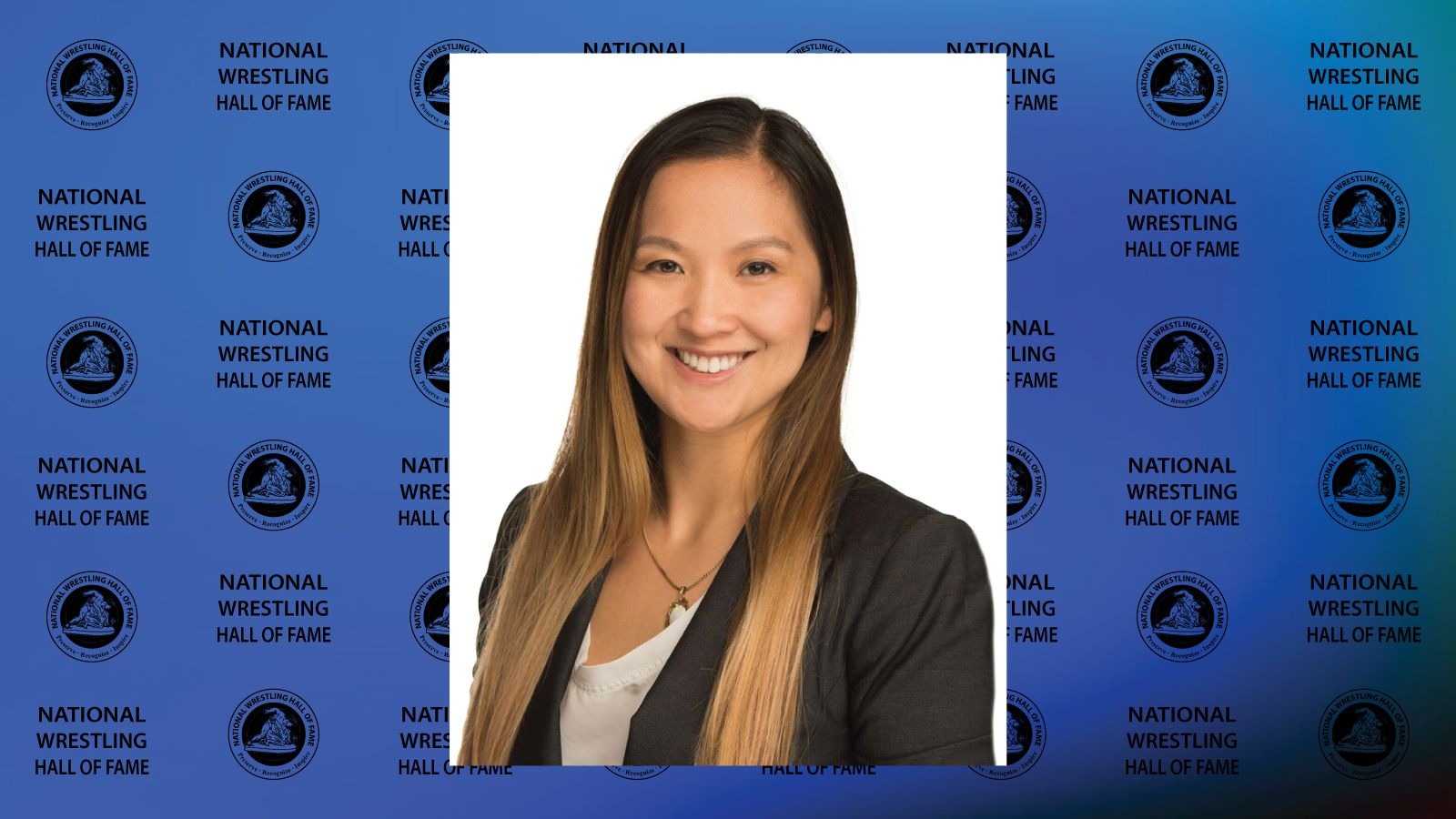 Hall of Fame Adds Audrey Pang To Board Of Governors
The National Wrestling Hall of Fame has announced that its Board of Governors has unanimously approved Audrey Pang (Austin, Texas) to join the Board of Governors.
"Audrey Pang is an exceptional young woman, achieving the highest levels of success in the classroom, on the wrestling mat, in her business career and in life," said Tom Slowey, Chairman of the Board of Governors. "Audrey understands the strong and positive values wrestling has instilled in her. She firmly believes that wrestling opened up a world of opportunity to her and employed the positive life traits and tools learned while wrestling to earn success in all aspects of her life.
""Audrey is committed to giving back to the sport that has given her so much," he added. "We look forward to and are thankful for the valued input, guidance and insight Audrey will bring to the National Wrestling Hall of Fame."
Pang grew up in Toronto, Canada and was first introduced to wrestling by way of a chance encounter with a middle school gym class. She had fun, but promptly forgot all about it until her freshman year when her history teacher asked her to join the newly established boys and girls wrestling team. It was at that point that she began her lifelong love affair with wrestling.
She had early success, placing second in the Ontario Provincial Championships, and decided that she wanted to continue wrestling at the collegiate level. Not fully understanding American sports landscape, when she was accepted into Princeton University, she emailed then coach Michael New of the men's wrestling program and asked if she could join the wrestling team. A man ahead of his time, New said yes and for the next three years the Princeton Friends of Wrestling sponsored Pang's training and competition on the freestyle women's circuit.
Pang placed fourth at the U.S. Open Championships and at the Women's Collegiate Wrestling Association national tournament, and made a bid for the 2004 Olympics, the first Games to include women's wrestling. In her senior year she became co-captain of the Princeton men's team and 125-pound starter. To this day she is the only female to compete at an NCAA Division I men's wrestling conference tournament. Post-graduation she returned to freestyle competition and competed for the New York Athletic Club through the 2008 Olympic Trials, after which she gracefully retired and promptly began dabbling in amateur Mixed Martial Arts and Brazilian Jiu-Jitsu.
After graduating from Princeton with a bachelor's degree in economics and certificates in finance and French, Pang took the lessons learned on the mat and brought them to her first career as an equity derivatives trader, trading in the pits of the American Stock Exchange and the Chicago Board Options Exchange for Jane Street Capital.
Following a successful stint in public markets, Pang pivoted to the world of business and obtained her Masters of Business Administration from the University of Chicago Booth. She then worked as a consultant, partnering with Fortune 500 executives across various industries while at Bain & Company, before ultimately discovering software, where she has worked ever since.
Pang has been both an operator, leading Revenue Operations at Basis Technologies, as well as an investor and advisor, serving as a Value Creation Director at Vista Equity Partners and Operating Principal at Ionic Partners.
Today, she focuses on investing in B2B software companies, providing operational expertise and capital along with a modern cloud-based approach to people and business.
Pang firmly believes that wrestling opened up a world of opportunity that she otherwise would not have known and that the tools that she gained in the wrestling room are what allowed her to be successful across trading floors and boardrooms.
She is committed to giving back to the sport that gave her so much, and in particular supports organizations that work to create more opportunities for women and girls to wrestle at all levels and experience the transformative power of wrestling. Pang actively works with Sisters on the Mat, Princeton Women's Wrestling Committee and Division 1 Women's Wrestling.
The Board of Governors is responsible for preserving the history and tradition of the sport of wrestling in America by operation of the National Wrestling Hall of Fame & Museum in Stillwater, Oklahoma, and the National Wrestling Hall of Fame Dan Gable Museum in Waterloo, Iowa. The Board is also responsible for the annual election of Distinguished Members, Outstanding American, Medal of Courage, Order of Merit, and Meritorious Official.
The Board is comprised of no less than 12, and not more than 30 members, who shall serve a maximum of six consecutive years in as many as three consecutive two-year terms. Three members of the Board shall represent United World Wrestling, USA Wrestling, and the National Wrestling Coaches Association. Those individuals are nominated by their organizations, and must be approved by the Board.
Our Mission: To honor the sport of wrestling by preserving its history, recognizing extraordinary individual achievements, and inspiring future generations