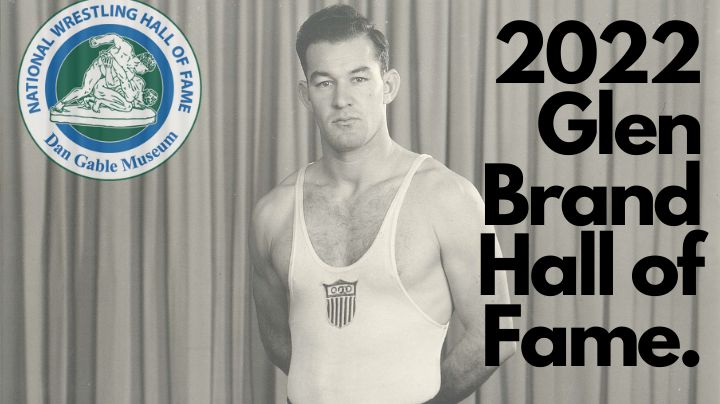 Glen Brand Wrestling Hall of Fame of Iowa Announces Class of 2022
WATERLOO, Iowa — Featuring 16 individual state championships, 12 NCAA All-Americans, three NCAA champions, two National Junior College Athletic Association champions, a four-time state championship high school coach, a record-setting college team, one of the top wrestling volunteers in the world, and a world bronze medalist, the Class of 2022 will be inducted into the Glen Brand Wrestling Hall of Fame of Iowa on June 24.
Joe Colon, Joel Sharratt, Jay Borschel, Barry Weldon, Luke Moffitt and the 2017 Grand View University wrestling team will be inducted while the Trizzino Family will be presented with the Bowlsby Family Legacy Award, Eric Whitcome will receive the Bob Siddens High School Coaching Excellence Award and Bie Gie Fenwick will be presented with the Russ Smith Community Impact Award.
Located inside the National Wrestling Hall of Fame Dan Gable Museum in Waterloo, Iowa, the Glen Brand Hall of Fame was established in 2002 to honor native-born Iowans and those who wrestled or coached for an Iowa school who have made an impact on wrestling on a national level or who have done extraordinary work in Iowa.
A banquet honoring the Class of 2022 will be held at Prairie Links Golf & Event Center in Waverly, Iowa, on June 24, 2022. For more information, contact the National Wrestling Hall of Fame Dan Gable Museum at (319) 233-0745 or dgmstaff@nwhof.org.
Joe Colon was a two-time Iowa state high school champion for Clear Lake High School, capturing titles as a sophomore in 2007 and as a senior in 2009 while finishing third as a junior in 2008. Joe was a junior college national champion and was named Outstanding Wrestler in 2010 while helping Iowa Central Community College capture the NJCAA team title. He transferred to the University of Northern Iowa and compiled a career record of 62-6, including a perfect 24-0 mark in duals. Colon was 27-4 and reached the quarterfinals at the NCAA tournament as a redshirt sophomore in 2011-12. After sitting out the 2012-13 season, he went 35-2 and finished third at the NCAA tournament as a senior. Colon allowed bonus points only once in 68 career matches for UNI. He won the Bill Farrell International championship in 2014 while finishing fourth at the World Team Trials and fifth at the U.S. Open. The following year he finished second at the World Team Trials, third at the Cerro Pelado International and fourth at the U.S. Open. Colon won a bronze medal at the World Championships in 2018 and currently trains at the Cyclone Regional Training Center in Ames, Iowa.
Joel Sharratt was a state champion from Bloomington-Kennedy High School in Minnesota before becoming a three-time All-American for the University of Iowa. Coached by 2002 Glen Brand Wrestling Hall of Fame of Iowa inductee Dan Gable, Sharratt advanced to the NCAA finals three times and won a national title in 1994. The two-time captain led the Hawkeyes to Big Ten and NCAA titles in 1995 while also helping Iowa capture national championships in 1992 and 1994. Sharratt was a two-time member of the U.S. National Team, earning the bronze medal at the 1996 Olympic Trials and the 1997 Pan American Championships. After stepping off the mat, Sharratt became a graduate assistant at the University Minnesota and the top assistant coach at the United State Naval Academy. He was head coach at the United States Air Force Academy before returning to the Naval Academy as head coach. A native of Bloomington, Minnesota, Sharratt was inducted into the Minnesota Wrestling Coaches Association Hall of Fame in 2011. He currently works as a business development specialist with SAGE Technologies, a certified Service Disabled Veteran Owned Small Business. Sharratt resides in St. Louis with his fiancé, Cassey Sawnson, and is the proud father of four daughters.
Jay Borschel was a four-time Iowa state high school champion for Linn-Mar High School, the 16th wrestler in state history to win four titles. The Marion, Iowa native won his championships in four different weight classes, marking the greatest span of weight classes by any of the four-time champions. Borschel had a career record of 163-1 with three undefeated seasons and 98 pins. Signed by Tom Brands to wrestled at Virginia Tech, Borschel followed Brands to the University of Iowa, after a redshirt year at Virginia Tech. Borschel was a Big Ten champion and a two-time All-American in three seasons as a starter, helping the Hawkeyes win three Big Ten and NCAA championships while posting a 98-10 career record. He was undefeated as a senior while capturing the 174-pound national title and being named Iowa's Male Athlete of the Year. Borschel resides in Iowa City, Iowa with his partner, Jillian, and three children, Milo, Wilhelmina and Morrison.
Barry Weldon was a three-time Colorado state high school champion for Cherry Creek High School, after placing third as a freshman at the Oklahoma state high school championships. He was a two-time All-American for Iowa State and won the NCAA title at 177 pounds in 1997. Weldon was a graduate assistant for Bobby Douglas at his alma mater in 1998 and 1999 before becoming the head assistant coach at the University of Oklahoma. In six seasons with the Sooners, he helped coach five NCAA champions and 23 All-Americans while OU won two Big 12 team championships, finished third at the NCAA tournament three times and finished fourth twice.
Luke Moffitt wrestled for Estherville High School in Estherville, Iowa, winning an Iowa state high school championship in 1997. Moffitt won a national championship at 141 pounds for Iowa Central Community College before signing with the University of Iowa. Wrestling for Jim Zalesky and Tom Brands, Moffitt was a two-year starter and won the Big Ten Tournament and was named Outstanding Wrestler in 2002. Moffitt received his bachelor's degree in elementary education and returned to Iowa Central as head coach. In his 18th season, he has a career record of 172-57 and has built the Tritons into a national power. Iowa Central has won seven national titles and has placed in the Top Eight at the NJCAA national tournament 17 consecutive seasons, including 12 Top Three finishes. The Tritons have also won six national dual championships with 31 individual national champions, 49 national finalists and 102 All-Americans. Moffitt has been named National Coach of the Year five times and Regional Coach of the Year 12 times. The Tritons have ruled Region XI, considered to be the top league in junior college wrestling, winning 13 regional team titles and crowning 76 individual champions.
The 2017 Grand View University Wrestling Team dominated the 2017 season, finishing with a 13-0 record in duals, beating their opponents by a combined score of 536-44, and winning their sixth-consecutive NWCA National Duals championship. Coached by Nick Mitchell, GVU wrestlers did not lose a single match at the Heart of America Conference tournament until the finals to their teammates as Grand View finished 77 points ahead of runner-up Baker. GVU won its sixth-straight NAIA National team championship with five champions, six finalists and 12 All-Americans. The team scored 234.5 points, breaking the record for most points of 210 set by GVU in 2016. Grand View finished 160 points ahead of runner-up Lindsey Wilson, the largest margin of victory in NAIA history. In fact, if you added the points from the second-place, third-place and fourth-place teams together, Grand View would still have won by 34 points. All-Americans in 2017 were Jacob Colon (first place at 133 pounds), Josh Wenger (first place at 141 pounds), Walker Marshall (second place at 149 pounds), Grant Henderson (first place at 165 pounds), Ryan Niven (third place at 165 pounds), Lawton Benna (first place at 174 pounds), Dylan Blackford (fifth place at 174 pounds), Michael Pixley (third place at 184 pounds), Evan Hansen (first place at 197 pounds) Johnathen Dennis (third place at 197 pounds), Jake Laden (third place at 285 pounds), and Dean Broghammer (fifth place at 285 pounds).
The Trizzino Family, which includes brothers Scott Trizzino and Mark Trizzino and Mark's sons Nick and Joey, will receive the Bowlsby Family Legacy Award. Scott and Mark were two-time Illinois state high school champions for Joliet Central High School in Joliet, Illinois, and both wrestled at the University of Iowa. Scott was a two-time Big Ten champion and a two-time finalist and three-time All-American while helping the Hawkeyes win four national team championships. Mark was a Big Ten champion and an All-American who also helped Iowa win four national team titles. Scott placed second at the Freestyle Junior Nationals in 1976 while Mark was a runner-up in 1977 and an All-American in 1976 and 1978. Mark's sons wrestled for Bettendorf High School in Bettendorf, Iowa. Nick was an Iowa state high school champion in 2007 after finishing seventh in 2005 and 2006 while Joey was state runner-up in 2010 after finishing third in 2009 and eighth in 2007. Nick wrestled for Iowa from 2009 to 2014 while Joey wrestled for the Hawkeyes from 2011 to 2013 and for Wartburg College from 2014 to 2017.
The Bowlsby Family Legacy Award is named after the Bowlsby Family from Waterloo. John Bowlsby and Bob Bowlsby wrestled for legendary coach Bob Siddens at Waterloo West High School while their parents, Bob and Pat, and sisters, Ann, Sarah and Jane, were instrumental in their careers.
Bie Gie Fenwick will receive the Russ Smith Community Impact Award, presented to individuals who demonstrate exceptional local impact on wrestling in Iowa. Fenwick started in wrestling in 1988 in Warrensburg Missouri, keeping score mat side at Cadet Nationals, her first tournament. The following year she was in charge of volunteers and continued to add responsibilities each year. Ultimately, Fenwick was in charge of registration and training volunteers, including keeping score and running bout sheets. She moved to Cedar Rapids, Iowa in 1995 and met Steve Knipp and Steve Watchal at a tournament. Fenwick began to work tournaments in Iowa and got her pairing license. She worked the 1996 Olympics, seven World Championships, two NCAA Championships, 15 Preseason Nationals, college tournaments for the University of Northern Iowa and Coe College, and local high school tournaments.
Eric Whitcome will receive the Bob Siddens High School Excellence Award, presented to a current Iowa high school wrestling coach who exemplifies the high standards that Siddens set during his coaching career at Waterloo West. Siddens was inducted into the GBHOF in 2003 and was the inaugural recipient of the coaching award in 2012.
Whitcome graduated from Waverly – Shell Rock High School in 2002 and was a two-time state qualifier, finishing third at 152 pounds as a senior. He was also a two-time Northeast Iowa Conference champion for the Go-Hawks. Whitcome became head coach at his alma mater in 2012 and has led Waverly – Shell Rock to nine NEIC team titles while crowing 54 individual NEIC champions. His teams have qualified for eight State Dual Team Championships, finishing second twice, third three times, and fourth and fifth before capturing the school's fifth title in 2021. Whitcome's teams have finished in the Top 40 in the National High School Rankings three times and he has a career dual record of 225-98. His teams won the Iowa State High School State Tournament team title in 2019, 2020 and 2021 while finishing third in 2014 and fourth in 2013 and 2016. In 13 seasons, Whitcome has coached 89 state qualifiers, 65 state medal winners, 23 finalists and 12 state champions. He has helped coach four Junior Freestyle All-Americans, three U16 Cadet Freestyle All-Americans, three UWW Cadet Freestyle All-Americans, three U15 Freestyle All-Americans and two U16 Greco-Roman All-Americans. Whitcome's wrestlers have had success at the next level with four NCAA Division III All-Americans, an NCAA Division I and an Division II All-American and five NCAA Division I qualifiers. He and his staff were honored in 2014 as the Iowa High School Class 3A Head Coach and Coaching Staff of the Year. Whitcome began Waverly – Shell Rock's girls wrestling program in 2019 and it has won the Iowa Wrestling Coaches and Officials Association State Championship in 2019, 2020 and 2021. He has coached six girls state champions, 12 finalists, and nine place-winners while being named NWCA's Iowa Girls Wrestling Coach of the Year.
Our Mission: To honor the sport of wrestling by preserving its history, recognizing extraordinary individual achievements, and inspiring future generations