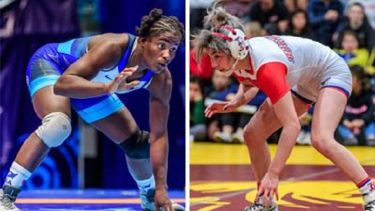 Exhibit highlights Oklahoma's strong wrestling history, tradition
OKLAHOMA CITY - The
Oklahoma Secondary School Activities Association
and the National Wrestling Hall of Fame collaborated to create an exhibit highlighting the strong wrestling history and tradition in the State of Oklahoma.
Featured on the entrance concourse at the 95th Annual Oklahoma State High School Wrestling Championships on Feb. 26-27, the three-foot by seven-foot triangular display was seen by thousands of fans, wrestlers, and coaches at the Jim Norick Arena.
"This exhibit allows us to celebrate the heritage of wrestling in a state in a way that is not only informative, but also visually appealing and interesting," said NWHOF Executive Director Lee Roy Smith. "It is a concept that we hope other states will be interested in doing, so that we can continue our mission of recognizing individuals and teams in a way that helps not only educate but also inspires future generations."
The three sides of the exhibit showcased the success of Oklahomans at the state, collegiate, and international level.
The high school panel has pictures of the 1952 Perry High School state championship team, the first in school history, and the Oklahoma A&M College gymnasium in 1922 when it hosted the first state wrestling tournament. It also lists the most state team tournament titles, led by Perry with a national record of 40, and consecutive team tournament titles as well as state team dual titles and consecutive team dual titles.
The collegiate side has the most NCAA Division I champions produced by an Oklahoma high school led by Tulsa Central High School, which has a national record of 28, and lists that 98 wrestlers from Oklahoma have won a total of 153 individual NCAA Division I titles. It pictures four-time national champion and Distinguished Member
Pat Smith
of Del City, who won NCAA Division I titles in 1990-92 and 1994, and lists Cole Province of Claremore, who won NCAA Division II titles in 2001-04, and Johnny Nimmo of Del City, who won NAIA titles in 1987-88 and NCAA Division II titles in 1989-90.
It also highlights that 17 Oklahomans have been named Outstanding Wrestler at the NCAA Division I Championships, and two have been named Outstanding Wrestler at the NCAA Division II Championships. It pictures
Danny Hodge
from Perry and
Tommy Evans
from Tulsa Rogers High School who each won the honor twice at the NCAA Division I Championships. Evans and Hodge were inducted as Distinguished Members in the Charter Class in 1976, and Pat Smith was inducted in 2006.
The international panel lists the 14 Olympic medalists, who captured 10 gold, four silver, and one bronze, and the five World Championships medalists, who captured six gold and two silver. It also has a picture of Del City's
John Smith
, a six-time Olympic and World gold medalist, and Ponca City's
Doug Blubaugh
and
Shelby Wilson
, who both won gold medals at the 1960 Olympics. Blubaugh was inducted as a Distinguished Member in 1979, Baughman was inducted in 1982, and John Smith was inducted in 1997.
Our Mission: To honor the sport of wrestling by preserving its history, recognizing extraordinary individual achievements, and inspiring future generations