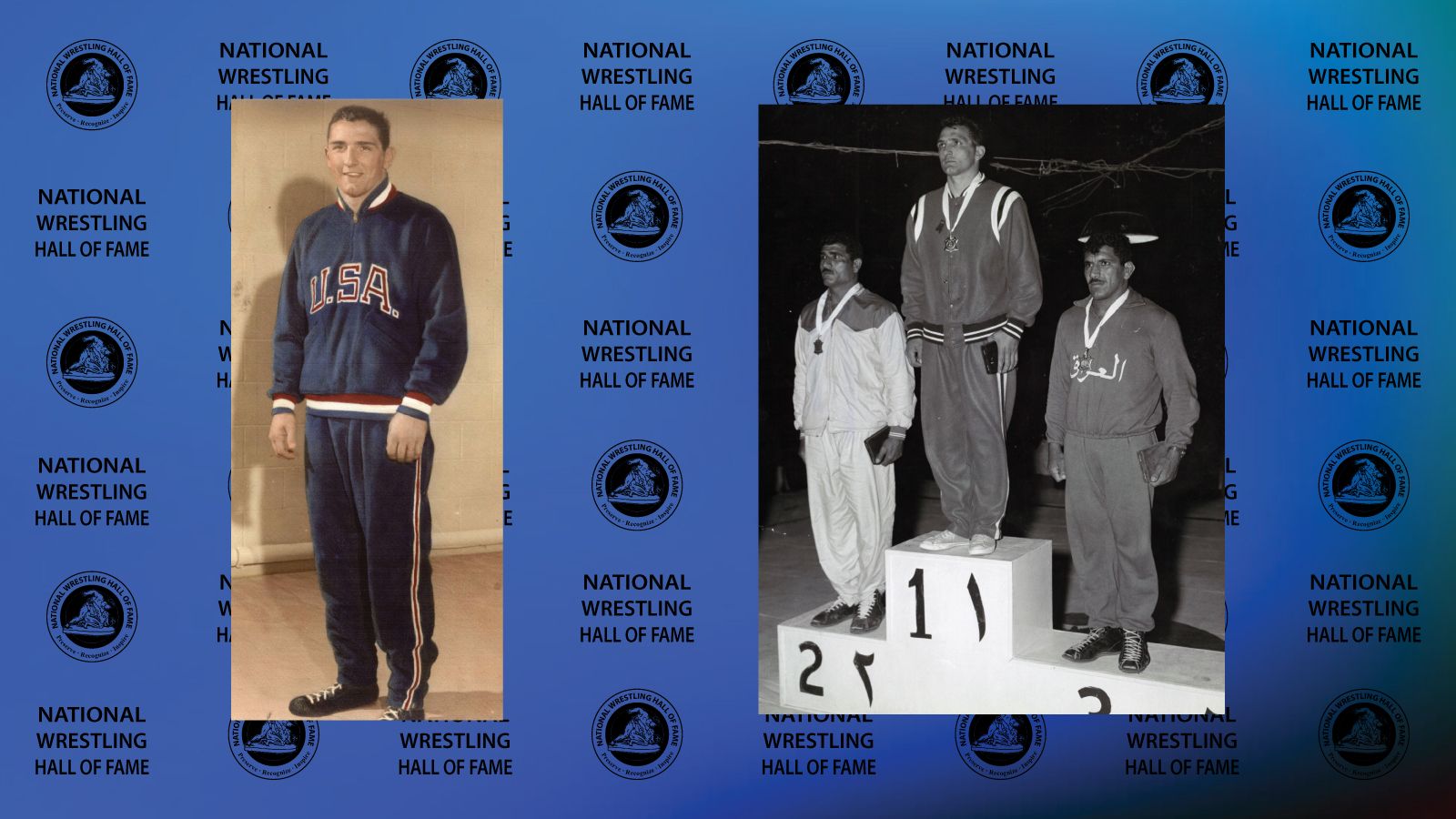 Distinguished Member Russell Camilleri Passes Away
Russell Camilleri, a Distinguished Member inducted into the National Wrestling Hall of Fame in 2010, passed away on November 5, at the age of 86.
"We are deeply saddened to hear about the passing of Russ Camilleri. On behalf of the National Wrestling Hall of Fame Board of Governors and staff, I extend our sincere condolences to Russ's wife Becky, his family and friends," said Lee Roy Smith, Executive Director of the National Wrestling Hall of Fame. "Russ was an inspiration to many wrestlers for his extraordinary success in both freestyle and Greco-Roman, winning six national titles in each style. He competed in Greco-Roman at two Olympics and at the World Championships in both freestyle and Greco-Roman, including two years where he competed in both.
"His longevity, diversity and magnitude in the sport was astonishing," Smith added. "Russ was a great American and we are grateful for his example as a champion wrestler and for his service to our country as an officer in the United States Air Force."
Services will be held at a later date.
Throughout most of the 1960s, Camilleri dominated not just one Olympic style of wrestling in the United States, but both freestyle and Greco-Roman.
A high school standout at Campbell High School in California, Camilleri won two state high school titles and three conference championships in compiling a 48-0 record. He was the Outstanding Wrestler in the conference tournament during both his junior and senior years.
He competed three years at San Jose State, fashioning a 78-4 record. He was the Pacific Coast Champion in 1958 after finishing second the previous two years.
After college, Camilleri rolled to more national titles than any other wrestler, winning freestyle in 1961, 1963, 1964, 1965, 1968 and 1971 and Greco-Roman in 1960, 1961, 1964, 1965, 1966 and 1972. Six times he was honored as the Outstanding Wrestler of the tournament, a feat that no other wrestler has ever accomplished.
Even more remarkable, in those days, the Greco-Roman and freestyle tournaments were wrestled back-to-back, requiring winning six matches per style at scratch weight to win.
Camilleri competed in two Olympic Games, placing eighth in Greco-Roman in 1960 and seventh in 1964. In two different years, 1961 and 1965, he competed in the World Championships in both freestyle and Greco. He also wrestled in the Greco-Roman World Championships in 1962 and 1966 and in the freestyle Worlds in 1963. He finished sixth in freestyle twice.
An Air Force officer from 1958-63, he won six Interservice Championships and was undefeated in 13 years at the Naval Training Center Tournament in San Diego with a record of 78-0.
Camilleri was also a successful businessman. He was named "Agent of the Year" for a national insurance company and opened and managed three offices across the San Francisco Bay area in the early 1970s. Camilleri also managed Saddletown, a riding and boarding stable in Pacifica, California.
Mentioned in this article