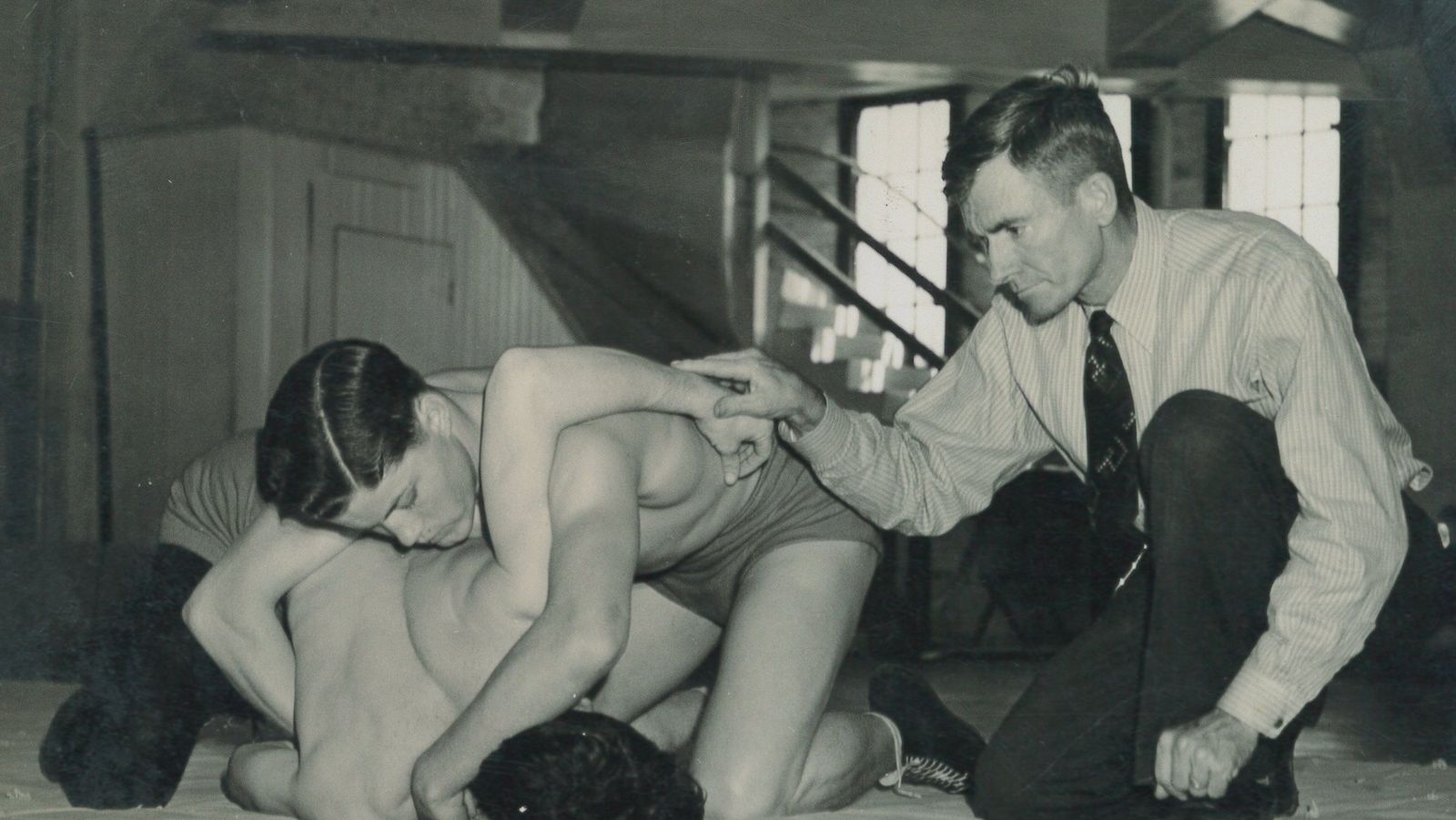 Distinguished Member Ed Gallagher Is Greatest Coach In Oklahoma State History
By Berry Tramel
The Daily Oklahoman
For 48 years, the name stood alone on the grand old coliseum. Gallagher Hall.

In 1987, a renovation and much history prompted a renaming. So OSU's home for basketball and wrestling became Gallagher-Iba Arena.

Over the years, as the place became more known for rocking in basketball as in the old wrestling days, some wondered why the Gallagher name persisted.

Wasn't Henry Iba the patriarch of OSU sports? Wasn't Henry Iba the most impactful person in Cowboy history?

Yes and yes.

But there's a reason why the Gallagher name was originally up, and why the Gallagher name was retained 35 years ago, and why the Gallagher name still packs a punch today.

Edward Clark Gallagher, born Sept, 5, 1887, in Perth, Kansas, is the greatest coach in OSU history.

Gallagher won 11 of the first 13 NCAA wrestling championships staged. His innovative techniques jettisoned the sport into much of what we see today. Gallagher's wrestling success – and leadership as athletic director – was the impetus for the 1938 building of Gallagher Hall, which originally was named the 4-H Clubs and Student Activities Building but was called the Madison Square Garden of the Prairie.

Many of the Sons of Gallagher – OSU's vaunted wrestling tradition – merit mention. Art Griffith followed Gallagher and won eight NCAA titles in 13 years. Myron Roderick followed Griffith and won seven in 13 years. John Smith, probably OSU's most accomplished athlete ever, has coached the Cowboys to five wrestling titles in 31 years.

Gallagher's teams became the gold standard in the sport. He coached 23 seasons; 19 of his teams went undefeated. His dual-meet record was 138-5-4. In 1928, the first year the NCAA staged a wrestling championship, Gallagher's Cowboys won four of the seven individual weight classes. In 13 NCAA meets under Gallagher, OSU won 11 team titles and 37 individual titles. Gallagher's Cowboys also combined for 32 national Amateur Athletic Union championships and three Olympic gold medals.
Mentioned in this article
Our Mission: To honor the sport of wrestling by preserving its history, recognizing extraordinary individual achievements, and inspiring future generations