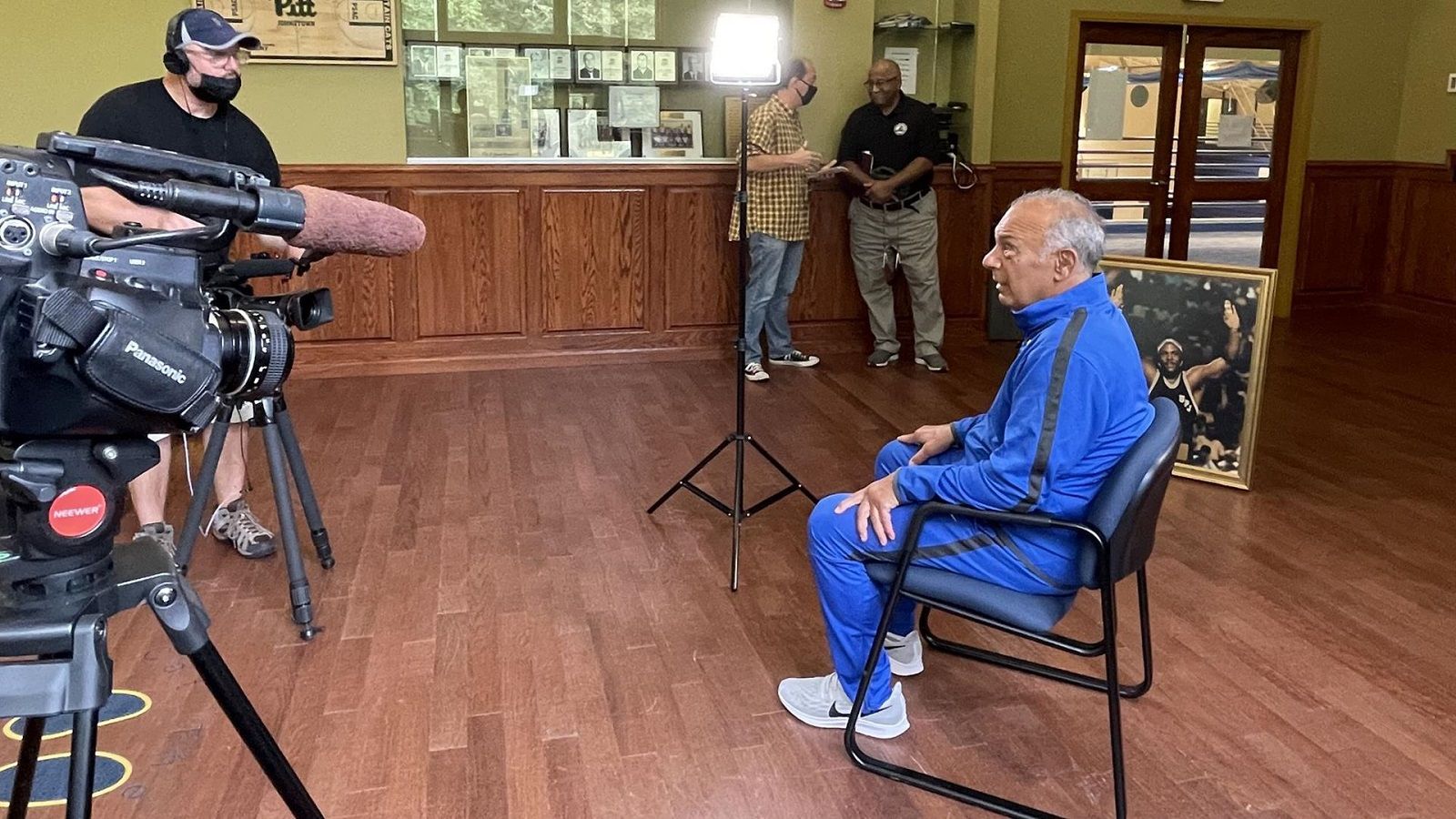 "Carlton" Documentary Will Share Story Of Six-Time NCAA Champ, Distinguished Member Haselrig
University of Pitt-Johnstown Athletics
WPVI-TV, the ABC-owned affiliate in Philadelphia, in conjunction with ABC Localish Productions, is currently shooting principal photography for a documentary on the life of Carlton Haselrig, a Distinguished Member inducted into the National Wrestling Hall of Fame in 2016 and a six-time NCAA champion for the University of Pitt-Johnstown.

The crew is spending four days in Johnstown, and additional on-location shoots are planned.

On Wednesday, the production crew was in the Pitt-Johnstown Sports Center interviewing Haselrig's family, friends and coaches, including Mountain Cat wrestling coach Pat Pecora and Bruce Haselrig, Carlton's uncle. Pecora and Bruce Haselrig are both recipients of the Lifetime Service to Wrestling award from the Hall of Fame's Pennsylvania Chapter.

The one-hour production has a working title of "Carlton" and is scheduled for release in February of 2022.

Heading the production crew is Executive Producer Mike Monsell and Producer/Director Tim Walton.

Haselrig, a native of Johnstown and a graduate of Greater Johnstown High School, is the most decorated athlete in Pitt-Johnstown history. Haselrig won six heavyweight NCAA National Wrestling championships, three at the Division I level and three at the Division II level. Haselrig holds five Pitt-Johnstown all-time wrestling records, as well as an overall career record of 143-2-1, which equates to a .979 winning percentage.

Haselrig, a 2009 inductee into the Pitt-Johnston Athletics Hall of Fame, never lost a match in the Division I National Tournament (15-0 record and three titles), and he never lost or tied a Division II opponent. His six titles were unprecedented and will remain so because the NCAA no longer allows wrestlers to compete in both division tournaments. Also, during his Pitt-Johnstown tenure, Haselrig wrestled his way to an NCAA record of 122 consecutive matches without suffering a loss.

In 2005, Haselrig was named to the NCAA 75th Anniversary Wrestling Team, which included other notable heavyweights, such as NCAA and Olympic champion Kurt Angle, who Mr. Haselrig had defeated during his college wrestling career. In 1990, he was inducted into the Cambria County Sports Hall of Fame for wrestling and for football in 2014. Also in 2014, Haselrig was inducted into the Division II Wrestling Hall of Fame.

In 1989, Haselrig was a 12th-round draft pick by the Pittsburgh Steelers, and he went on to be selected as a Pro Bowl offensive lineman without ever having played college football.

On July 22, 2020, Haselrig passed away of natural causes at the age of 54.