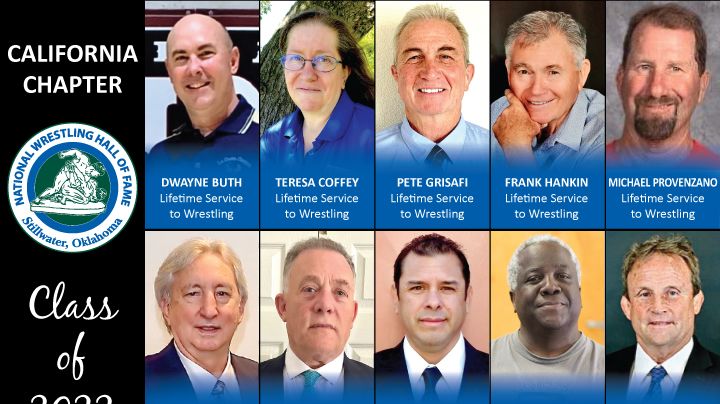 California Chapter Announces Class of 2022
The California Chapter of the National Wrestling Hall of Fame will be hosting its annual induction banquet in the Laguna Hills Community Center on Saturday, October 15, 2022. Ten honorees will be recognized for "Lifetime Service": Dwayne Buth, Teresa M. Coffey, Pete Grisafi, Frank Hankin, Michael J. Provenzano, Stan Roberts, Jack Schwartz, Vince Silva, Ron Wilson and Lennie Zalesky.
Dwayne Buth was three-times All-League, All-CIF Division and CIF State Qualifier, a State Champion and High School All-American in 1989. The three-time PAC-10 Placer and State Open Freestyle Champion was twice an NCAA Qualifier. After two years at Troy HS, he has coached since 1997 at La Costa Canyon High School.
Teresa Coffey is the mother of three daughters who got into wrestling. She has been involved in coaching, officiating and tournament administration for wrestling events in San Diego County for over 28 years. She was the head pairer for CIF San Diego Section for 24 years, and she now trains new workers for scoring tables.
Pete Grisafi was a high school champion in the San Diego Section and a California Community College champion. He has enjoyed 50 years as a wrestling competitor, coach and supporter. He coached at Grossmont College, at Granite Hills High School and later at El Cajon Valley High School in San Diego County.
Frank Hankin was an alternate on the U.S. Olympic Wrestling Greco-Roman and Freestyle Teams in 1964 after placing 4th in the NCAA Championships and winning three times at the AAU Rocky Mountain Championships. He coached at Gonzales High School and later at Hartnell Community College in Salinas.
Michael Provenzano won three CIF Division Championships at Huntington Beach High School, then 2nd and 3rd at the Southern Section Masters Meet and 4th and 2nd at the CIF State Championships in 1979 and 1980. He coached Fountain Valley High School 1990-2003 and at Westminster High School since then.
Stan Roberts has written, designed and published books for wrestling and other sports teams at Laguna Hills High School since 2003, raising over half a million dollars to pay for coaches. He has produced annual books for the California Chapter of the NWHOF since 2010, joining their executive committee in 2011.
Jack Schwartz has been active in Los Angeles County wrestling since winning the California Colleges State Championship twice in 1973-75. He coached South Hills High School to the CIF State Championship in 1981, and he founded and coached at the East LA Wrestling Club and the West Covina Wrestling Club.
Vince Silva won the CIF Southern Section in 1981 and 1982, then the Masters Meet, and placed 4th at State. A two-time All-American at Oklahoma State, he placed 7th in 1986 and 5th in 1987 at NCAA Championships. He has been Head Coach at Santa Ana College since 2000, winning the State Championships in 2005.
Ron Wilson wrestled at UC-Santa Barbara from 1974-76. The Head Coach at Camarillo High School for 40 years won 11 league championships, was voted Coach of the Year four times, and compiled a record of 475-199-2. He was twice the Transportation Coordinator for World Freestyle Wrestling teams.
Lennie Zalesky just retired as Head Coach at California Baptist University in Riverside after 40 years dedicated to wrestling. The three-time Big 10 Champion at the University of Iowa was 4th, 2nd and 2nd in the NCAA Championships. He coached UC-Davis for nine seasons, named PAC-10 Coach of the Year in 2007.