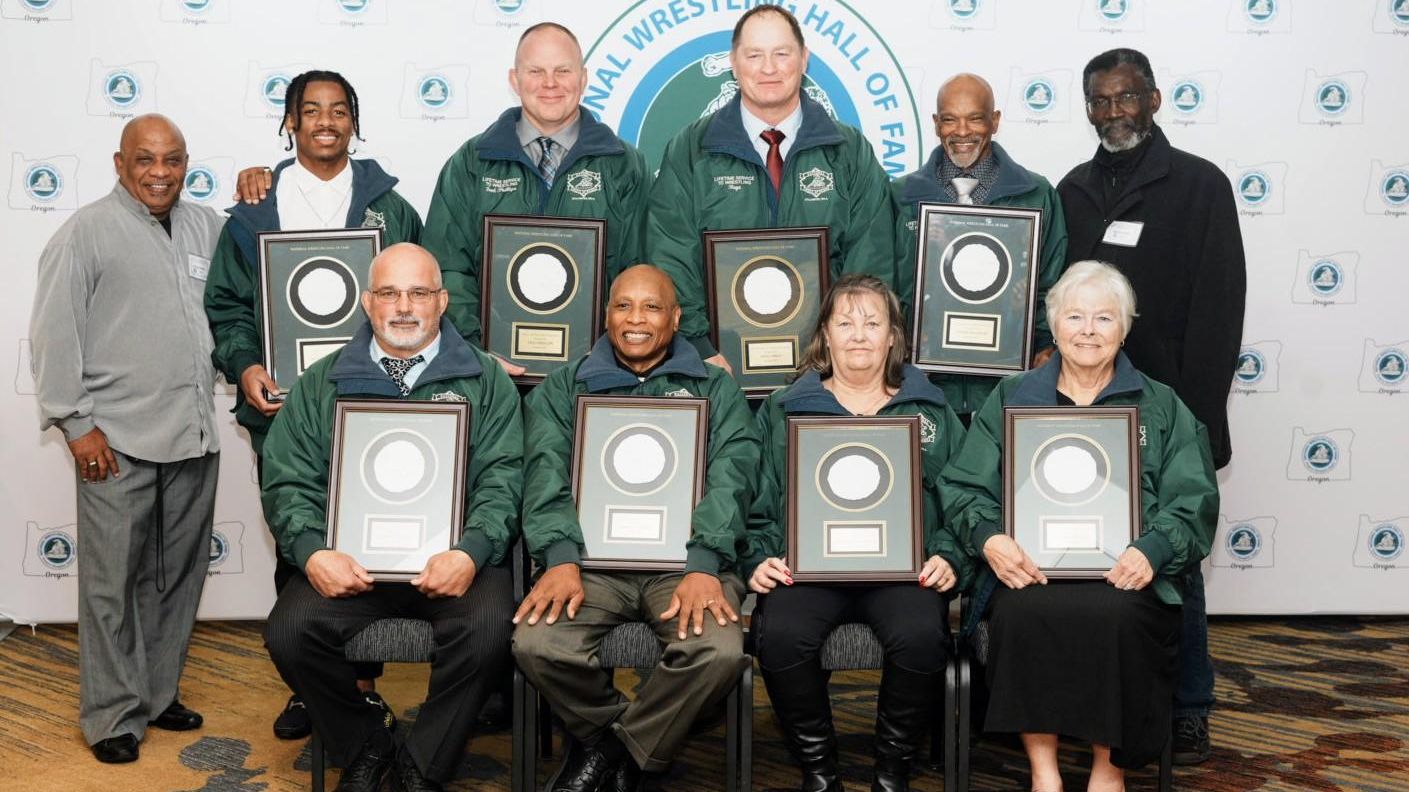 2023 Oregon - NWHOF Inducts 8
Congratulations to the Class of 2023 of the Oregon Chapter of the National Wrestling Hall of Fame!!!
These outstanding individuals were inducted on October 21, 2023.
2023 Lifetime Service to Wrestling
Karry Cameron moved to Oregon in 1977 from Oxnard, California after an impressive prep career. His accomplishments included being named MVP of his football team twice, becoming a two-time District wrestling champion and being part of the California state champion track relay team. He graduated from Pacific University in Forest Grove where he is a track record holder and was also named to the Boxers' athletics Hall of Fame. His first head coaching job was five years at Poynter Junior High in Hillsboro. In 1985 Cameron became head coach at Grant High School in Portland where his team won seven PIL championships. He moved to Jefferson High School in Portland in 2012 where he currently serves as coach. The Democrats have won two PIL titles under his coaching. He lives with his wife Katy in Portland. https://youtu.be/TpPfJiOinVU
Luke Cleaver is a 1997 graduate of Pacific University where he was an All-American wrestler. He served as an assistant coach at Yamhill-Carlton High School for five years before moving to Nyssa High School in 2001. In his 21 years as head coach, Luke guided the Bulldogs to nine state championships, including five consecutive titles between 2002 and 2006. Nyssa has also been District champions 15 times in his career. As of 2023, he continues to coach for the Bulldogs. His teams have crowned 38 individual state champions and compiled a dual meet record of 154-64 despite often wrestling schools in classifications above their own. Luke has been named Oregon Head Coach of the Year three times in his career. He is from Nyssa, Oregon and his immediate family includes his wife Tracy and children Elijah and Addie. https://youtu.be/Qs4eSVChvN8
Greg Haga, after winning a state championship for Gold Beach High School in 1980, turned his talents to Southern Oregon University. His efforts ended with three All-American honors for the Red Raiders, including a 1985 NAIA national championship. He was inducted into the SOU athletics Hall of Fame in 1999. After a year as an assistant coach at his alma mater, Haga became an assistant at Crater High School for another Hall of Fame coach, Dan Speasl. In 1989 he took over the head coach role for the Comets. As of 2023, he continues in that capacity.
In the following 35 years, Haga would lead Crater to nine state team titles, 18 District championships and produce 29 individual state champions. He has been named Oregon Coach of the Year seven times. Haga is from Central Point with his wife Valarie. https://youtu.be/Asqk3sMVWxI
Tommy Kennedy spent more than 30 years as a wrestling referee in Oregon. He began officiating high school matches in 1993 and has now added more than 20 years as a collegiate referee. He has four times been named the OSAA Official of the Year. His career also includes 14 Oregon state tournaments at the high school level. Tommy's resume also shows 10 years at the Oregon Classic and 12 years at Reser's Tournament of Champions. As a result of his reputation in-state, he was invited to referee at the prestigious Doc Buchanan tournament in Clovis, California and at the Rollie Lane tournament in Idaho. He has been named the Outstanding Official at Rollie Lane five times in his seven appearances there. Tommy is from Salem and his wife is Tammy. https://youtu.be/r_fWENN5c_4
Fred Phillips retired from high school coaching in 2019 but not before amassing an impressive resume. After finishing third for Lebanon in the state tournament, he became a 1992 Espoir All-American and World team member. He recorded a career record of 127-32 at Southern Oregon University and became a three-time All-American for the Red Raiders. His first coaching job was as an assistant to Marlin Grahn at Portland State. His move to Pendleton resulted in 18 years as head coach where his teams compiled a dual meet record of 336-71. Twice his teams finished as state runners-up. Phillips was named Intermountain League Coach of the Year four times. He has served the Pendleton Mat Club as volunteer coach for three additional years. He is from Pendleton and his family includes his wife Wendy and children Grace and Vance. https://youtu.be/ODBk-aAyqx8
Kathy Sahlfeld holds the distinction of devoting more than 36 years of continuous volunteer service to a single school district. A graduate of Forest Grove High School, once her children began wrestling, she spent 33 years as a Hillsboro Kids program advisor and 36 years as the Glencoe High School statistician and scorekeeper. This coincided with 36 years as a coordinator of both the Metro League and the Pacific Conference district tournaments. In addition, Kathy aided both the Peninsula Park Wrestling program and USA Wrestling program for 10 years. In its infancy, she also helped with all the bracketing for the Oregon Classic for three years. She added the OSAA state tournament to her resume and served 25 years as the statistician advisor. This led to 17 years on the OSAA tournament committee. Kathy and her husband, Ted, are from Hillsboro. https://youtu.be/QOY1qdKmbEE
Michele Stevenson graduated from Newberg High School in 1974 but waited several years before receiving her pairings license in wrestling in 1988. Once certified, she advanced quickly and by the end of her first year was working what would be the first of several Olympic Trials tournaments. In 1992 she began working both Junior and Cadet national tournaments. This led her to officiating at many U.S. Open tournaments across the United States. In addition to being named Official of the Year by four different state and national wrestling organizations in her career, Michele was most recently awarded the USWOA Lifetime Achievement award. She and her husband, Ron, are from Newberg. https://youtu.be/oJ3EhJoIrK8

2023 Medal of Courage
Travis West joined a powerhouse program at Portland State after winning three state championships at Benson High School. He was a member of both the Vikings' 1989 and 1990 Division II national team champions. Travis won an individual national title in 1989. He spent five years on the USA Greco-Roman team where he won a silver medal at the 1991 Olympic Festival, a bronze at the 1992 Pan Am Games and was the U.S. Greco team member at the Barcelona Olympics. He assisted Roy Pittman at the Peninsula Wrestling Club for 14 years and served as a Portland State assistant for five years. He founded and coached the Northwest Disciples Club, devoted to inner city youth, starting in 2000. During the next 18 years nearly 400 Portland youth would be served by the program. After contracting a liver disorder and receiving two transplants, Travis passed away in 2004 at the age of 37. His son, Travis West Jr. accepted his award in Oregon on Oct 21, 2023. https://youtu.be/2Y0kZC7g9a8
Special presenters at the 2023 Awards included in the photo are Anthony Amado (1988 USA Greco Olympian) and Romelio Salas (1984 & 1992 Colombia Freestyle Olympian).